The bulk of the criticism levied at my piece last week on Rand Paul and the Confederate flag was completely understandable.
Paul does, after all, seem on the surface to be one of the strongest, most relatable candidates in the race. And he's liberty-minded to boot. Why on earth would I and others draw a line at the Confederate flag when there are so many more important fish to fry?
Isn't the main goal, after all, to get a freedom-centric, Constitution-following, non-interventionist president in the White House, then we can sort out which flag flies where?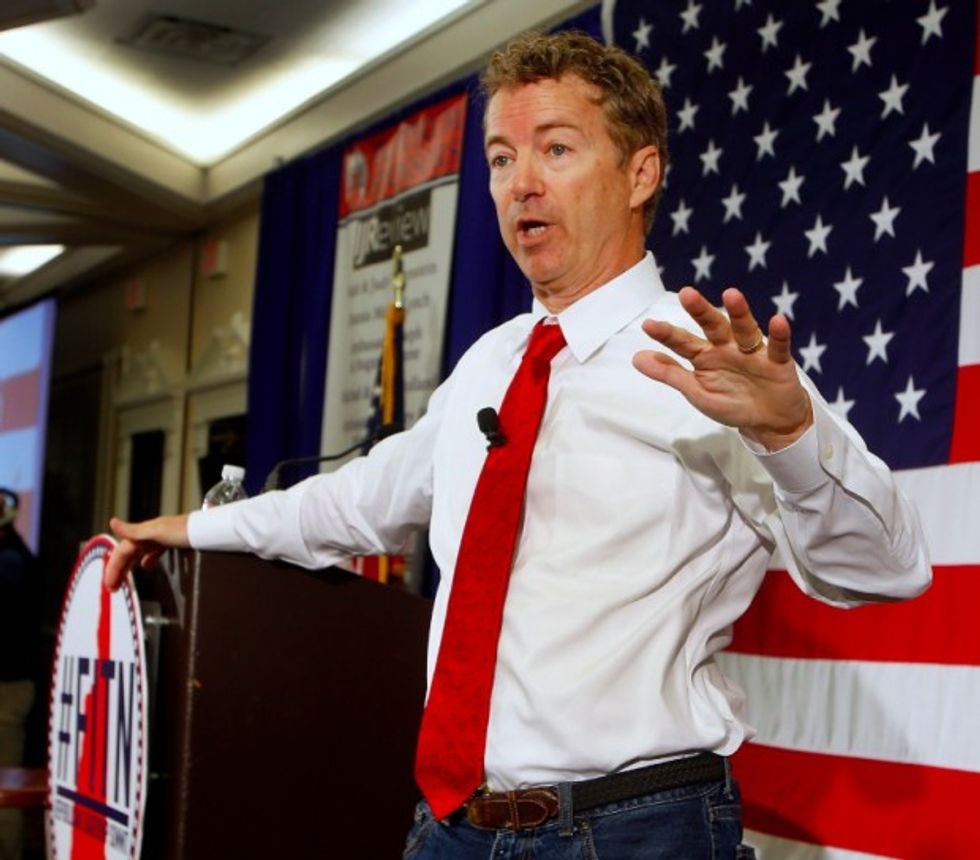 Republican presidential hopeful Sen. Rand Paul, R-Ky., speaks at the Republican Leadership Summit Saturday, April 18, 2015, in Nashua, N.H. (Image source: AP/Jim Cole)
Don't we know Rand was just politicking when he said:
"There have been people who have used it for Southern pride and heritage and all that…"
Translation: If you consider the Confederate flag to be an important part of the history and heritage of your homeland, your opinion doesn't matter because…
"…to every African-American in the country it's a symbolism of slavery … and now it's a symbol of murder to this young man…"
Translation: The only opinions that matter are those who consider it a symbol of slavery and oppression, and that includes EVERY African-American in this country and, apparently, Dylann Roof.
So, since EVERY African-American in the country considers it a symbolism of slavery and some cowardly nutjob decided to use it for evil (you know, like people occasionally use guns for evil), theirs is the only opinion that counts?
Except that, first of all, not every African-American considers it a symbol of slavery. Apparently, Rand failed to talk with Karen Cooper, Byron Thomas, or H.G. Edgerton, among others. Secondly, when did Dylann Roof get to decide the lens through which the public should view the Confederate flag? Why on earth are we giving that scumbag that kind of power?
Sadly, the perspectives of people like Cooper, Thomas, and Edgerton don't really matter any more than that of your average Southern white guy because, although their color fits the politically-correct narrative, their OPINIONS do not.
That's the way things roll in PC-Nation, and you better get on board or get left behind, which really strikes to the heart of why I and others are so disappointed with Mr. Paul's stance. Political-correctness is a disease, and its noxious fumes permeate every facet of society. It ignores history, common sense, decency, and morality and imposes its twisted version of reality on all who want to be deemed "respectable." Its ONLY purpose for existing is to cover up the truth.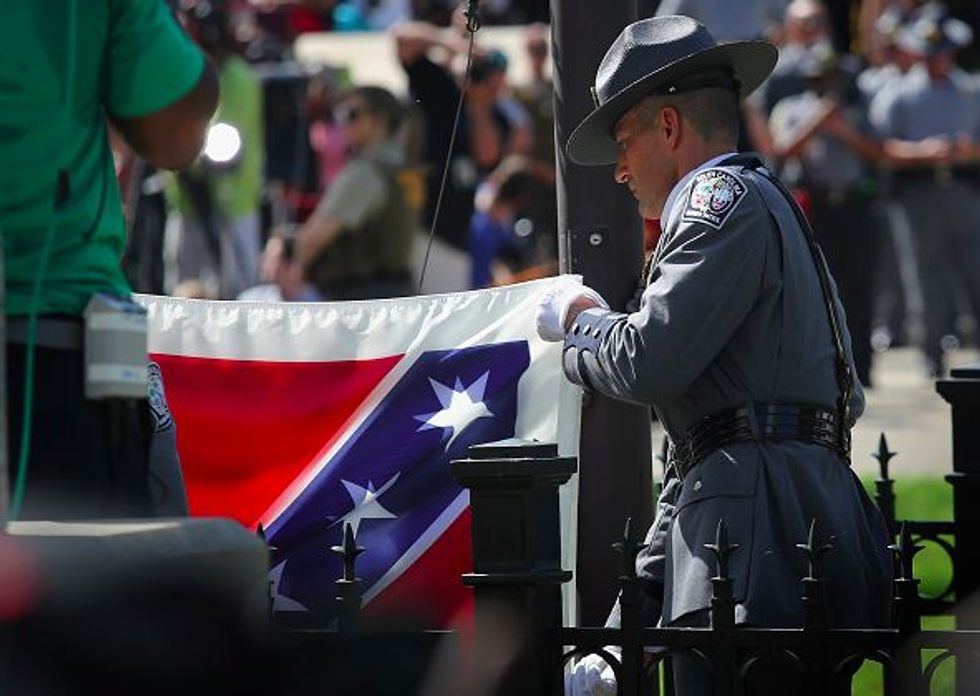 A South Carolina honor guard lowers the Confederate flag from the Statehouse grounds on July 10, 2015 in Columbia, South Carolina. Republican Governor Nikki Haley presided over the event after signing the historic legislation to remove the flag the day before. (Photo by John Moore/Getty Images)
That's why, this election cycle, I believe the adherence or lack of adherence to political-correctness should be one of the strongest litmus tests of any Republican candidate. It's not that they have to be perfect, but is some backbone too much to ask? Senator Paul, while he has certainly shown courage on some issues, really dropped the ball on this one.
Where does it end with this Confederate flag issue?
Well, the Memphis city council has just voted to exhume and remove the body of General Nathan Bedford Forrest and his wife and take down his statue, so there's that. Apparently we're demolishing statues of all our non-politically correct ancestors and digging up their bodies now. Better get lots of shovels, because if we're going to start analyzing the political and social views of our ancestors before we recognize their accomplishments and allow them a proper place to rest, we're going to be digging up almost everyone who lived prior to the 1960's - including the VERY racist (by today's definition) Abraham Lincoln and his monument in Washington.
Rand Paul didn't seem all that upset about the Confederate flag BEFORE Charleston, so why is he so hot and bothered about it now?
The answer is, of course, frightened subservience to the dictates of political-correctness. He is pandering to a group of liberals and minorities who will NEVER vote for him, while alienating his base who otherwise may have. It's not that he shouldn't go to Harlem or speak to the NAACP – he should – but there's a huge difference between trying to reach minorities with your message and pandering to their silly politically-correct (but historically INcorrect) sentimentalities.
I want a president with the ability to call a spade a spade. That's why Donald Trump, despite his anti-Confederate flag stance, has earned the respect of so many so fast. His willingness to speak the truth about immigration without apology in the face of harsh, unending criticism has endeared him to many ordinary Americans who don't have the unlimited funds or, quite frankly, the backbone to do the same.
I don't expect Donald Trump, given his background and heritage, to understand the lengthy, detailed, multi-faceted history of the issue, but I do expect more of Rand Paul.
Look, nobody expected Rand Paul to wrap himself in the Confederate flag, fly it on his front porch, or give a speech about the concept of secession in front of a ginormous one like his dad did back in 2003. I get it. It's a tough, divisive issue and when you're asked about it in the wake of something as horrific as what happened in Charleston, most people are going to fold.
Except Ted Cruz, and Rick Santorum, and Bobby Jindal who, among others, tried to stay out of the issue by saying, truthfully, that this was a decision best left to the people of South Carolina. Heck, even Tax Hike Mike Huckabee answered this one somewhat correctly, and that's saying something. You expect this nonsense from the likes of Jeb Bush, Lindsey Graham, and every Democrat in the race, but someone like Rand Paul, with his knowledge, background and pedigree, really should know better.
Instead of simply dodging a silly question meant to gauge his adherence and acquiescence to the current politically-correct dogma, Paul's answer minimized and marginalized the countless Southerners who consider that flag to be something more than the racist symbol Rand, the KKK, Hillary Clinton and Dylann Roof have made it out to be.
In the end, I understand that Rand Paul is still one of the best candidates in the race. In fact, he could likely shoot to the top by taking a Trump-like stand on immigration, another issue where political-correctness rules the day, but don't expect it to happen. Maybe I'm expecting too much, but aren't the primaries the time to be choosy?
–
TheBlaze contributor channel supports an open discourse on a range of views. The opinions expressed in this channel are solely those of each individual author.