How many times have you read a story in the news about something so ridiculous that you just knew it couldn't be true or that it must have taken place inside a very liberal blue state?
You know the type of story I'm talking about. The one in which the governor of your state threatens to fine you through executive order if you take a shower longer than he thinks you should. I know what you're thinking. You're thinking, you either made that story up or you live in California.
Perhaps that is how those in Utah felt when they heard about the cute little boy's cardboard box fort in their state. No longer was the "craziness" confined to their California neighbor to the west but it actually happened to them.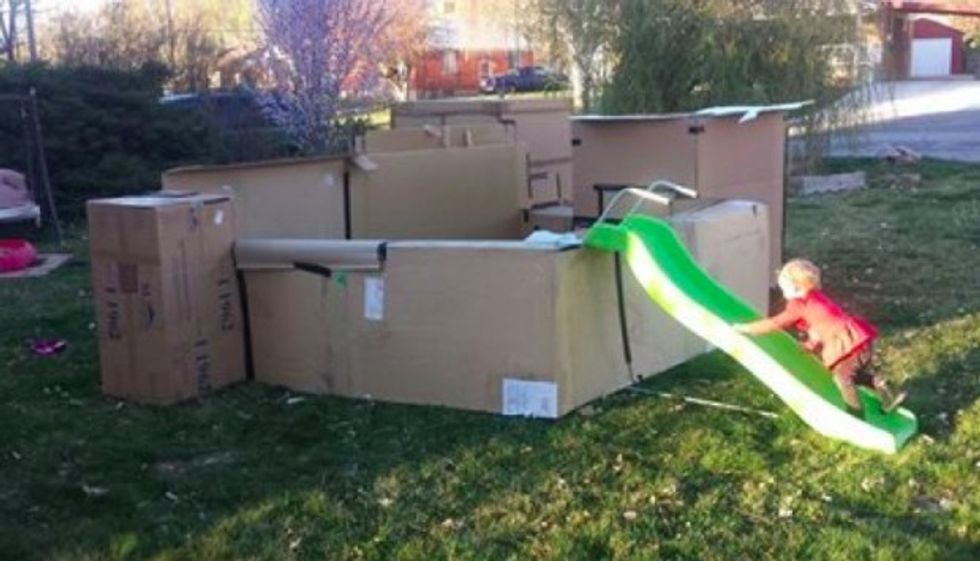 Image source: Facebook 
Apparently, in our current state of upside down becomes right side up, a 3-year-old boy named Max has become the next major offender or perhaps his father Jeremy Trentelman is the real culprit of a municipal code violation.
Wanting to have fun with his family, Trentelman had the audacity to build a major box fort for his children out of cardboard boxes and place it on his front lawn.
Maybe it was the fact that Trentelman made a "fort" that some in our upside down world could consider "racist," that really got the City of Ogden's enforcement unit all in an uproar.
[sharequote align="center"]While some municipal codes are necessary, some surely are used to harass or to control its citizens.[/sharequote]
Trentelman was issued a notification by code enforcement officer Gordon Sant informing him that he was in violation of Ogden City's code 12-4-2: "Waste Materials or Junk; prohibited on premises. The prohibition includes junk or salvage material, litter and/or any abandoned or inoperable vehicle. The notification stated that the family had 15 days to get the boxes off the lawn or they could be charged $125 with the first violation if no compliance and with fees and legal actions proceeding thereafter."
Arguably, the city may have a point. After all, it's possible that the cardboard boxes could have wheels affixed to them at some point rendering them an inoperable vehicle, right? Don't think that someone somewhere couldn't come up with that in the times in which we find ourselves today.
Who could forget the many stories in the recent past in which children's parents were arrested and forced to perform community service because their children were allowed to use sidewalk chalk, the kind that you may have used as a child before the world turned upside down?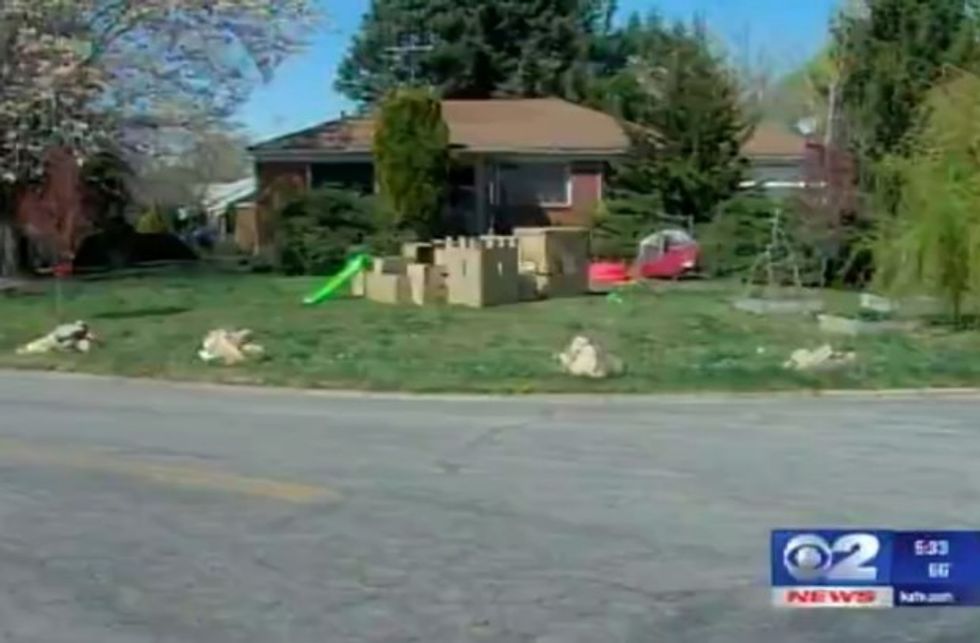 Image source: KATU-TV 
What about those "heinous" offenders who tried to get away with selling lemonade in Georgia so that they could pay for a ticket to a waterpark? Who cares that they were minors? Shouldn't they have had to pay the $50 required to get a business and food permit? What's wrong with kids these days?
Nothing so absurd could happen in your state. So, why worry, right?
Anyway, getting back to our 3-year-old municipal code breaker and his dad who contributes to his delinquency, I believe I have a solution that is sure to teach a lesson.
While some municipal codes are necessary, some surely are used to harass or to control its citizens.
While no one wants to see an old abandoned car or other eyesore permanently or for an extended period of time sitting on someone's lawn, we need to draw the line somewhere using common sense and reason.
So, here is what I propose. At the end of the 14th day, Trentelman should, with his neighbor's permission, move the fort to his neighbor's front yard. In this way, Trentelman and his family would no longer be in violation of any municipal codes.
Then, at the end of 14 days, the neighbor who now has the box fort on their lawn, should once again with their neighbor's permission, move the box to that adjacent neighbor's front lawn.
This should be repeated every 14 days throughout the neighborhood. Once permission is received, the boxes should be moved to the new neighbor's front lawn for an additional 14 days.
When the box fort needs replacing because of everyday wear and tear or because it has been damaged by the weather, a new box should be built and the cycle should be repeated for as long as necessary to get the point across.
In doing this, a message will be sent loud and clear, not to the Trentelman household, but to any city that wants to issue unreasonable citations.
We must reverse this "upside down is right side up" trend or the next thing you know, you'll have the governor of your state standing next to you in the shower.
–
TheBlaze contributor channel supports an open discourse on a range of views. The opinions expressed in this channel are solely those of each individual author.