Had Teddy Roosevelt delivered his famous admonition to "speak softly and carry a big stick" during the foreign policy segment of yesterday's Republican Debate, he might have been ridiculed as a liberal wimp for the "speak softly" part.
If this week's macho-fest is any indicator, this primary isn't about speaking softly at all (apologies to Ben Carson), it's just a lot of shouting about who's carrying the biggest stick.
It started with the early debate, in which questions about the Islamic State and Syria became a troop deployment auction between lower-tier candidates who apparently decided that a lack of naked military aggression was the cause of their current polling woes.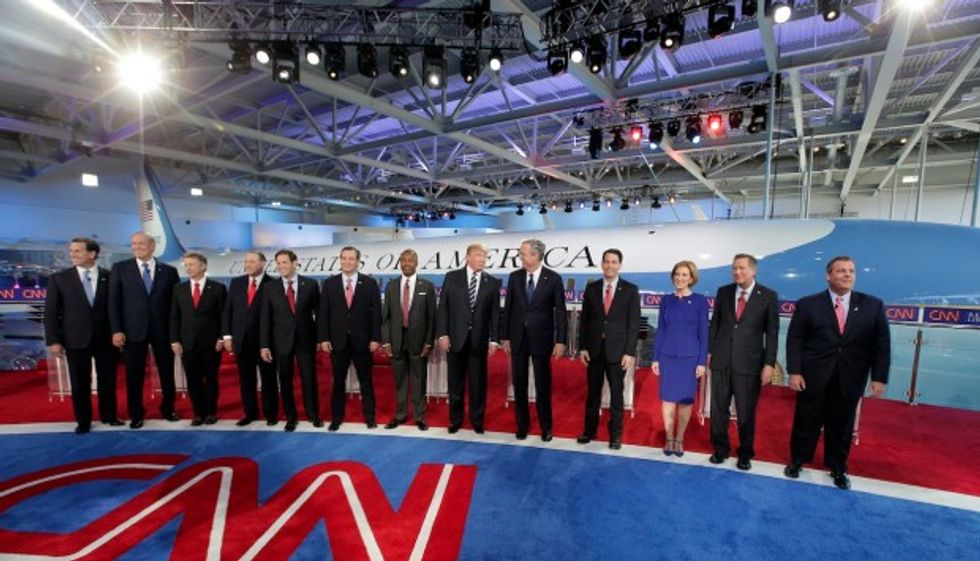 Republican presidential candidates stand on the debate stage at Reagan presidential library in Simi Valley, California, Wednesday, September 17, 2015. (AP/Chris Carlson)
Former Sen. Rick Santorum boasted a plan to deploy 10,000 U.S. troops, while Sen. Lindsey Graham countered with a promise to drop 20,000 American soldiers back into the Iraqi desert we just spent a decade getting them out of.
Gov. Bobby Jindal, not to be outdone, assured viewers that he would not only wipe out the Islamic State, but would do so without help from Syrian President Bashar Al-Assad, whom he would destroy at the same time in one giant parade of buttkickery, because 'Merica.
It was unclear from the first debate who actually committed to blowing up the most square mileage in the Middle East, so I was hoping for more specifics from the A-Team.
They didn't disappoint.
Approximately 96 percent of the time not spent discussing Donald Trump was spent naming countries that had, in some way or another, slighted the United States and therefore needed a good military or economic whipping. The list of countries condemned was impressive in its scope.
Iran, Russia, Cuba, Iraq, Mexico, Iran, China, Syria, Iran, Saudi Arabia, North Korea, and did I mention Iran?
In the midst of a debate that seemed equal parts soap opera and Saturday Night Live skit, this serious foreign policy discussion leapt right out of the script of "Team America: World Police."
I yawned through some of the early neoconservative strutting, but I was startled by Carly Fiorina's sudden transformation into a Super-Saiyan Dick Cheney.
Fielding a question about Russian president and bear-riding legend Vladmir Putin, Carly whipped out a verbal bazooka and proceeded to assault the world's other premier nuclear superpower with the following barrage of bravado:
"Having met Vladmir Putin, I wouldn't talk to him at all. We've talked way too much to him. What I would do, immediately, is begin rebuilding the Sixth Fleet, I would begin rebuilding the missile defense program in Poland, I would conduct regular, aggressive military exercises in the Baltic states. I'd probably send a few thousand more troops into Germany. Vladmir Putin would get the message."
As I tried to determine whether this was a serious policy suggestion or just an attempt to one-up her more hawkish opponents from a stage she had to claw her way onto, a friend summed up Carly's proposal in a single, perfectly sarcastic Facebook post:

(Joel Kurtinitis)
Sadly, the show had only just begun. Before the night was over, nearly every candidate jumped into the fight over who would bomb the most countries, deploy the most troops, or be first to tear up the Iran deal and put Russia and China in their place.
I wish I could say it was satire, but it wasn't.
These are real candidates, vying for control of a very real nuclear arsenal and the world's largest and deadliest military. Though several candidates questioned the wisdom of turning the big red button over to the hot-headed Mr. Trump, I'm not sure his is the only finger we should worry about placing on the trigger.
The evening was chock full of baseless concerns about the combat readiness of the U.S. military and the nuclear capabilities of countries that are literally starving to death.
The handful of candidates who threatened less than the requisite number of other countries were politely dismissed, despite the very thoughtful rationale they offered for a more restrained foreign policy.
Sen. Rand Paul made the compelling case that if the United States had unseated Assad at the outset of the Syrian civil war, the Islamic State may well be ruling from Damascus now, rather than skirmishing in the desert. His point went without any real acknowledgment from either his competitors or the audience.
Dr. Ben Carson urged a more comprehensive and accomplishment-driven approach to foreign policy goals, and was similarly dismissed.
Ohio Gov. John Kasich offered a half-hearted rebuke to those who would destroy the Iran deal immediately, suggesting that we determine whether Iran adheres to the terms of the agreement before shredding it. His suggestion was deadpanned.
Conversely, Gov. Jeb Bush, often forced to retreat from his brother's foreign policy decisions, took courage from the hawkish mood of the evening and saved his dismal debate performance by a nostalgia-tinged assertion that President George W. Bush "kept us safe" – a declaration that drew sustained applause.
Even the owlish Sen. Ted Cruz, whose foreign policy generally falls between the hawks and the doves, failed to stake out his unique approach during a discussion about Syrian intervention – which he opposed in the Senate.
The entire debate underscored the fact that the Republican Party seems to have conflated reasonableness with weakness.
There is simply no market for candidates proposing real foreign policy solutions like arming the Kurds, ending foreign aid to nations that sponsor terrorism, auditing the Pentagon to identify and cut military waste, or limiting interventions that make America less safe.
Here's the bottom line.
We have legitimate foreign policy problems. Belligerent regimes kidnap and kill our citizens. Economic competitors deliberately cheat American businesses with unethical trade practices. Bad actors continue to press expansionist policies. Civil wars and human rights abuses have caused a refugee crisis that has the West reeling. President Obama is ramming through an Iranian deal that flouts Congressional authority and leaves innocent American hostages languishing in Iranian prisons.
But these problems cannot be solved by continuing the same brashly aggressive foreign policy that put us here in the first place. If the years since Sept. 11, 2001 have taught us anything at all, it is that militarism isn't always the answer.
It's time for Republicans to admit that the problem with the Obama/Clinton foreign policy isn't weakness, but recklessness.
The Obama administration has been every bit as willing to deploy troops and topple regimes as the Bush administration before it, and has been far more aggressive in ordering drone strikes. If muscular military engagement were the key to safety, we would have no reason for concern by now.
But it's not, and we do.
This election represents a chance for candidates not wishing to repeat the costly foreign policy mistakes of previous administrations to distinguish themselves from the pack, and present a new vision for American leadership - one that doesn't come at the cost of policing the world or building foreign nations at the expense of struggling American taxpayers.
Let's hope Republicans take that chance.
–
TheBlaze contributor channel supports an open discourse on a range of views. The opinions expressed in this channel are solely those of each individual author.