In March 2004 President George W. Bush needed the attorney general to certify the legality of the National Security Agency electronic surveillance program. Attorney General John Ashcroft was hospitalized at the time and his deputy, James Comey was acting attorney general.
The Department of Justice disagreed with the White House position on the NSA warrantless wiretapping program and demanded changes in it in order to certify it.
Comey refused to sign the document and wrote a letter of resignation to be delivered to the president if the program were to continue without the changes.
Federal Bureau of Investigation Director James B. Comey gestures during a news conference Thursday, Feb. 27, 2014, in San Francisco. (AP Photo/Ben Margot) AP Photo/Ben Margot 
As Comey explained on "60 Minutes," the president's aides decided to go to George Washington Hospital to pressure Ashcroft, who was drifting in and out of consciousness, to sign the certification. Comey raced them to the hospital to stand in support of Ashcroft.
When Ashcroft was presented the document to sign he pointed to Comey and said, "There's your attorney general."
After a private meeting between Comey and President Bush the president supported the changes in the surveillance program. Comey stayed on.
All of that is to say this: America has been blessed for over 200 years with principled leaders committed to do the right thing. Jim Comey is one of those principled leaders.
That should rattle Mrs. Hillary Clinton to the bones.
Comey is now the director of the FBI. The FBI is in charge of the investigation into the use of a private server for her electronic communications as secretary of state. You can expect the FBI to pursue this matter wherever the facts lead them.
The facts are not in dispute. Mrs. Clinton used a privately owned and maintained server for her email communications. She comingled personal and government correspondence.
Federal law requires that classified information be handled on a secure government system. It is a crime to handle them otherwise.
Mrs. Clinton determined on her own which communications were government related and turned over about 30,000 emails to the State Department after they had been subpoenaed by Congress. She destroyed about 30,000 emails that she and her aides determined were "personal" and did not relate to business.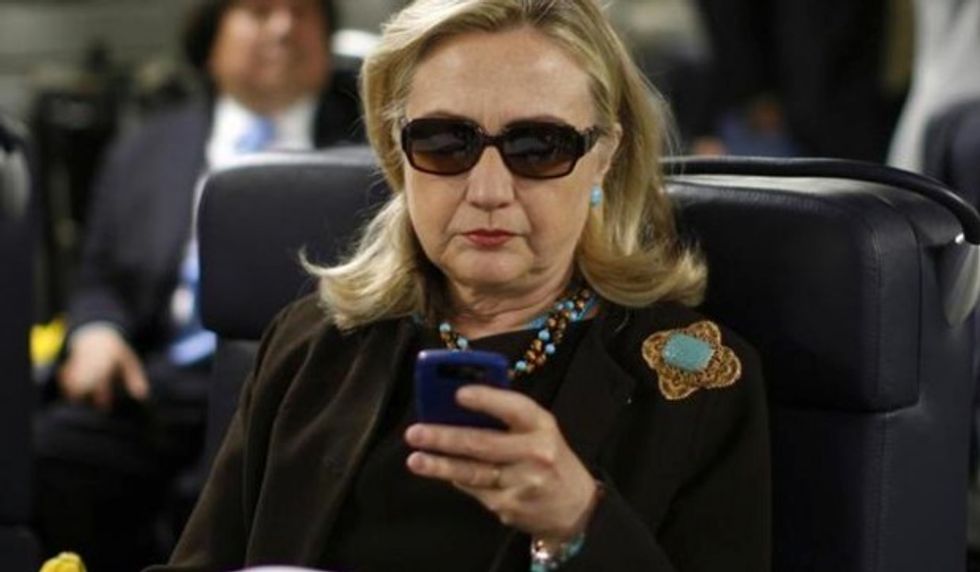 In this Oct. 18, 2011, file photo, then-Secretary of State Hillary Rodham Clinton checks her Blackberry from a desk inside a C-17 military plane upon her departure from Malta, in the Mediterranean Sea, bound for Tripoli, Libya. (AP Photo/Kevin Lamarque, Pool, File)
(Think about that. If you use email in your business activity, what percentage of your daily email is personal? Mine is about 2 percent. We are expected to believe that the secretary of state of the United States of America spent half her day on private email?)
Two inspectors general have reviewed 40 of the emails given to the State Department and found five of them had classified information in them. Two were classified Top Secret. It is likely that there are several thousand.
She gave a thumb drive containing the emails to her attorney for safekeeping. He may have an office safe, but it is not an approved place for the storage of classified government documents. That is a crime.
After five months of stonewalling Mrs. Clinton has turned the server over to the FBI. It has been professionally wiped clean.
To destroy classified documents is a crime.
Constitutional law professor Ronald Rotunda pointed out in the Wall Street Journal that it is a crime (18 U.S.C. section 1519) to destroy even one message to prevent it from being subpoenaed. Prosecutors charging someone with obstruction don't even have to establish that any investigation was pending. They need only show that the documents were destroyed to make discovery more difficult for future investigators.
Mrs. Clinton already answered that question. In an interview in 2000 she said, "As much as I've been investigated and all that. Why would I ever want to do email?"
She gave the emails that she didn't destroy to her attorney on a thumb drive. She gave them to the State Department in the form of 55,000 pages of printed documents. Thumb drives are searchable. Printed pages are not. Does it strike you that she was being particularly helpful in trying to get the documents out to the public?
The Clinton campaign has insisted on three points. This is not a criminal investigation. Mrs. Clinton is not being investigated. This entire matter is a political smear campaign by Republicans.
They need to tell that to Director Comey. The FBI does not take its lead from the Republican Party and they do not investigate political activity. They investigate CRIMES.
–
TheBlaze contributor channel supports an open discourse on a range of views. The opinions expressed in this channel are solely those of each individual author.