When it comes to the confederate flag, presidential candidate Hillary Clinton has smugly added that she "has always" been in favor of taking it down in South Carolina.
Yet as first lady of Arkansas, we heard not a peep of concern about the prominent rebel "stars and bars" symbolism of that southern state's official flag that flew on her official residence grounds in Little Rock while husband Bill was governor.
And a good question for Hillary today, is that if she "has always" favored taking down South Carolina's relic of the Civil War, what about all the same rebel symbolism embodied in her own Arkansas flag that flew on her own official residence lawn? Shouldn't it also be banned, for the same reasons as in South Carolina, to combat divisiveness?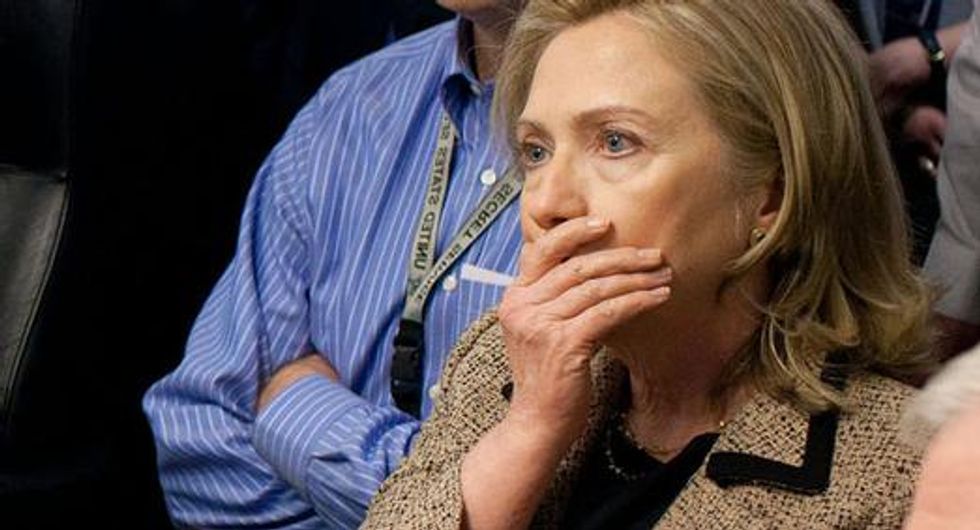 Hillary Clinton holds her hand to her face in a Situation Room photo. (Image Source: AP Photo/Politico) 
There is no question that the Arkansas state flag is intended, by its symbols, to "commemorate the Confederate States of America." In fact, then Gov. Bill Clinton signed a law in 1987 that says so, designating a special star on the flag for that exact purpose.
Hillary Clinton may have objections to Confederate sympathies in state flags still flying in South Carolina or Mississippi, but what makes Arkansas an exception and why has she never had anything to say about it?
Hillary, should the state flag of Arkansas, which can be seen as just as offensive to African Americans and other minorities who have been subject to racism as the Confederate battle flag of South Carolina, also be banned? Voters need to know.
Especially in culturally diverse and deeply blue states like California, perplexed voters will need to understand from Hillary Clinton why the South Carolina flag must come down but the Arkansas flag's Confederate roots draws no comment from her.
California voters are the most unlikely in the nation to understand Hillary's silence and see honor in the distinction between the "southern valor" that "stars and bars" supporters urge their flags represent in contrast to the general negative perception of slavery and racism more commonly associated with the rebel flag.
These voters are becoming the most diverse ethnic conglomeration in the nation, and include Latinos, who now compromise the largest ethnic group in the state at 39 percent, non-Hispanic whites at about 38 percent, and Asians, with over 14 percent of the population. There are two times more Latinos and Asians in California by percentage than in the entire United States. About 7 percent of Californians are black. Overwhelmingly, Californian's "voting cues" gleaned by the entire state let alone the 60 percent of the state that represent minority groups who have experienced racism, are simply not connected to some sort of sympathy to the rebel cause when they see a Confederate flag.
In view of the tragedy in Charleston, it is now inescapable that Hillary's opponents will raise her failure to object and indeed passively embrace the Confederate symbolism in Arkansas as an issue in the campaign. Even deeply blue California, with the most electoral votes in the nation, and its voters, are hardly going to accept a voting cue that the Confederate flag is bad for South Carolina but good for Arkansas just because Hillary Clinton has nothing to say about it.
–
TheBlaze contributor channel supports an open discourse on a range of views. The opinions expressed in this channel are solely those of each individual author.