Is Hillary Clinton lying about her attempt to join the Marines?
The answer to that question may sink her chances of becoming commander in chief, just as tall tales about his military service doomed John Kerry in 2004.
After the mainstream media attacked GOP frontrunner Ben Carson last week for exaggerating an acceptance and full-ride scholarship at West Point Academy, (a few) mainstream media reporters are finally investigating whether Hillary's tale holds any merit.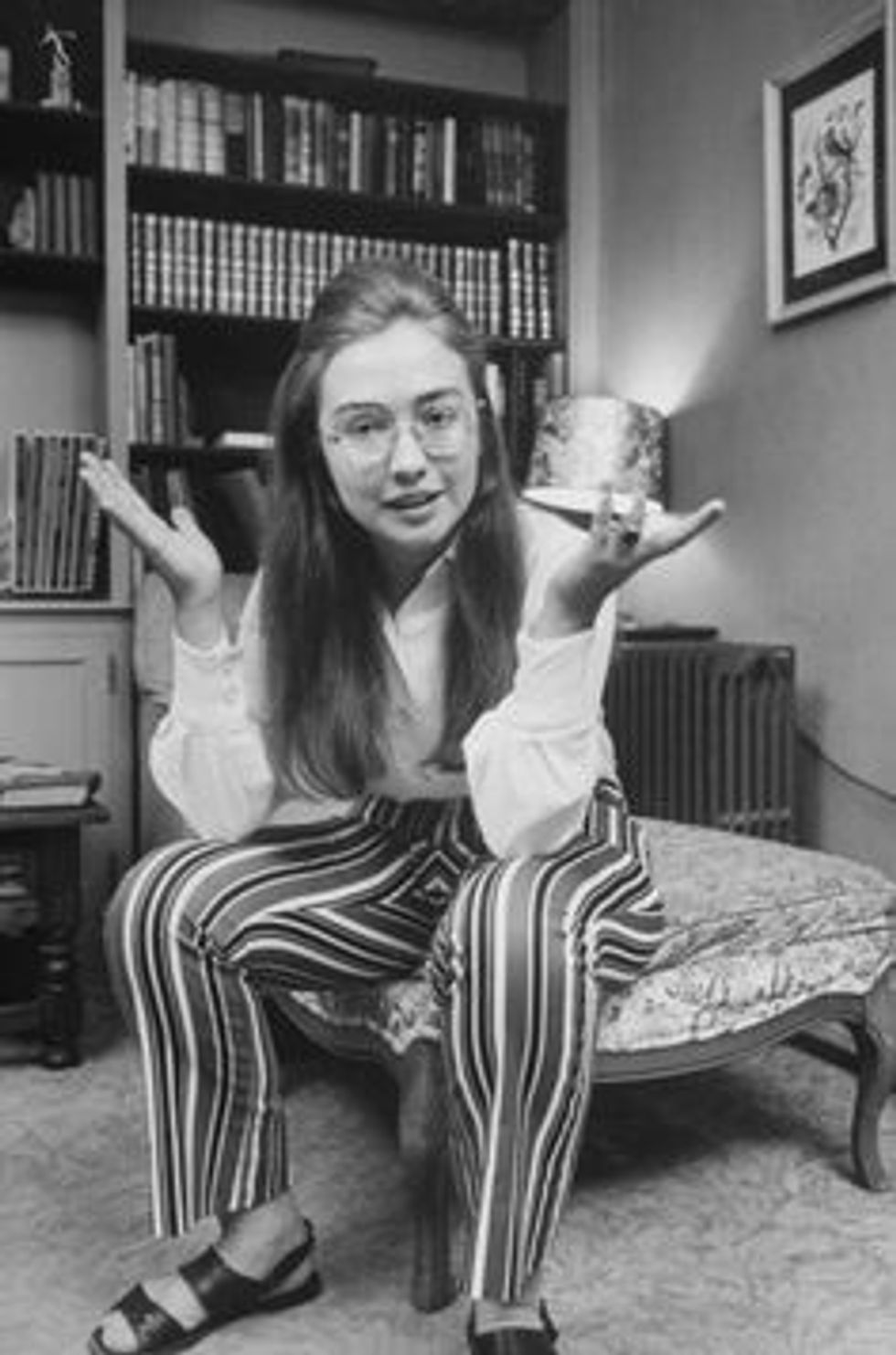 Hillary Clinton around 1975, when she claims to have attempted to enlist as a U.S. Marine. (Lee Balterman, The LIFE Collection/Getty Images )
The Washington Post has given Hillary's claim "two Pinocchios" symbolizing "significant omissions and/or exaggerations," and it does appear her story is riddled with holes.
Clinton first shared the story as first lady in 1994 when she addressed a luncheon honoring military women.
The story seems to have gotten little scrutiny back then in a pre-FOX News era in which very few conservative publications and precisely zero conservative TV outlets existed.
The first time her story was fact-checked was in 2007 when Clinton began to eye a run for the White House. Then, even the liberal New York Times columnist Maureen Dowd found the tale to be unbelievable given then-Hillary Rodham's staunch anti-war positions.
After all, the former first lady would have hardly been interested in enlisting and going to war, after working "on the anti-war presidential campaigns of Eugene McCarthy and George McGovern" and organizing "teach-ins on her opposition to the Vietnam War."
While The Washington Post reported that friends say they believe Clinton did attempt to join the Marines in 1975, the friends recall it being more of a prank - an attempt to catch the Marines in a "gotcha" moment to prove the armed forces were sexist.
Why does Clinton's story matter? Or in her own words, "What difference at this point does it make?"
It matters because it speaks to the integrity of the highest office in the land.
It matters because Clinton shared the story again last week at a campaign stop in Manchester, New Hampshire.
It matters because the two instances where she boasted about the story were in front of military audiences, on military holidays, while honoring the military.
It matters because she is seeking not only the presidency but also to serve as commander in chief where she would have troops reporting to her.
It also matters because, if it is true that she attempted to entrap the United States Marine Corps to prove it is a sexist organization, it would inform us of her views and how she might lead as the first female commander in chief.
If her story proves to be untrue, it would not be the first time Clinton has exaggerated a military claim.
On the campaign trail in 2008, Clinton claimed that in 1996 she and daughter Chelsea Clinton landed in war-torn Bosnia "under sniper fire." The problem is her trip to the region was a full three months after the December 1995 Dayton Peace agreement, which lessened tensions in the region so there would have been no sniper fire.
In addition, numerous reporters accompanied her on the trip including an Associated Press photographer who photographed the first lady bending down and greeting a Bosnian child with a kiss, not running from sniper fire upon landing. Clinton has since admitted she misspoke about the events.
Whether her tale of attempting to join the Marines is true or false, it merits at least as much coverage as Dr. Ben Carson's claim about West Point; perhaps even more, given the Clintons' long life of government service and the fact that she ought to know better.
Hillary ought to come clean with the American people. Whether it's Veterans Day or any other week of the year, the military expects the truth of their commander in chief, and so should we.
–
TheBlaze contributor channel supports an open discourse on a range of views. The opinions expressed in this channel are solely those of each individual author.