Today, while the man who exposed Planned Parenthood for selling baby body parts awaits trial, a House Select Investigative Panel will look into whether America's largest abortion chain broke federal laws when it harvested and sold the hearts, livers, brains and eyes of the tiny children it killed.
Although many in the media and politics uncritically repeat Planned Parenthood's talking points that the undercover videos exposing this barbaric practice were doctored, Planned Parenthood's CEO testified before Congress last September that the abortion giant actually did sell baby parts from abortions – and did it for money. So, there's no denying that Planned Parenthood engaged in the gruesome practice of harvesting and selling baby body parts. They did it. Period.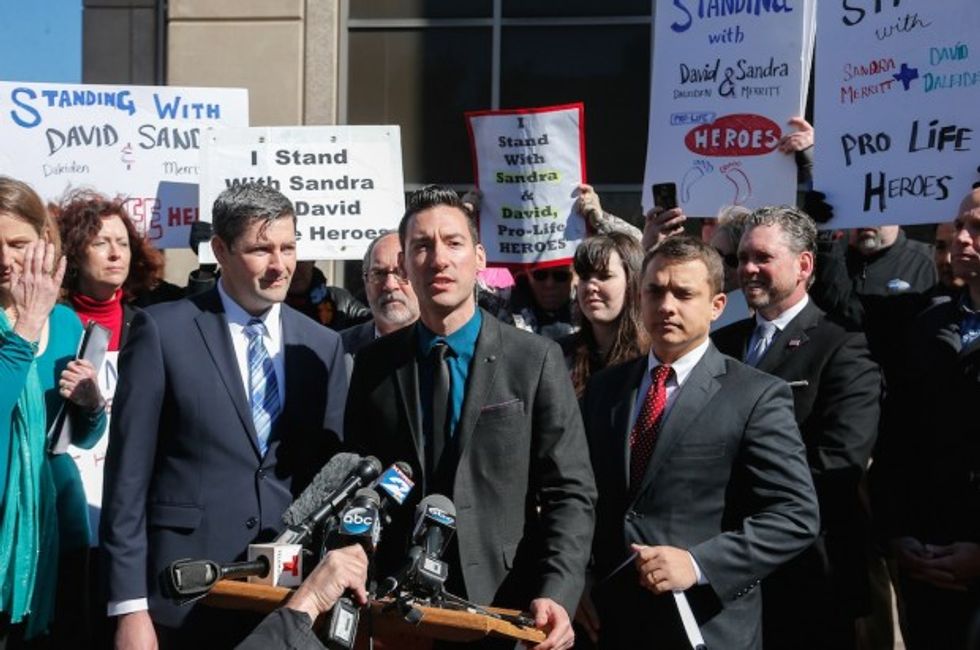 Davids Daleiden, center, one of the two anti-abortion activists indicted last week speaks to media and supporters after turning himself in to authorities Thursday, Feb. 4, 2016, in Houston. Daleiden and Sandra Merritt are charged with tampering with a governmental record, a felony punishable by up to 20 years in prison. (AP Photo/Bob Levey)
The question the House panel is looking into today is whether Planned Parenthood just covered its costs or actually made a profit from it. The act of selling makes the whole thing gruesome; the act of making a profit makes it a federal crime.
The videos also show Planned Parenthood officials stating that they would alter the abortion procedure to try to obtain more "intact" body parts to sell. Altering the abortion procedure can put a mother's health or even life at risk and is another potentially illegal act.
So, what's happening to the man who exposed all this reprehensible activity?
He's facing up to 20 years in prison.
David Daleiden entered Planned Parenthood abortion facilities in Texas, California, Colorado, and other states posing as an interested human tissue buyer. Earlier this year, instead of indicting Planned Parenthood for offering to sell baby body parts, a Harris County, Texas, grand jury charged David for offering to buy them.
While the national media and Planned Parenthood claim that the Texas grand jury "exonerated" Planned Parenthood before turning its sights on David, the Associated Press reported that the district attorney's office never even asked the grand jury to vote on criminal charges against Planned Parenthood. Shockingly, the DA only targeted David and his brave associate, Sandra Merritt.
This is after the district attorney's office was asked back in August 2015 to recuse itself because one of its prosecutors serves as a board member of the Planned Parenthood affiliate involved in the case. But the DA refused, so questions of potential bias remain.
Then, earlier this month, the country was stunned again when California Attorney General Kamala Harris sent 11 agents to raid David's one-bedroom California apartment, confiscating all of the undercover footage from his investigations. The raid also came as a shock to David's lawyers, who had been in discussions with and cooperating with the AG's office.
Like the Texas DA's office, Ms. Harris also has severe issues with her objectivity. Instead of investigating Planned Parenthood's California abortion facilities for the potential crimes David caught on camera, she has a petition on her campaign website to collect signatures to defend the abortion giant. And her desire to silence pro-life voices was previously demonstrated when she sponsored a California law to force pro-life crisis pregnancy centers to tell patients where to go to get abortions.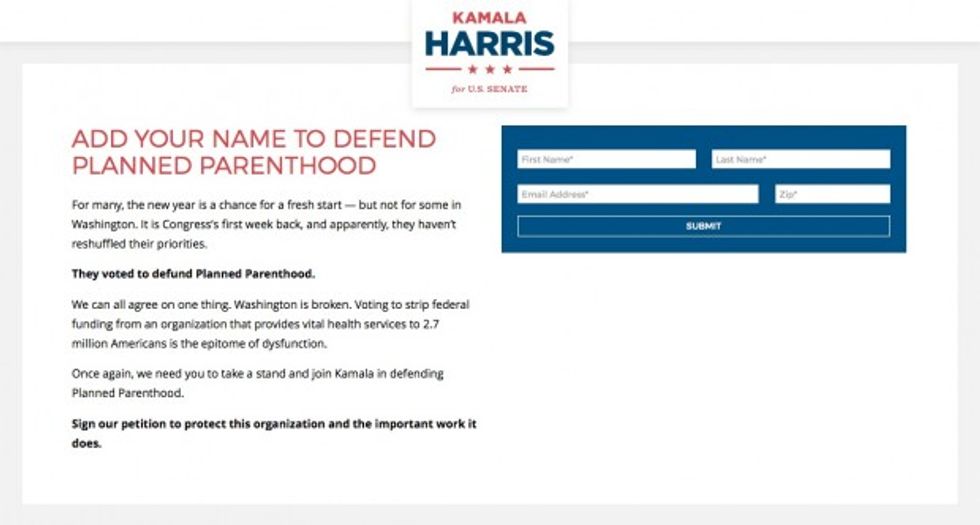 Image source: kamalaharris.org
Even the Los Angeles Times called Harris "politically ambitious" and said that prosecuting David would help her U.S. Senate campaign.
While elected law enforcement officials in two states refuse to investigate Planned Parenthood and instead go after the whistleblower, we applaud the House's investigative panel as they continue to do what these other public servants have failed to do: scrutinize the people who committed the real crime and let the American people know the truth about their horrific deeds.
–
TheBlaze contributor channel supports an open discourse on a range of views. The opinions expressed in this channel are solely those of each individual author.