The filmmaker behind undercover videos of Planned Parenthood executives wrote in a social media post that California Attorney General Kamala Harris' office seized his video footage on Tuesday evening.
The Center for Medical Progress posted on Facebook that the California Attorney General's office was searching the apartment of its founder, David Daleiden.
"Today, the California Attorney General's office of Kamala Harris, who was elected with tens of thousands of dollars from taxpayer-funded Planned Parenthood, seized all video footage showing Planned Parenthood's criminal trade in aborted baby parts, in addition to my personal information," Daleiden wrote in a Facebook post.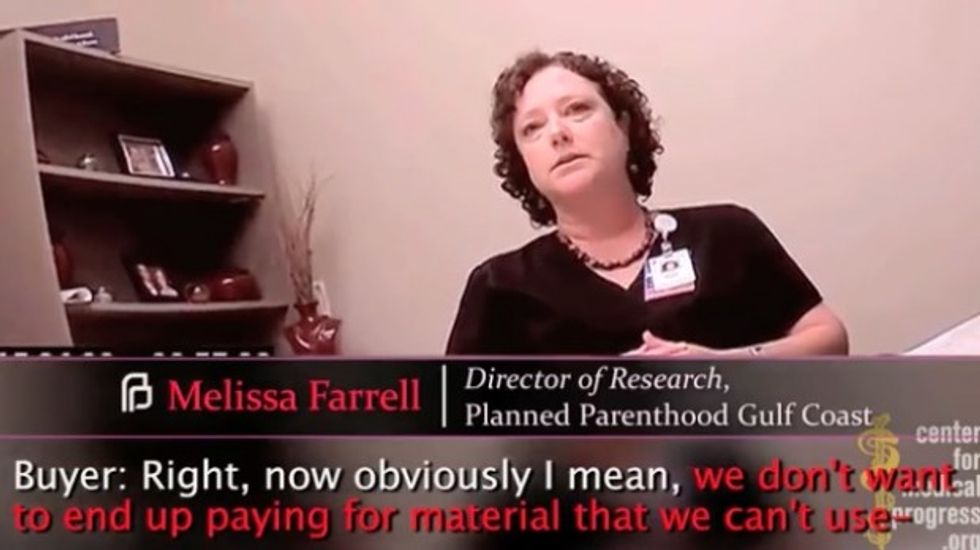 Image source: YouTube
"Ironically, while seizing my First Amendment work product, they ignored documents showing the illicit scheme between StemExpress and Planned Parenthood," Daleiden continued. "This is no surprise--Planned Parenthood's bought-and-paid-for AG has steadfastly refused to enforce the law against the baby body parts traffickers in our state, or even investigate them--while at the same time doing their bidding to harass and intimidate citizen journalists."
"We will pursue all remedies to vindicate our First Amendment rights," he added.
Brenda Gonzalez, press secretary and community liaison for Harris, told TheBlaze that she is unable to comment on any "ongoing investigation."
Harris is currently running for the U.S. Senate as a Democrat. On her campaign website, she urges supporters to sign a petition in defense of Planned Parenthood.
This Nov. 16, 2012 file photo shows California Attorney General Kamala Harris speaking during a news conference in Los Angeles. (AP)
The videos released by the Center for Medical Progress raised allegations that Planned Parenthood is trafficking in aborted fetal body parts. Profiting from the sale of human organs – including those of the unborn – is a felony in the United States.
Spokespersons for Planned Parenthood have maintained that the videos are "heavily edited" and denied that they made a profit from tissue donation. The organization has filed a federal lawsuit against the Center for Medical Progress and Daleiden, among others.
In a statement to TheBlaze, Matt Heffron, a former federal prosecutor in Phoenix, Ariz. and a legal adviser to Daleiden, said, "To storm into a private citizen's home with a search warrant is outrageously out of proportion for the type of crime alleged."
"It's a discredit to law enforcement, an oppressive abuse of government power," Heffron said.
The organization's most recent video was released Tuesday.
This post has been updated.
—
Follow Kate Scanlon (@kgscanlon) on Twitter