© 2023 Blaze Media LLC. All rights reserved.
How Martin Luther King's Daughter Used Faith to Find Her Way Back From the Brink of Grief
Exploring a lifetime of losses and the complicated consequences of grief, Dr. Bernice King shares intimate reflections about her family's multiple tragedies.
Sitting down with Martin Luther King's youngest daughter, Dr. Bernice King, this past April, was an opportunity to explore life's losses as well as the challenges of finding hope and joy in the aftermath. Between the two of us, we had weathered some of the most challenging grief journeys known to mankind. And yet we are both dedicated to finding ways to create hope.
For Dr. King, the assassination of her famous father was just the first of many to come.
"My uncle dies in '69, daddy in '68, my grandmother in '74, my female cousin in '76. Skip over to '84, my grandfather has a heart attack on a Sunday and dies," she said.
The sudden loss of her grandfather triggered an emotional replay of her father's death.
"And so here you have a grandfather, we're just kind of getting bonded, it takes me back to daddy at age five. From my birth to age three, my father had to travel more. So it was kind of a strange relationship initially, me trying to warm up to him. And finally when I warmed up ... as soon as I got bonded to him, boom! He's taken away from me. And so here I am with my grandfather in '84. I think about my uncle, as soon as he teaches me to swim, within eight, nine days, he's gone!" she said.
Dr. King is poignantly honest about how the multiple losses play a role in her personal life.
"Now, not only am I angry, I have this serious abandonment issue that I will say to this day affects all of my relationships."
Dr. Bernice A. King (The King Center)
By the time Dr. King began counseling youngsters in juvenile detention, she was aware of her own timidity towards relationships.
"I have people always tell me, 'Bernice has these walls, and you can't get close to her.' I would have relationships, but I couldn't let anybody too close because of that fear that they are going to leave me, that they are going to die, something is going to happen to them," she said.
In 1999, Dr. King hired an assistant named De'Leice, a relationship that would prove family isn't always blood related.
In 2005, Dr. King's mother became ill. When she died the following year, Dr. King leaned on her faith as well as her friendship with De'Leice.
"It was like God did not just leave me here alone … there was somebody close to me. It's when people pass and you don't have that, that is tragic. So I looked at De'Leice when my mom died and I said, 'You know what? I'm not calling you a friend anymore. I'm going to call you my sister,' not knowing that the next year I was going to lose my sister," she said.
Just 16 months after losing her mother Coretta, a heart issue claimed the life of Bernice's sister, Yolanda.
[sharequote align="center"]"Our strong faith in God, and that God will see us through this, which ultimately He does."[/sharequote]
Referencing her connection to De'Leice, I opined that love comes in many forms. Dr. King agreed, and admits "I learned that late in life."
Touched by their close bond, I invited De'Leice to join our conversation.
"I've had two losses in my life that I didn't think would cripple me as much as it has," shared De'Leice. Her older sister died of brain cancer. Diagnosed at a late stage, she was given just months to live.
"My sister used to call me every day, literally every day. And I used to say 'Man, I wish Jan would get a life and quit calling me!' That is what I used to say. But now I would give anything for my phone to ring and it be my sister," she said.
De'Leice also lost her close friend and prayer partner. And then her brother died.
"That gripped me because my brother came to see me when I was in Atlanta. And before he got ready to leave and, I'll live with this for the rest of my life, the Lord said 'hug your brother and tell him you love him.' I didn't. I just looked at him while he sat in the car, and that was the last time I saw him alive. And so when I went home for his Home Going Service, it was then that I hugged my brother. But he was dead, so he didn't know," shared De'Leice as she wiped away tears.
Continuing the conversation around the King family's legacy, I asked Dr. King that if life had been different, what would it look like?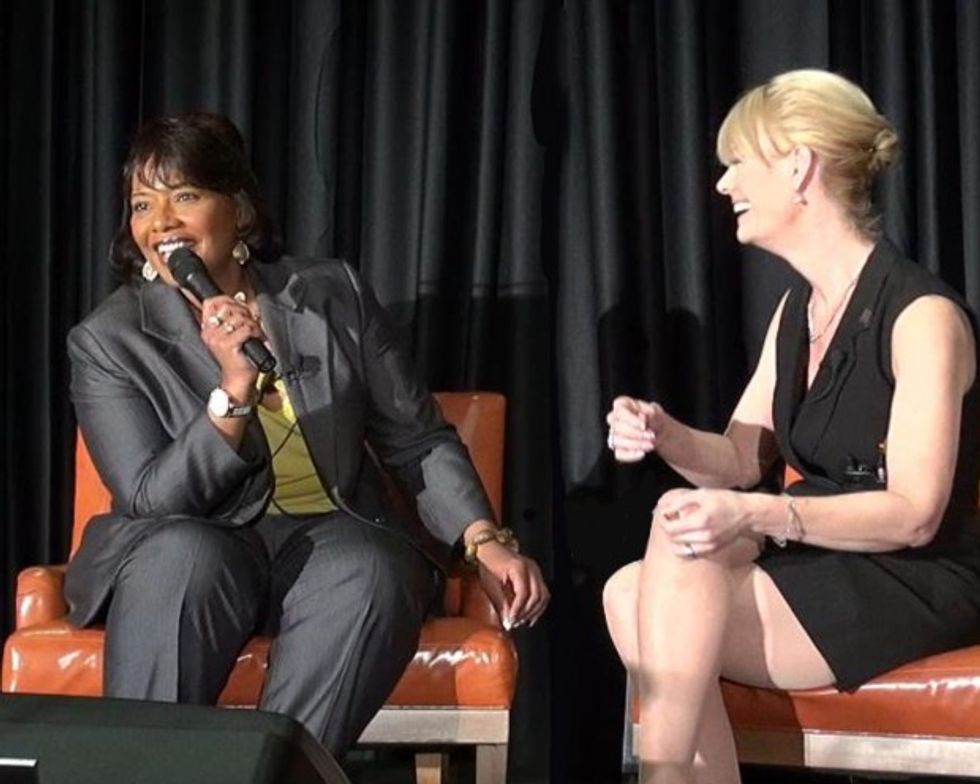 Lynda Cheldelin Fell and Dr. Bernice A. King, April 2015 (Lynda Cheldelin Fell, AlyBlue Media)
"The first thing is I would be married with some children, that's the first thing."
But dedicated to the social movement, she admits, "That's another loss, an extreme loss that I grieve quite often."
She also admits that she always dreamed of being a counselor.
I asked Dr. King what brings her comfort: "My grandfather used to gather the family when we would have these losses, before he passed. And he would have each of us go around the room and just say something. At the end, he would always say to us….'You know, we've got to be thankful for what we have left.' And that's what helps me."
She also credits her devotion.
"Our sense of spirituality and strong faith in God, and that God will see us through this, which ultimately He does. But that does not dismiss the fact that it is important to address the barrage of emotions that one is feeling," states Dr. King.
She also stressed the importance of support. "Even though a person can't heal you, their presence, their care, their concern, their love can make all the difference in the world."
Dr. King also talked about the significance of relationships in connection with healing. "We have to begin to recreate our notion of family, that family is not necessarily always biological, blood, kin."
Toward the end of our conversation, Dr. King shared a dream she had of her famous father in 1988, just after she gave her first public sermon. "He was holding my hands across a desk, I distinctly remember that. He was talking to me about his concern for my mother, that she needed a break, to rest some. Suddenly the door opened and my brother Dexter came in and he [my father] said 'I'll be back."
She again dreamed of her father two years later. "This time I was fussing at him. He was sitting in the chair and I was standing, and I said 'You haven't been in touch with me!' And my sister was next to him and she said, 'He's been in touch with me.' He looked at her and then looked back at me and said, 'You will understand.' It's my ministry, this was after I was ordained into ministry. I haven't totally processed the dream. But part of what came to me was his ability to touch me. Because up until that point I've dealt with a very serious irrational fear of dead people, dead bodies. After my uncle, I had never been in a funeral home until my mother died. I couldn't do it. So when daddy came, it was healing. It was comforting to know that he was affirming my ministry."
With a recent invitation to speak at a palliative care conference, Dr. King ponders whether God is calling her to help open the dialogue about grief. "Maybe the Lord is saying 'now is the time for you."
In closing, Dr. King offered, "I wish there was a way to just bring this to a lot of people and a lot of different cultures, because I think it would make such a substantial difference in our world. And I wish we would value it."
Many of us couldn't agree more.
–
TheBlaze contributor channel supports an open discourse on a range of views. The opinions expressed in this channel are solely those of each individual author.

Want to leave a tip?
We answer to you. Help keep our content free of advertisers and big tech censorship by leaving a tip today.
more stories
Sign up for the Blaze newsletter
By signing up, you agree to our
Privacy Policy
and
Terms of Use
, and agree to receive content that may sometimes include advertisements. You may opt out at any time.