As night follows day, so must the protestors who shut down Donald Trump's event in Chicago result from the trajectory of solipsism that threatens to drown us.
And for this, I blame the parents. Yes, you. Well, not you who fight against the monster, but you, kindly parents and educators, who mean well and do harm.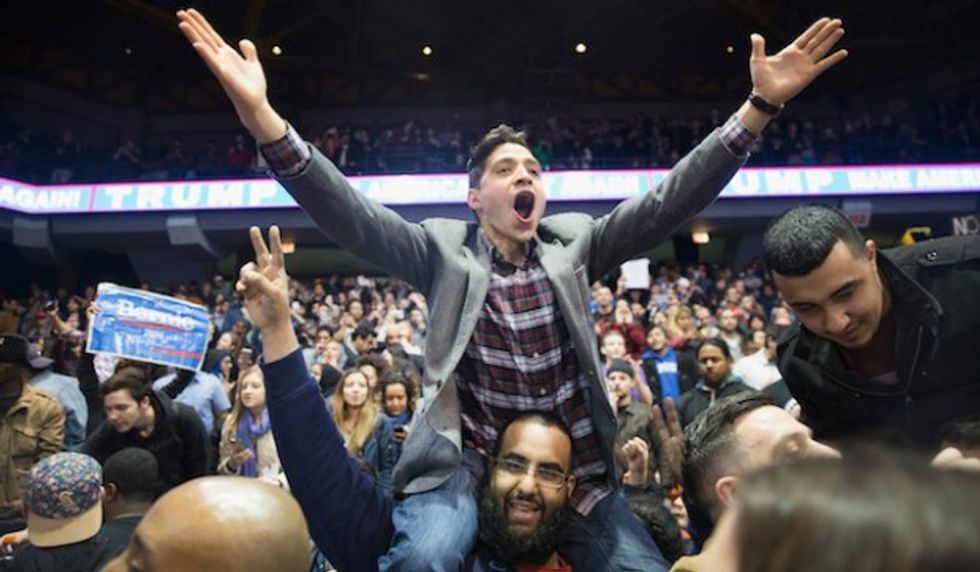 Demonstrators celebrate after it was announced that a rally with Republican presidential candidate Donald Trump at the University of Illinois at Chicago would be postponed on March 11, 2016 in Chicago, Illinois. Organizers postponed the rally citing safety reasons after hundreds of demonstrators were ticketed for the event. (Photo by Scott Olson/Getty Images)
Children are awful; greedy, selfish, lazy, demanding, and, worst of all, whiny. Every single one of us is born with an all-consuming animal nature that only diligent parents and civilized society can subdue. With firm and loving boundaries, we traverse the universal rite of passage—"the terrible twos"—and rise above "Hell hath no fury like the toddler who wanted the green crayon instead of the red one."
Children are also smart; quick learners, survivors, and, best of all, extremely adaptable. Parents and the world a child is exposed to, shape young minds like the first impressions in a pair of Birkenstocks. For the biblically-minded, "Raise a child in the way he should go: and when he is old, he will not depart from it."
Back to Chicago.
In a nutshell, Windy City protesters who saw fellow protesters in St. Louis prevent Donald Trump from speaking for five to 10 minutes, decided they could do him one better. No "let freedom ring" for them, no, for them it was "off with his head if he thinketh for himself."
Powerful freedoms to speak, write, assemble, organize, and vote skidded under the bus of "Hell hath no fury like the protestor who disagrees with someone else's point of view." Now, where, oh where, would protesters learn that their feelings trump (no pun intended) other Americans' First Amendment rights?
Back to the home.
If one dynamic has risen to rule the average family home today, it is that parents no longer put themselves above their kids. If you're the kind of parents who do feel that your children are subordinate members of the family, you might want to keep it under wraps. I once commented to a friend that when I say jump, I expect my kids to say how high. Merely on principle. Once that point is reached—and it only needs to be reached once, for the record—I give them copious amounts of latitude because they know their proper relationship to me and my husband. My friend stared at me openmouthed: "You're willing to say that out loud?"
Yes.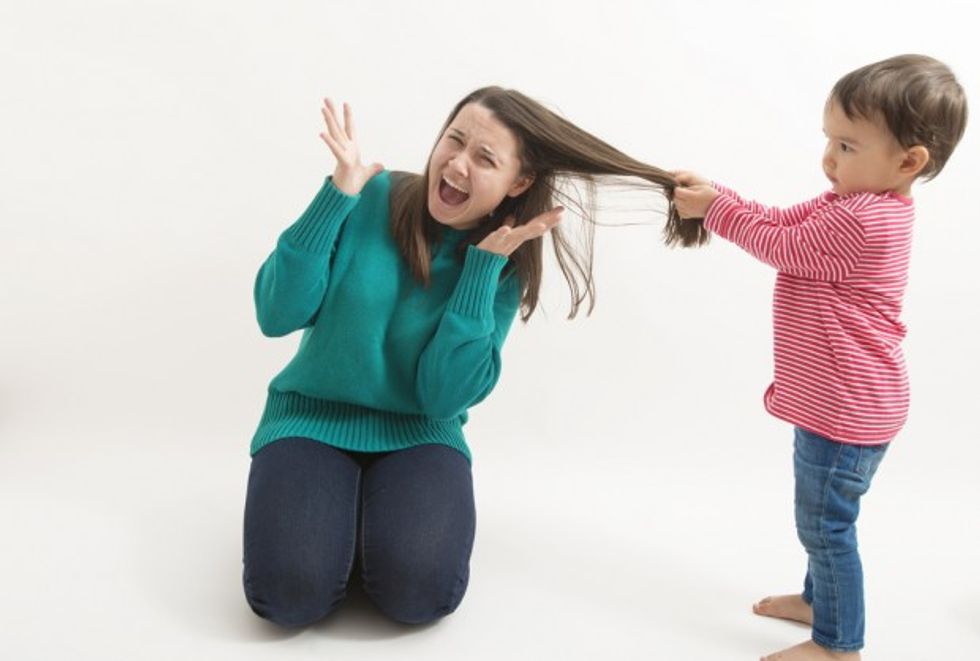 Shutterstock
I also require my kids to address adults with respect—Mr., Mrs., or Ms. (if you must)—a shoveling-sand-against-the-tide standard if ever there was one. I teach them that they're welcome to any feelings they wish, but I will hold them accountable for their behavior. I remind them frequently that we don't always get what we want; that life is almost never fair. And if I don't feel a small ripple of satisfaction for a job well-done when my teenagers say, "I hate you," I know I'm sacrificing leadership for popularity.
Accordingly, I don't expect I'll see them joining with a power-hungry mob to shut down freedom of expression. What they sacrifice in free-to-be-you-and-me mentality they stand to gain in contented lives of self-control and regard for others. At least, that's the hope.
Back to kindly parents and educators.
They mean well, I know they do. Unfortunately, they've fallen for the poison apples of fairness and self-esteem, one of which is impossible and the other of which can only be earned, not conferred with an undeserved trophy.
I don't care how many times we wave the fairness wand and achieve the magical "level playing field," from the moment the starting gun goes off, some of us will pull ahead and some of us will fall behind. We've waved our magic wand, so there's no racism, sexism, or homophobia. The only thing that separates us—and will always separate us—is innate intelligence, insight, drive, and raw talent.
Far better, I think, to prepare kids for the reality of stark differences in the world. Far better to teach them respect, compassion, and forbearance. They can still protest Donald Trump, but in a way that brings more credibility to their point of view because the focus is on ideas, not circuses.
Donna Carol Voss is an author, blogger, speaker, and mom. A Berkeley grad, a former atheist, pagan, and hot mess, she is now a Mormon on purpose and an original thinker on 21stcentury living. Her memoir, "One of Everything," traces the path through one of everything she took to get here. Follow her on Twitter @donnacarolvoss or stop by www.donnacarolvoss.com.
–
TheBlaze contributor channel supports an open discourse on a range of views. The opinions expressed in this channel are solely those of each individual author.