For several decades, I've suffered from a disease called Battered Conservative Syndrome. Every Election Day, I vote for Republicans because they claim they desire limited government, fiscal responsibility, free markets and they say will defend the U.S. Constitution.
Every year, they lie and abuse me, but I always come back for more punishment. I've experienced severe cases of BCS after voting for Bob Dole, George W. Bush, John McCain and Mitt Romney for president. I can't do it anymore.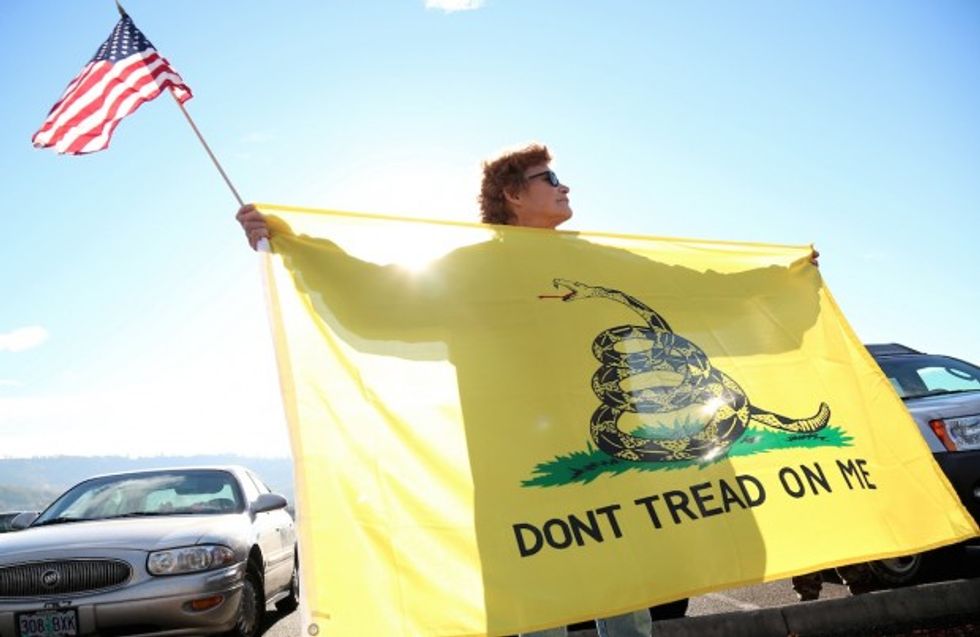 Leslie Corp holds up an American flag and the Gadsden flag while waiting outside of Roseburg Municipal Airport for President Barack Obama's arrival in Roseburg, Ore., Friday, Oct. 9, 2015. (AP Photo/Ryan Kang)
I'm sure many of you have heard the same lecture: "Tom, you must vote for a RINO because he/she has name recognition and money. He/she is the only candidate who can win in the fall. Our candidate isn't perfect, but he/she sucks less than a Democrat. It will be your fault if a Democrat wins."
So I dutifully voted for Republicans and cursed my decision.
Since the Tea Party revolution started in 2009, my BCS symptoms have grown worse, not better.
For example, in 2010, Sen. Rand Paul (R-Ky.), a libertarian/conservative, was elected by Tea Party conservatives like me. RINO Sen. Mitch McConnell (R-Ky.) endorsed Paul's opponent, Trey Grayson, in the Republican primary. Paul won.
Then, in 2014, Paul endorsed McConnell for the U.S. Senate over conservative Republican Matt Bevin, now the governor of Kentucky. McConnell won. Why would libertarian/conservative Paul endorse McConnell? McConnell voted for:
TARP, the Patriot Act and the National Defense Authorization Act

Raising the national debt ceiling

Raising the minimum wage

Obama's judicial nominees 80 percent of the time

Increasing the inheritance tax from 35 percent to 40 percent

Maintaining ethanol subsidies

Increasing capital gains and dividends from 15 percent to 20 percent

Over his 30 years in office, participated in increasing the national debt from $1 trillion to over $19 trillion

Increasing the top federal marginal income tax rate from 35 percent to 39.6 percent

Expanding Medicare to include Part D - In 2013, the New York Times reported Part D will add $852 billion to the national debt over the next 10 years
My BCS damn near killed me after that episode. I required 4-shots of GOP-Narcan to survive.
Also in 2014, Paul endorsed Sen. Susan Collins (R-Maine). He unbelievably said, "I wholeheartedly endorse Senator Collins for re-election. I think she's doing a great job for Maine and for the country. … I don't really know, exactly, what her position is on the NSA; you'd have to ask her about that."
Collins is the most liberal Republican in the Senate. I was so confused. (Doc, where is the closest Battered Conservative shelter?)
In 2016, Republicans continue to batter their supporters. In 2010, Republicans gained control of the U.S. House. In 2012, they gained control of the U.S. Senate. In 2014, they expanded their control in both chambers. Did federal spending decrease? Nope! During the first 6-months of fiscal year 2015/2016, federal spending reached an all-time record of $1,937,242,000,000. Republicans who are fiscally responsible are disappearing faster than men's and women's restrooms.
In 2016, Tax Freedom Day was April 24th. It tied 2015 as the latest date since the Tea Party Revolution of 2009. Tax Freedom Day is the day we stop working for the government and start working for our family. Nice job, Republicans!
Part of my BCS therapy is to research the cause of my disease. I needed answers. I heard conservative radio host Mark Levin promoting Conservative Review. I checked out the Liberty Scores section. It rates members of Congress on their "50 most important votes." Each member receives a numeric score and grade.
A = 90 percent or greater

B = 80–89 percent

C = 70-79 percent

D = 60-69 percent

F = 59 percent or less
I was shocked to learn that all Republicans are not the same. A few are constitutional-conservatives and many are marxists, socialists and communists masquerading as Republicans. Checkout these repulsive Liberty Scores for Republicans:
U.S. Senate:
4 (A), 2 (B), 9 (C), 5 (D) and 34 (F).

The 4 "A" senators are: Sens. Mike Lee (Utah) at 100 percent, Ted Cruz (Texas) at 97 percent, Paul at 94 percent and Ben Sasse (Neb.) at 93 percent.

The 4 worst "F" senators are: Sens. Shelley Capito (W.V.) at 21 percent, Mark Kirk (Ill.) at 20 percent, Lamar Alexander (Tenn.) at 19 percent and Collins at 14 percent.

High-profile Republicans such as Sens. Rob Portman (Ohio) scored 50 percent, McConnell 42 percent, John McCain (Ariz.) 37 percent and Lindsey Graham (S.C.) 35 percent.

Collins scored 14 percent while Socialist Sen. Bernie Sanders (Vt.) scores 16 percent. In 2014, Paul endorsed Collins. That was a conservative beat-down that would make O.J. Simpson proud.
U.S. House:
18 (A), 21 (B), 28 (C), 44 (D) and 135 (F).

Top 6 "A" House Republican members are: Reps. Dave Brat (Va.) 100 percent, Gary Palmer (Ala.) 100 percent, Jim Bridenstine (Okla.) 96 percent, Jeff Duncan (S.C.) 96 percent, Louie Gohmert (Texas) 96 percent and Thomas Massie (KY) 96 percent.

The 4 worst "F" House members: Martha McSally (Ariz.) 25 percent, John Katko (N.Y.) 25 percent, Bruce Poliquin (Maine) 25 percent and Davis Valadao (Calif.) 22 percent.

High-profile Republicans such as Reps. Trey Gowdy (S.C.) scored 86 percent, Steve King (Iowa) 79 percent, Paul Ryan (Wisc.) 56 percent and Kevin McCarthy (Calif.) 40 percent.
In my home state of Kentucky, Republicans control both U.S. Senate seats and 5 of 6 U.S. House seats. I was ecstatic until I studied the facts.
U.S. Senate:
Paul – 94 percent

McConnell – 42 percent
U.S House
Rep. Thomas Massie – 96 percent

Rep. Brett Guthrie – 49 percent

Rep. Ed Whitfield – 43 percent

Rep. Andy Barr – 41 percent

Rep. Hal Rogers – 36 percent
It's embarrassing that 5 of 7 Republicans are members of "F Troop" and leading that clown car is Senate Majority Leader Mitch McConnell. Check out your state's Republican stats if you have the courage.
In 2016, Cruz is the only verifiable conservative still in the Republican presidential race. He is vilified by his own party. Rep. Peter King (R-N.Y.) recently joked, "I think I'll take cyanide if [Cruz] ever gets the nomination." Congressman, shouldn't you consume some cyanide now to make sure you have a quality supply?
On a side note: King's Liberty Score is 33 percent, a solid "F." Who cares what comrade King thinks?
Enough! I'm ending my BCS. I'm taking control of my political life. I will never vote for any candidate that does not score an 80 percent or better on my chosen conservative scorecard. I urge you to find a conservative scoring organization that you trust - Conservative Review, FreedomWorks or Heritage Action.
Once RINOs realize they will lose every election without conservative voters, they will change immediately. The one thing I know about politicians is that they love power, control and money more than principles. RINOs will only change when they fear they will lose their job.
Please join me in my 80 percent pledge. It's the only chance we have to end Battered Conservative Syndrome and save the Republic.
Tom Wurtz is a conservative writer from Kentucky. Contact Tom at tomwurtz@fuse.net.
–
TheBlaze contributor channel supports an open discourse on a range of views. The opinions expressed in this channel are solely those of each individual author.