© 2023 Blaze Media LLC. All rights reserved.
To solve the problem of sexual assault on college campuses, men and women are going to have to work together with everyone taking responsibility for their own actions.
John Kasich was recently raked over the coals after answering a question regarding sexual assaults on college campuses.
Kasich responded by going through the array of canned answers. Support for students who are victims of sexual assault, access to confidential reporting, rape kits, the opportunity to pursue justice. All good ideas. Then he went one step further:
"Well I would give you, I'd also give you one bit of advice. Don't go to parties where there's a lot of alcohol. OK? Don't do that."
Pretty poor wording on Kasich's part there. Asked to clarify later, he remarked that he merely meant that people should "be careful" when attending alcohol-infested parties. Be careful. He said he would give the same advice to his daughters. It's harder to prove rape when alcohol is involved, consent becomes murky, and there are more convoluting factors. Be careful. Pretty logical advice.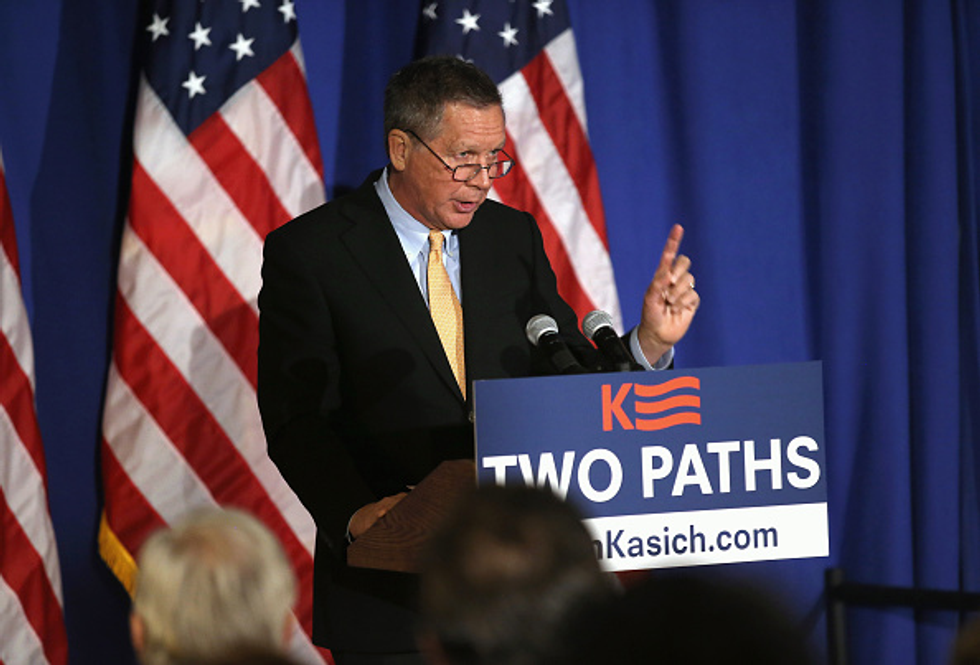 NEW YORK, NEW YORK - APRIL 12: Republican Presidential candidate John Kasich speaks at the Women's National Republican Club on April 12, 2016 in New York City. Candidates are campaigning ahead of New York State's primary vote on April 19. (Photo by John Moore/Getty Images)
But the damage was done. Liberal responses started pouring in. Among the responses was this, from Slate:
"Kasich's viewpoint is a cynical, victim-blaming, finger-wagging perspective."
Apparently it's cynical and finger-wagging to suggest being careful when consuming alcohol with persons of the opposite sex who might want to take advantage of you while in unsupervised locations.
Kasich was later asked by CNN's Dana Bash if he understood why he was being accused of victim-blaming. His response? "No, I don't."
Neither do I.
This isn't a defense of John Kasich, but are we ready to claim that saying something as innocuous as "be careful" qualifies as victim blaming? Is taking responsibility for one's behavior so controversial that people are going to be offended by it?
This accusation is no surprise coming from the liberal left. These are the same liberals who want a college education without the responsibility of paying for it, a $15 an hour salary without the responsibility of having to work for it, and free contraception and abortion-on-demand to avoid any responsibility for sexual indiscretions.
They are almost always averse to taking responsibility. This situation will sound familiar to this Harvard student who penned an essay about how she was raped. The story starts with her getting blackout drunk and winding up with someone she didn't want to be with. She wrote:
"Everyone has the right to get as drunk as they want to without the threat of being raped."
Yeah, ok. I'm not really interested in arguing the constitutionality of that "right" at this time, but I think we can all agree that the woman didn't deserve to be raped. Yet I can acknowledge that she was a victim while still encouraging her and others to take steps to avoid becoming a victim in the future. Ignoring the role that becoming blackout drunk played in this tragedy does nothing to help.
I had a conversation with someone after I read her story, and his response was that we really need to teach men how to not rape women, how to be respectful of boundaries, and how to recognize consent. It's not about women, it's about men who need to shape up. That sentiment was echoed by Slate in the same article quoted above:
"It would make just as much, if not more sense to tell men to stop drinking so much so they don't rape women… Kasich should blame misogyny, poor sex education, and toxic male behavior, not women, for the scourge of campus sexual assault."
Whoa, false dichotomy. I can easily argue that both men and women should be responsible, in different ways, for fixing the scourge of sexual assault on campus.
Proposing false dichotomies does nothing but perpetuate the problem. It's not misogynistic to suggest that women be careful when attending alcohol-infested parties where men are looking to prey on them. It is misogynistic to suggest that women continue to put themselves in danger by not caring for how they conduct themselves in compromising situations.
The underlying message here is that some men need to stop being pigs. Sure, I'll agree with that. Yet, to stick with that analogy, I can agree that some men need to stop being pigs and still argue that you shouldn't walk around with slop in your pocket. Sure, it's your right to have slop in your pocket, but you cannot be surprised when pigs show up and want to eat. It's not excusing the pigs to suggest that a healthy solution might be to stop walking around with slop in your pocket.
And to be fair, I would tell the same thing to men. Women are not the only victims of campus sexual assault. Men get taken advantage of also, though maybe not as often. It's not victim-blaming men to suggest that they take precautions to keep themselves safe as well.
If you don't want to be raped or taken advantage of, it's not victim-blaming to suggest taking steps to avoid what you don't want to happen.
Indeed, there is an obvious difference between victim-blaming and suggesting one take responsibility for one's choices. And just in case you don't recognize it, here is an example:
Victim-blaming is: "Maybe if you hadn't been wearing that, you wouldn't have been raped."
Taking responsibility is: "There are a lot of bad people out there looking to take advantage of intoxicated people. It's a good idea to be careful and protect yourself at all times."
The difference is obvious. Is anyone suggesting that it's a bad idea to encourage women (and men) to take responsibility for their behavior?
Meanwhile, this is not excusing male behavior. Obviously, men should be respectful of boundaries. Obviously, men shouldn't rape women. Is anyone disagreeing with this? Of course not. Men are responsible for their behavior as well. If they are found guilty of rape, obviously they should be prosecuted. Yet it's not victim-blaming to suggest that both men and women should take some responsibility if there are things that can be done to cut down on sexual violence.
If America is going to be great again, it's going to start with us taking responsibility for ourselves. If we are going to solve the problem of sexual violence on college campuses, men and women need to work together to do so. Yes, the perpetrators are to blame. But simply placing blame isn't enough to solve the problem.
The problem will be solved when we decide we want to enact real change. And real change will only happen when all individuals decide they want it to happen and start taking some responsibility for it.
Cullen Herout is a pro-life, pro-family writer. He has a passion for writing about life issues, Marriage, fatherhood, and creating a culture of life. Follow him on Facebook here or at his own blog, Ready To Stand.
–
TheBlaze contributor channel supports an open discourse on a range of views. The opinions expressed in this channel are solely those of each individual author.

Want to leave a tip?
We answer to you. Help keep our content free of advertisers and big tech censorship by leaving a tip today.
more stories
Sign up for the Blaze newsletter
By signing up, you agree to our
Privacy Policy
and
Terms of Use
, and agree to receive content that may sometimes include advertisements. You may opt out at any time.