© 2023 Blaze Media LLC. All rights reserved.
I'm Not Scared of Guns, I'm Scared of Those Who Value Guns More Than People
While most individuals wouldn't personally admit their love for guns over that of a human life, one's initial reaction towards the sickening event of a mass murder says a lot. Let me explain…
This post has been updated.
-
Ten people are dead and another 9 have been injured. It's happened once again.
Another tragic and heartbreaking massacre took place a few days ago, this time at Oregon's Umpqua Community College, once again provoking the conversation about gun control or better yet, lack of according to some. I find it sad that what was once considered a surprising and rare tragedy has now become normalized by our cultures numbness to the amount of mass shootings that take place each year.
The Umpqua killer was singling out Christians on campus, shooting those who claimed to be a Christian in the head, while shooting everyone else in the legs or thigh. So not only has the normalization of mass shootings entered our country by storm, but the martyring of Christians has now been publicized to a level the United States rarely sees on it's own soil.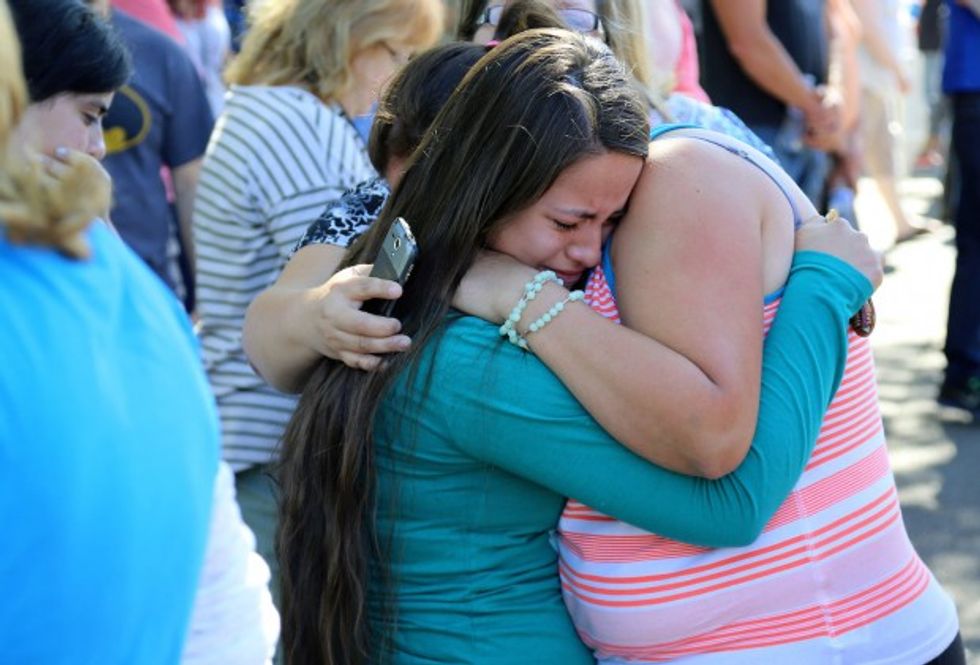 A woman is comforted as friends and family wait for students at the local fairgrounds after a shooting at Umpqua Community College in Roseburg, Ore., on Thursday, Oct. 1, 2015. (AP Photo/Ryan Kang) 
While many across the nation sit in their living rooms thankful that their own family members were not the one's whose lives had been taken, countless of others mourn over the loss of loved ones to someone wielding a gun and on a mission to kill. What was once only a scenario painted in movies or read in books has now become a reality to hundreds of millions of people across the nation. Fear has taken over.
While many will argue the need to change gun laws or better manage the mental stability of those who are purchasing guns, I have something else I'd like to discuss. It's something that I believe is heartbreaking beyond words. It's something nobody is really talking about.
It's people who value guns more than they do a human life. That's what I'm afraid of.
A Few Facts
Gun deaths are sabout 30,000 people per year, which although drastically lower than abortion at 750,000 babies in the same time frame, is still horrific nontheless.
One in three Americans own guns.
Before anyone can jump to conclusions on my stance towards guns, I'll be the first to admit that I own guns, shoot them for sport and really love learning the history of their manufacturing.
But although I myself own guns, you wouldn't dare catch me choosing a piece of manufactured wood, plastic or metal over the life of an individual. That's preposterous. It's sickening. And it's lowers the sanctity of life to a place that is false and ill-thought.
But while most individuals wouldn't personally admit their love for guns over that of a human life, one's initial reaction towards the sickening event of a mass murder says a lot. Let me explain…
Minutes after the Umpqua shooting took place, news and media websites were in a frenzy to get their own version of the story to the public. But while many media outlets looked to share the breaking news to the public, many individuals took the time to share their personal views on gun control through their social media feeds.
Many of them, I assume without realizing it, used their first response to the shooting to help validate their ownership of guns. Seriously? Almost 20 people have just been shot, 10 of them have been pronounced dead, and the first thing you choose to talk about is your right to bear arms? That is mind-boggling. People just perished.
If the first thought that enters your head when a mass shooting takes place is: "I have the right to bear arms," I believe you need a heart check. We must value the sanctity of life, even if we don't believe it's convenient to our personal rights. That could have been your child, your husband, your wife or your sibling. If this was the case, your gun rights would have been the last thing on your mind. You heart would have been focused on life—extraordinary, beautiful, life.
We must not value guns over people. We must not make guns a foundation in which we build our worth on. We must not allow guns to control the way we live our lives. Don't allow your gun rights to soften your heart for those whose lives are taken by them.
I'm not sacred of guns, I'm scared of people who value guns more than that of a human life. We as people of faith must rally together in effort to reclaim the value of life to a place where it belongs, not below our right to bear arms.
Feature Image: Shutterstock
–
TheBlaze contributor channel supports an open discourse on a range of views. The opinions expressed in this channel are solely those of each individual author.

Want to leave a tip?
We answer to you. Help keep our content free of advertisers and big tech censorship by leaving a tip today.
more stories
Sign up for the Blaze newsletter
By signing up, you agree to our
Privacy Policy
and
Terms of Use
, and agree to receive content that may sometimes include advertisements. You may opt out at any time.