The recent kerfuffle over Indiana's Religious Freedom Restoration Act reveals a deep problem in America that has nothing to do with religion or gay rights: we are losing our thirst for truth.
Not only are we unable to decipher among the never-ending media distortions what the truth on any given subject is, but we have concluded that it is simply impossible to attain the answer because "everyone lies." Moreover, most of us don't even care. We have altogether abandoned the quest.
Who is to define truth anyway?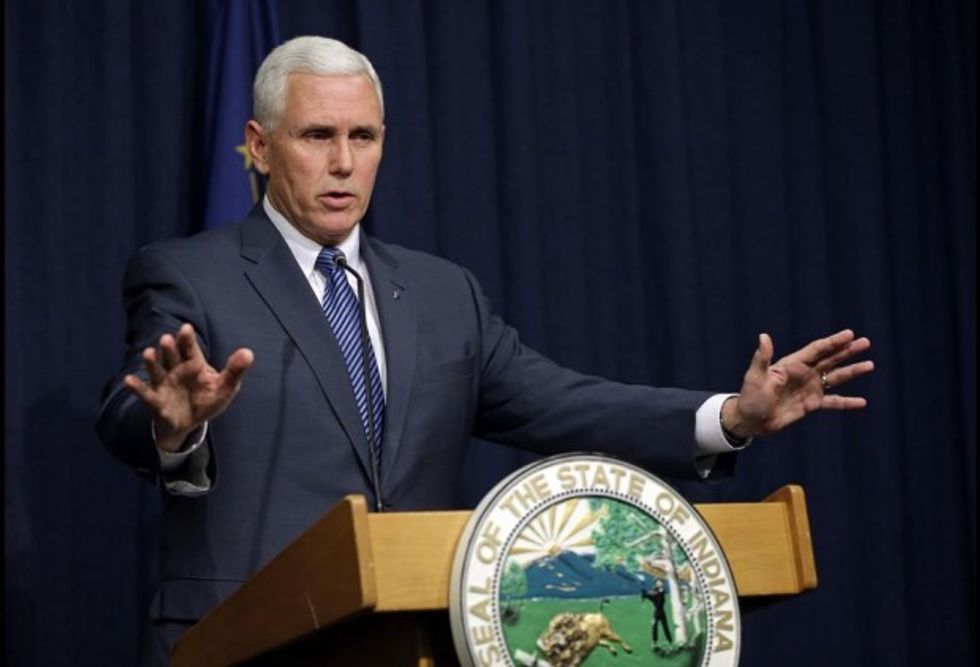 Indiana Gov. Mike Pence holds a news conference at the Statehouse in Indianapolis, Thursday, March 26, 2015. Pence has declared a public health emergency in response to the HIV epidemic in Scott County. Seventy two cases of HIV have been confirmed in the southern Indiana county. (AP Photo/Michael Conroy)
That is why the battle for religious freedom is so difficult and so important. It is a battle for truth. And it is a battle against lies. It doesn't matter what Gov. Mike Pence says or even what the law says, the left will say what it needs to say (even if that means lying) to accomplish its purposes.
The hypocrisy is stunning in the case of Indiana's religious freedom act because the federal version of the bill was introduced in 1993 by then-Rep. Chuck Schumer (D-N.Y.), a very prominent liberal figure who is now one of the most powerful Democrats in the country, and it was also supported by all representatives of both parties in the U.S. House of Representatives. In the U.S. Senate, the bill passed by similar bipartisan approval with only three senators voting against the bill — two Democrats and a Republican. It was signed by liberal Democrat President Bill Clinton.
There was so much bi-partisan support for the federal law because it is simply a basic form of religious liberty protection that is in full harmony with our God-given, constitutionally guaranteed right to be free from unnecessary government interference in the exercise of our deeply-held religious beliefs.
To be clear, the bill grants no new rights to any person about anything. It only asks the government, and no one else, to be thorough when it enacts a law that interferes with the people's right to religious freedom. Due to an errant court decision regarding the religious rights of Native Americans, Congress doubled down on the First Amendment and enacted the law, which says the government must demonstrate a compelling reason to interfere with our constitutional rights, and it must use the least restrictive means to accomplish its purposes. There is nothing controversial about that.
But the truth does not matter to the radical left and its sympathetic media and companies. To them the ends justify the means. And the distortion of truth at any cost is the means they are using today. The bigger problem is that most of us can see what they are doing and yet show little alarm because of this new culture of intolerance. The far left and it's cronies of Silicon Valley, most of whom don't even know people who are religious, see the need to force people of faith to not just tolerate but to participate in the rituals of "gay marriage."
Photo credit: Shutterstock
Let's be clear, this is not about whether or not a baker will serve a cupcake to a "gay" couple (about which no one is arguing). It's about forcing people of faith to participate in same-sex wedding ceremonies, a religious sacrament in the eyes of many people of faith.
This law it is not about LGBT rights; it's about religious freedom. Recently this type of law helped protect an Arkansas prisoner from being forced by government to shave and be allowed to grow a half-inch beard in accordance with his religion. Even the liberal American Civil Liberties Union (now opposing the law) has supported it in the past and used it to defend the rights of Native American children to grow their hair according to their religion.
What will it take to wake us up to the dangers we face?
The loss of our religious freedom signals the loss of freedom for everyone, period. That is why we must stand now. This day. We must sound the alarm with a sense of urgency, for the time is running out.
I know the political power is against religious liberty right now. When we see business giants like Apple, who is close to becoming the first company worth a trillion dollars, using their power to bully states into submission against religious liberty, you know we are truly overmatched in economic terms.
This means that if we are to win, we must win against all odds. And if we are going to win against the odds, we can't play the odds, as some "conservatives" are suggesting we do. We must stand boldly and speak Biblical truth. That means that with much grace and mercy we decline to participate in ANY commerce or activity that is in direct violation of God's laws. We are the new conscientious objectors to our culture. If we bow now, what will be next?
Above all, we must pray for our country. It will take nothing less than Divine intervention for America to recover its moral compass. The pastors of America have lost their voice on a whole host of issues regarding sexual morality, including sex outside of marriage, cohabitation, and divorce. But we believe in a Sovereign God who moves in mysterious ways. Let us ask God for a third Great Awakening that can help us as believers to regain our thirst for truth and give us a renewed vision of freedom.
There is no "giant" who can stand against that.
Feature Image: Shutterstock
–
TheBlaze contributor channel supports an open discourse on a range of views. The opinions expressed in this channel are solely those of each individual author.