President Barack Obama has announced he will be traveling to Cuba next month on the first such visit by a sitting U.S. president in 88 years.
The last was President Calvin Coolidge, who in 1928, arrived on a battleship.
At that time Coolidge said, "Thirty years ago Cuba ranked as a foreign possession, torn by revolution and devastated by hostile forces. Such government as existed rested on military force. Today Cuba is her own sovereign. Her people are independent, free, and prosperous, peaceful, and enjoying the advantages of self-government."
In this image reviewed by the US Military, The sun rises over Camp Delta detention compound which has housed foreign prisoners since 2002, at Guantanamo Bay US Naval Base, June 6, 2008 in Cuba. (Photo: BRENNAN LINSLEY/AFP/Getty Images)
How far away that seems now, in the shadow of a nation gasping for the air of freedom and liberty from over 56 years of oppressive communist rule.
On his agenda, Obama will discuss the return of the U.S. Naval Station at Guantanamo Bay to Cuba. Last Sept., Raul Castro berated Obama over returning the base, which since 1903 has been leased from Cuba, pending a mutual agreement otherwise.
Ben Rhodes, the president's deputy national security advisor, said, "So on Guantánamo Bay, I know that will be part of the discussion ... They are insistent that our presence there is not legitimate and that the facility be returned to them."
Rhodes added, "With respect to the claims issue, that will certainly be on the agenda as well. We have initiated, under the State Department's leadership, a dialogue with the Cubans on the issue of claims."
When asked if a visit to the troops at Gitmo would be included in the president's trip, Rhodes said it would not.
Let's see ... a visit with Castro to discuss giving back Gitmo, but not a visit to your own troops? Hmm? Par for the Obama course, I'm afraid. It reminds me of the apology tour, the withdrawal from Iraq and Benghazi.
At the risk of sounding like a neo-Imperialist, instead of the president discussing Cuban claims on Gitmo, I think he should discuss Castro giving Cuba back to the United States.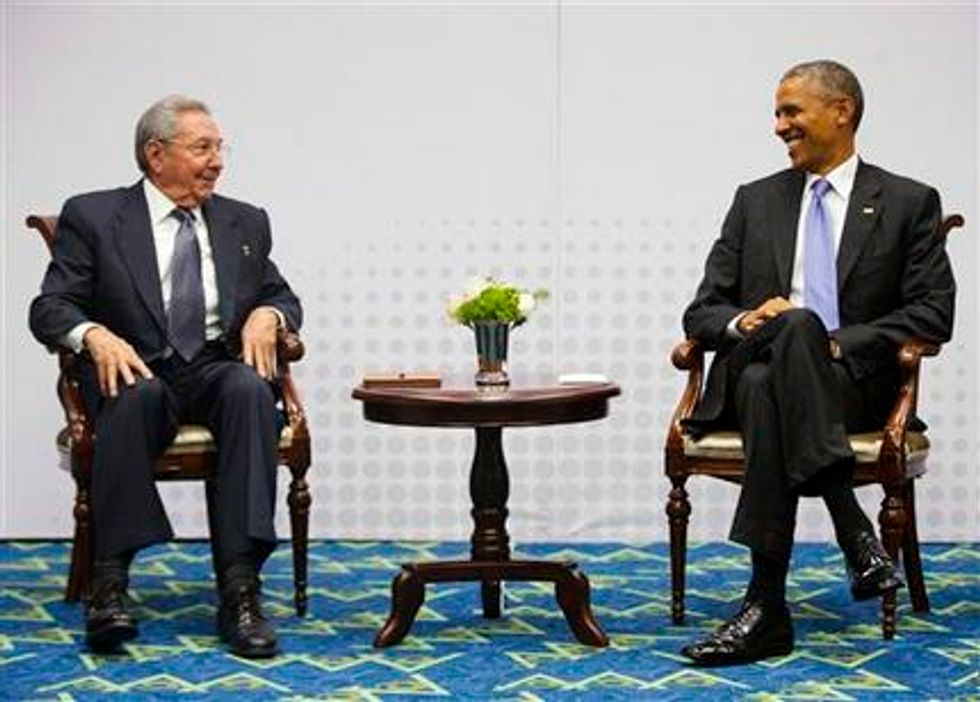 In this April 11, 2015, file photo, Cuban President Raul Castro, left, and U.S. President Barack Obama meet at the Summit of the Americas in Panama City, Panama, Saturday. (AP Photo/Pablo Martinez Monsivais, File)
Americans bravely fought and some died for Cuba and were awarded the island in the 1898 Treaty of Paris which ended the Spanish American War. It's time to reclaim what is rightfully ours, not pander to one of the most repressive regimes on earth.
The United States was also ceded the former Spanish colonies of the Philippines, Guam and Puerto Rico in 1898. Cuba was eventually given its independence in 1902. Since then there have been few years of tranquility.
If the United States were to resume its role as protector of the Caribbean island nation surely American businesses, non-government organizations and other friendly international interests would converge to help free the Cuban people from lock-step dictators and socialist poverty.
Before Fidel Castro took power by violent overthrow of the military government of Fulgencio Batista in 1959, Cuba, and Havana in particular, were the jewel of the Caribbean. American businesses and casino hotels flourished, albeit via American organized crime.
This time around things could be different, legitimately different.
History and the Cuban people are ready for a real change, and one that wouldn't fill the coffers of Castro and his cronies, but one that would introduce true liberty and freedom to generations of Cubans who have only known hardship and pain.
The capitalist superpower that is the United States can transform Cuba into a shining example of entrepreneurship and the American dream shared across 50 miles of sea.
But the likelihood of Obama initiating such a course of action is pure fantasy (but a good one!). The reality will probably be closer to the "same old, same old" of bowing to extremists and cowering to thugs; nukes for Iran, and Gitmo for Cuba.
Obama seems to be following in the footsteps of former President Jimmy Carter, who has visited Cuba twice and who gave the Panama Canal back to Panama. Carter is given credit for setting the stage for Obama's success in his efforts to normalize relations with Cuba, both before and after his presidency.
For Obama, who negotiated the release of five of the most dangerous Taliban leaders formerly in our custody at Gitmo in exchange for one U.S. Army deserter, handing Gitmo to Cuba feeds his addiction for politically correct accolades.
Giving back Gitmo would also fulfill his promise to close the military detention operations there. Now all he needs is a place to put the detainees he can't pawn off on third countries. Maybe Castro would take them?
The protection of the American people is becoming less and less important to this president. And he is behaving more and more like a New World Order leader in an American Christian conservative's nightmare.
Montgomery Granger is a three-times mobilized U.S. Army major (Ret.) and author of "Saving Grace at Guantanamo Bay: A Memoir of a Citizen Warrior."Amazon, Blog, Facebook, Twitter: @mjgranger1
–
TheBlaze contributor channel supports an open discourse on a range of views. The opinions expressed in this channel are solely those of each individual author.