Ask your friends, family and co-workers which gang of thugs they would identify as the most lethal international terrorist organization operating in the world today.
Chances are they would probably tell you the correct answer is Islamic State. The group has claimed responsibility for the terrorist strikes in Paris, France that resulted in 129 deaths and 352 wounded. There is also a growing body of evidence that connects the shooters in the San Bernardino, California with the group. Syed Rizwan Farook and Tashfeen Malik, the husband and wife terror team, killed 14 people in the attack. They may or not be Islanic State members, but it's clear they are supporters.
There's no question that the terrorists who are working to establish a caliphate throughout Iraq and Syria in the name of Islamic State are well-funded, well-organized and well-armed.
Boko Haram leader Abubakr Shekau recently reasserted: "Let the world know that we have been enjoined by Allah to kill the unbelievers." Photo Courtesy: Raymond Ibrahim
But they are not number one. Islamic State actually takes a backseat to Boko Haram, the Nigerian-based Islamic terrorist group that gained international notoriety when it kidnapped 276 school girls from the town of Chibok back in April 2014. At least that's what the data in the Global Terrorism Index shows.
Boko Haram killed 6,644 people in 2014 while Islamic State killed 6,073 in that same time frame, according to the Index. Boko Haram has been translated to mean "Western Education is Forbidden" or "Western Education is a Sin." The group, which was founded in 2002, embraces a strict form of Shariah Law and favors the creation of an Islamic state in Nigeria, according to a report from the Congressional Research Service. While Boko Haram remains rooted in Nigeria, it has organized incursions into Cameroon and Chad.
How did the group gain such a strong foothold in a short period of time? And, why hasn't the international community offered up a more forceful response to Boko Haram's aggressive actions?
These are questions that should be directed toward Hillary Clinton in the context of the 2016 campaign. While serving as secretary of state, Clinton initially declined to designate Boko Haram as a terrorist group despite hard evidence of group's aggressive posture in Nigeria. What was the rationale for the delay? There may have been a legitimate reason. The Congressional Research Service Report on Boko Haram notes that some members of Congress urged the State Department to move decisively and quickly to designate the group as a Foreign Terrorist Organization or FTO. Here is one possible explanation for the delay as it is described in the report:
"Nigeria experts who opposed the designation argued that it would have few practical effects, given limited information suggesting material support for the group from individuals in U.S. jurisdiction, and they cautioned that a designation might actually serve as a recruitment and fundraising tool. Some global counterterrorism experts have made similar arguments about potential complications related to FTO designations, suggesting a designation could inadvertently give additional visibility and credibility to a group among international jihadists or could make the operations of U.S.-based relief agencies in Boko Haram areas more difficult."
But Sen. David Vitter (R-La.) sees another possible explanation, one that involves lingering concerns over potential conflicts of interest with the Clinton Foundation.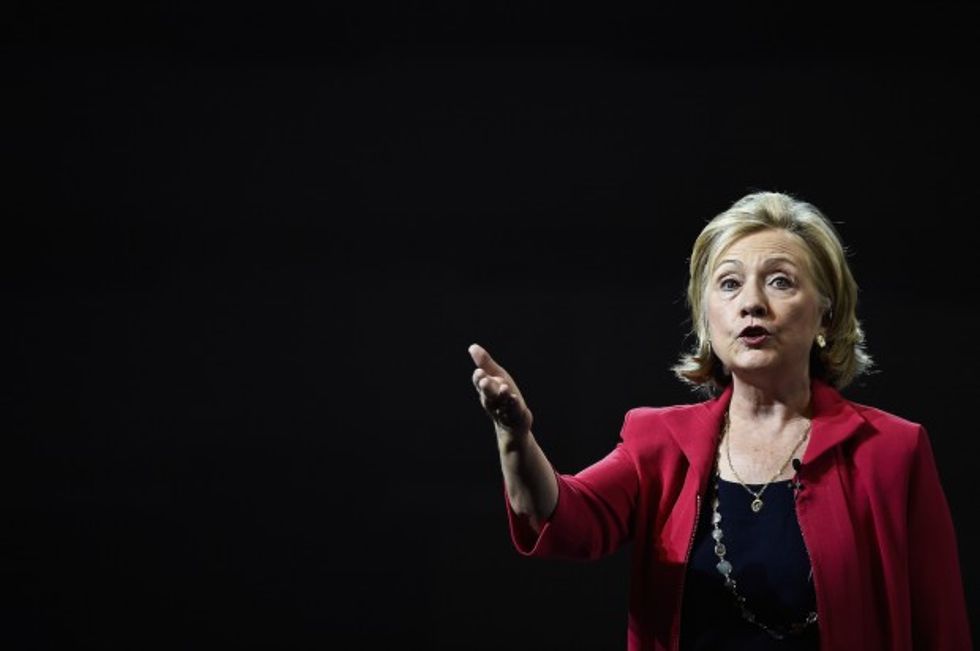 Former US Secretary of State Hillary Clinton delivers a speech during a conference at the National Auditorium in Mexico city, on September 5, 2014 in the framework of Telmex foundation's "Mexico Siglo XXI" forum, owned by Mexican tycoon Carlos Slim. AFP PHOTO/RONALDO SCHEMIDT 
Vitter was one of just two U.S. senators who voted against Clinton's confirmation as secretary of state. Sen. Jim Demint (R-S.C.), now president of the Heritage Foundation, was the other. It has been widely reported that foreign donations continued to flow into the Clinton Foundation while Hillary Clinton was serving as secretary of state. During her confirmation hearings, U.S. senators in both parties expressed concern that foreign governments and other foreign entities could curry favor with the U.S. State Department by making donations to the Clinton Foundation. A transcript of the hearing is available here.
Vitter came up short in his bid to be elected governor of Louisiana in November and has announced that he will retire from the U.S. Senate after serving out his current term. However, he performed a valuable public service in pointing out that there is at least one donor to the Clinton Foundation who deserves greater scrutiny and attention as it relates to Boko Haram and the State Department's decision-making.
That would be Gilbert Chagoury, a Nigerian businessman and land developer, who may have had a stake in preventing the FTO designation for Boko Haram. Chagoury's connections to Bill and Hillary Clinton have been well-covered in the Wall Street Journal. Chagoury has been a persistent, long-time donor to the Clinton Foundation. A list of all the Clinton Foundation donors in 2008 that lists Chagoury is available at OpenSecrets.org. The Wall Street Journal has also compiled a list of Clinton Foundation donations that includes Chagoury.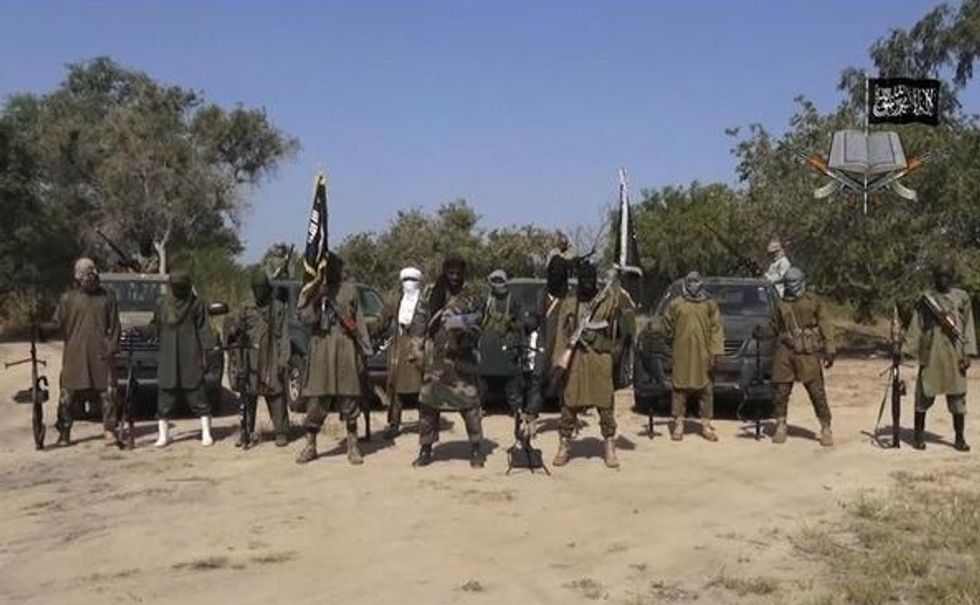 This file image taken from video released late Friday evening, Oct. 31, 2014, shows Boko Haram fighters in northeastern Nigeria.
In June 2014, Vitter sent a letter to Secretary of State John Kerry expressing concern over the State Department's apparent unwillingness to fix the terrorist label on Boko Haram. The National Counterterrorism Center (NCTC) first presented the State Department with evidence of Boko Haram's terrorist activity back in 2011, "and official reports from the Global Terrorism Database provided similar evidence as early as 2010," a press release from Vitter's office explains. However, the State Department did not see fit to formally designate Boko Haram, as a terrorist organization until 2013.
The government watchdog group Judicial Watch has probed deeply into the foreign donations to the Clinton Foundation. In fact, it was a Judicial Watch lawsuit that broke lose documents from the State Department that higlight potential conflicts of interest involving the Clintons and their foundation.
But the donations from Chagoury are what now stand out heading into the 2016 presidential campaign. As it turns out, Chagoury's personal history is quite checkered. He previously admitted in British court to bribery, but managed to avoided prison as part of a plea deal. He agreed to return portions of the money involved in the scandal. So it's certainly far to ask how much influence this Nigerian landowner had and continues to have with the Clintons and U.S. State Department officials as a result of his donations to the foundation.
Hillary Clinton constantly postures as an advocate for women's rights across the globe. Her campaign continues to invoke the phony "war on women" battle cry as a rallying point against her Republican opponents. But she steers clear of Boko Haram's actual war on women in Africa. Fortunately, the State Department did finally move forward the FTO designation for Boko Haram. But not until after the Islamic terrorist group gained in power and influence at the expense of the most vulnerable members of Africa's population.
Vitter did follow up with Kerry in a March 2015 letter sent to the secretary of state. He wrote:
"As I have in the past, I commend your November 2013 decision to designate Boko Haram as a Foreign Terrorist Organization. However, given the drastic foothold Boko Haram was allowed to gain prior to being designated an FTO, the nexus between the Department's decision against designating Boko Haram as an FTO and connections to outside groups should be brought forward. Associated records should have been preserved as evidence of the agency's activities, decisions and procedures. These should be presented to the relevant committees and to the American public to be evaluated for corresponding misconduct."
With the time he has left in office, Vitter has the opportunity to reopen avenues of inquiry into the State Department's decision-making process and the evidence that was presented to then Secretary of Clinton and other top State Department officials who were in a position to move against Boko Haram.
Why didn't they?
–
TheBlaze contributor channel supports an open discourse on a range of views. The opinions expressed in this channel are solely those of each individual author.