Anthony J. Sadar
Democratic attorneys general from more than a dozen states are in hot pursuit of global warming heretics. And, Attorney General Loretta Lynch testified last month before the Senate that the Department of Justice considered taking legal action against energy industries dubious of the dire role of carbon emissions to change the climate.
The attorneys generals' apparent weapon of choice is the Racketeer Influenced and Corrupt Organizations Act or RICO law. As its name implies, RICO is a U.S. law targeting organized crime involved in unsavory activity like drug trafficking, kidnapping and illegal gambling. Does this law even remotely apply to national energy companies that for years have been in the business of making life more comfortable and affordable for Americans?
Probably not. Yet, it looks like Democratic operatives in legal attire hope to include "climate denying" in the list of gangster activity.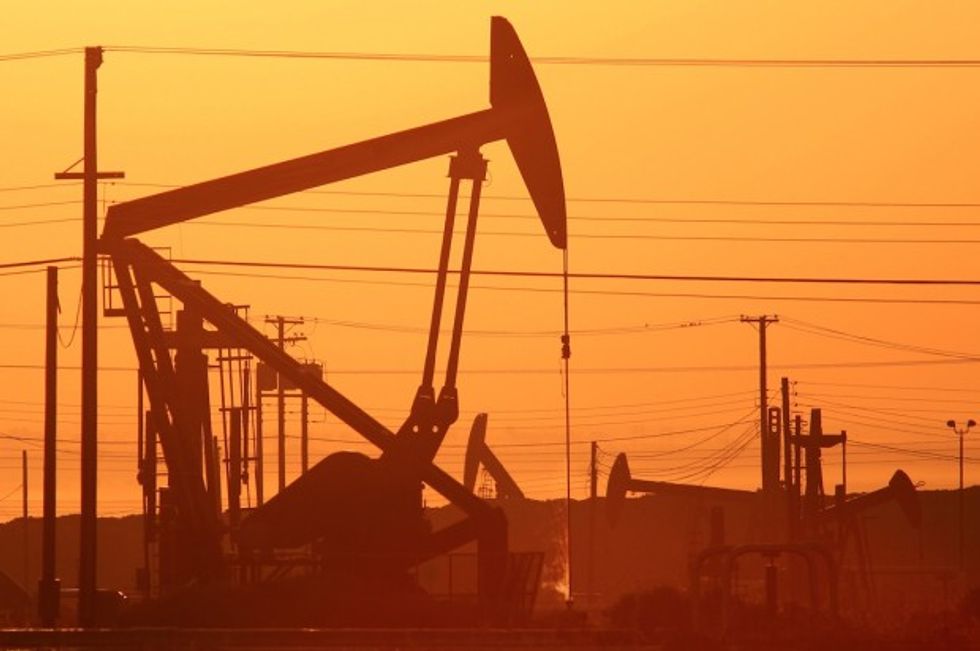 Pump jacks are seen at dawn in an oil field over the Monterey Shale formation where gas and oil extraction using hydraulic fracturing, or fracking, is on the verge of a boom on March 24, 2014 near Lost Hills, California. (Photo: David McNew/Getty Images)
To the attorneys general, add the small army of academic soldiers publicly calling for the RICO law and such like against think tanks that don't think leftist. Keep going and the pound at the door will be for individuals that have the temerity to question authorized versions of vaunted future climate maps.
This is just what long-range-global-climate-projection science needed: The long arm of the law and limited perspective of academics to force outspoken unbelievers and even those with mild meteorological misgivings to acquiesce to profound climate model punditry. And, make no mistake, the outcomes of climate models are what today's climate science boils down to.
"Everything we know about the world's climate - past, present, and future - we know through models," professor Paul Edwards, a supporter of the "consensus" view of climate science, wrote in the introduction to his highly acclaimed book A Vast Machine: Computer Models, Climate Data, and the Politics of Global Warming. He also notes that "without models, there are no data."
Models have become integral to modern scientific practice. In many fields, Edwards says "computer models complement or even replace laboratory experiments; analysis and simulation models have become principal means of data collection, prediction, and decision making."
Such is the contemporary world of science aided by the powerful tool of modern computers. The three basic components of the scientific method - observation, hypothesis, and testing - still hold, but in many cases the testing portion has been abetted, if not in some cases usurped, by models.
As many challengers of the manmade disastrous global warming hypothesis can attest, the "evidence" for a worldwide climate catastrophe is founded upon the results of atmospheric models. Yet, can such results be trusted enough to direct trillions of dollars in the years ahead to shift the energy sector and redistribute financial resources?
Atmospheric models struggle to simulate crucial elements of the hydrologic cycle like cloud cover and precipitation patterns. Such components are obviously important to far-out projections heavily relied upon for drastic global public policy decisions.
Does any of this matter, or is it even known or understood by the attorneys general or even professors outside the atmospheric science discipline? It's doubtful.
Regardless, at this point in my life, as a family man, closing in on retirement age, I never thought I could be considered an enemy of the state simply because, after 35 years in the atmospheric science field, I view long-range global climate projections with some skepticism.
But, hey, what excitement! As touted via the Geto Boys in the movie Office Space:
"Damn it feels good to be a gangsta."
Anthony J. Sadar is a Certified Consulting Meteorologist and author of In Global Warming We Trust: Too Big to Fail (Stairway Press, 2016).
–
TheBlaze contributor channel supports an open discourse on a range of views. The opinions expressed in this channel are solely those of each individual author.