**The following is an in-depth review of "Jason Bourne" and does contain spoilers.**
Rarely does a film franchise make it to five installments, and even more rarely is the fifth film in the series any good at all.
"Jason Bourne" is the fifth film in the series that began with "The Bourne Identity," based on the novels of Robert Ludlum.
Right away, the film's title throws up a red flag. Every other film in the franchise is "The Bourne _____." Calling the film simply "Jason Bourne" sends a signal that producers couldn't even be bothered with a title that falls in line with the established pattern. It would be like the next 007 film being called "James Bond." It's bland.
The plot of "Jason Bourne" is just as stale and unimaginative as the title. There's really nothing new to see here.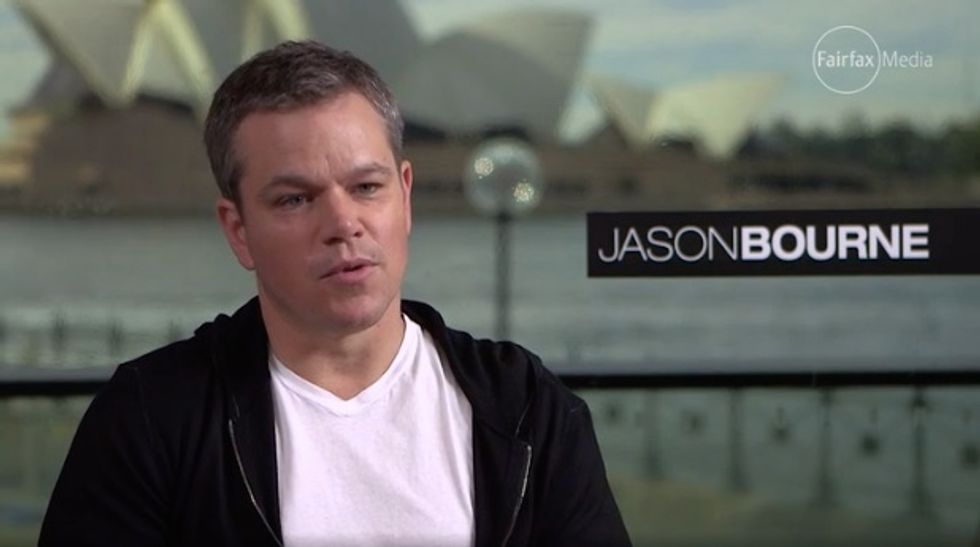 Image source: Fairfax Media
"Jason Bourne" finds the eponymous character - who was missing from the fourth film, "The Bourne Legacy" - still a fugitive from the CIA. It's been 10 years since the events of "The Bourne Ultimatum" - which means that the plot ignores the events of the fourth movie entirely - and Bourne is putting his skills as a trained martial artist to use as an illegal street fighter.
Bourne is tracked down by a former ally, Nicky Parsons - played by Julia Styles - when Parsons uncovers some information about Bourne's father and his connection to the Treadstone project. This, unfortunately, exposes Bourne to the government which quickly tracks him down and attempts to reacquire him. Parsons is killed by a CIA assassin called the Asset and Bourne is once again forced to go on the run.
If you've seen the first three "Bourne" movies, you've seen this one as well. At least with the previous film they tried to bring something fresh, focusing on a different character from the Treadstone program and showing that Bourne wasn't alone.
"Jason Bourne" was a film desperately trying to find a direction, and settling on bringing more of the same. They should have brought back Aaron Cross - played by Jeremy Renner in "The Bourne Legacy" - and had his path cross with Bourne. That would have been something new and exciting. Instead, the film seems to suffer from missed opportunities.
What makes audiences come back again and again to the James Bond movies is that they try to bring something new and different to each film. They don't always succeed, but at least they try. "Jason Bourne" doesn't seem to really try at anything, apart from just capitalizing on a popular franchise with a marketable name.
A high point of the movie is Tommy Lee Jones, who plays CIA director Robert Dewey. Jones is always a high point in any movie he's in, but unfortunately he isn't strong enough to overcome all of the movie's problems.
Executives at Universal Pictures have stated that they plan to keep star Matt Damon and director Paul Greengrass a part of the franchise "for as long as they're physically able," but I doubt the wisdom of that goal. Greengrass and Damon seem to have nothing left to bring to the franchise.
"Jason Bourne" isn't necessarily a bad film, and die-hard fans of the character and the franchise can easily find some enjoyment here. It is certainly a return to formula, the problem is that the formula just doesn't have anything else to add.
"Jason Bourne" currently holds a 57 percent rating on Rotten Tomatoes.
–
TheBlaze contributor channel supports an open discourse on a range of views. The opinions expressed in this channel are solely those of each individual author.