This week, history was made in the United States as Hillary Clinton became the first woman ever to be nominated by a major political party for the presidency. People from both parties, or no affiliation at all, deemed the event something that every woman should be excited about.
Hold the champagne, please.
There is no reason I can possibly think of to celebrate Mrs. Clinton's rise to power and her historic accomplishment (her first real accomplishment as a politician?) in clinching the nomination.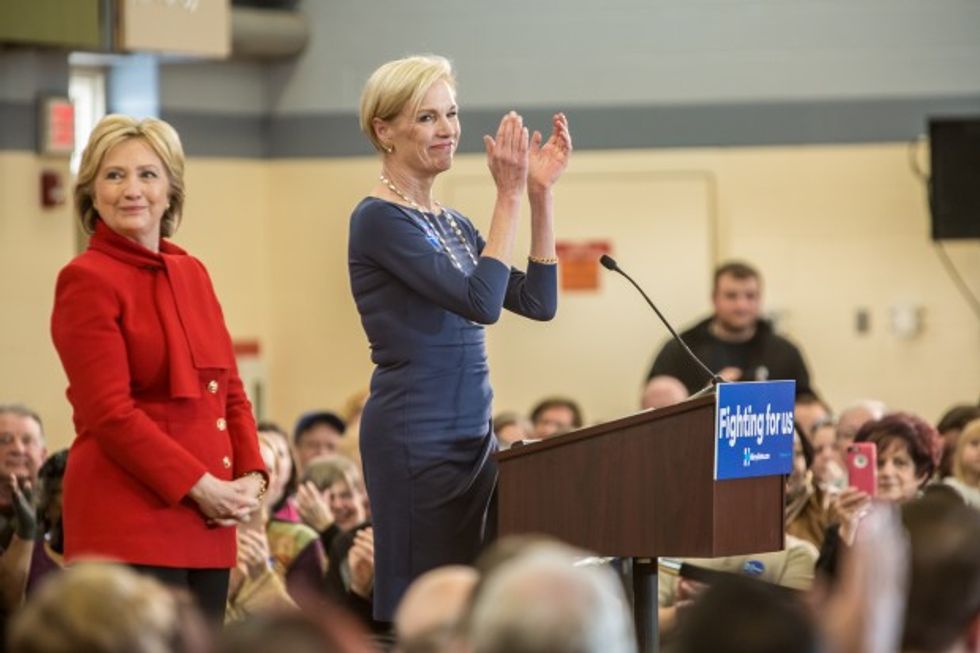 NORTH LIBERTY, IA - JANUARY 24: Cecile Richards (R) introduces Democratic presidential candidate Hillary Clinton at a campaign event (2nd R) in North Liberty, Iowa on January 24, 2016. (Photo: Brendan Hoffman/Getty Images)
As a woman, mother and wife myself, I recognize the significance of another woman, mother and wife being able to crack the ultimate glass ceiling and be the first woman to do so. Yet, for as many history books will write about this story, they hopefully will not fail to reveal that Hillary Clinton could be the very first female president who is ready and willing to sell out women.
Mrs. Clinton is the Regina George of politics, the Mean Girl ready to throw other women under the bus because they don't agree with her or because they just aren't as cool as her and don't wear $12,000 Armani jackets. The Mean Girls are a triumvirate though. Hillary's BFF's in this whole endeavor are just as ready and willing to betray women in the worst ways.
Cecile Richards, the president of Planned Parenthood, the nation's largest abortion chain, just adores Hillary. They even wear matching pantsuits (on Wednesdays we wear pink!). Planned Parenthood broke a long-held tradition of not endorsing in a primary race and came out in full force for Mrs. Clinton, pledging to spend millions of dollars to elect her to the White House.
Then there is Debbie Wasserman Schultz, the much-loved Democratic National Committee chairwoman, who believes abortion should be legal right up until birth, even passing up the chance to directly answer Sen. Rand Paul last year when he pressed the media to ask her if she would allow abortion on a seven-pound baby yet to be born.
She responded to him: "Here's an answer. I support letting women and their doctors make this decision without government getting involved. Period. End of story."
Mrs. Clinton had a similar response earlier this year: "I've said … that there can be restrictions in the very end of the third trimester, but they have to take into account the life and health of the mother."
The very end of the third trimester? Many babies have been born in the second trimester and because of modern medicine, have lived full lives without complications. Late-term abortions are a horrific, painful death sentence for these little babies.
Then there is Cecile Richards herself, who makes over half a million dollars a year to promote abortion-on-demand. She called abortion a "basic human right" when speaking at Georgetown University this spring. A basic human right is the right to life, not the so-called right to end an innocent child's life in the womb.
Planned Parenthood is also the largest provider of abortions in America, committing over 323,000 abortions last year alone. They also get 45 percent of their revenue, over $500 million, a year from taxpayers. If Hillary Clinton is elected president, all of those numbers will skyrocket.
Abortion is the opposite of empowerment. It is opposite of helping women and their children. Hillary, Cecile and Debbie are Mean Girls happily strutting the halls of Congress, knowing they have the power to crush the opposition, twist the truth, and ultimately have taxpayers picking the tab to run their grisly empire of abortion-on-demand.
These are the not the rules of feminism. Feminism doesn't tell a woman she can't have a child and a career or can't have a child and still finish school. That's exactly what the abortion industry does. They prey off vulnerable women who need real help and tell them that abortion is liberating. It's not liberating at all – it's exploiting what real womanhood is about.
Hillary Clinton and her band of Mean Girls don't speak for me or my daughter or the thousands of pro-life students I represent. Only when a leader who respects the rights of all, especially the least and most vulnerable and innocent among us, is elected to the highest office in the land, we can celebrate.
Kristan Hawkins is president of Students for Life of America.
–
TheBlaze contributor channel supports an open discourse on a range of views. The opinions expressed in this channel are solely those of each individual author.