Donald Trump won the second presidential debate after his wife Melania urged the nation to "focus on the important issues facing our nation and the world."
Brace for more distractions and lies from Hillary Clinton.
As our nation verges on the precipice of economic bankruptcy fueled by political correctness, and geo-political disrespect and irrelevance at best after decades of irresponsible globalism and eight years of Barack Obama's and Hillary Clinton's so-called "leadership from behind," enter the latest fodder for the cannons of the Establishment: an eleven-year old video in which Donald Trump in a private setting used crude and morally unacceptable language to describe a woman.
Establishment Republicans were quick to attack. One pundit even opined that because of this one newly-uncovered eleven-year-old video, "Trump should step aside. At this point, he is not electable."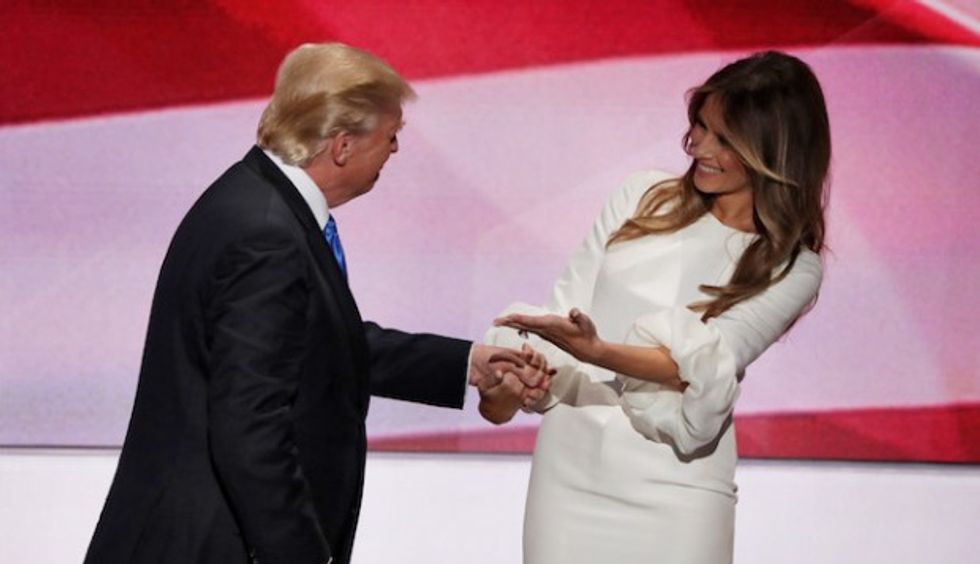 (Photo by Alex Wong/Getty Images)
Thank God for Melania Trump, who was quick to accept her husband's apology in a very classy public statement: "The words my husband used are unacceptable and offensive to me. This does not represent the man that I know. He has the heart and mind of a leader. I hope people will accept his apology, as I have, and focus on the important issues facing our nation and the world."
Losing on the merit of those important issues facing this nation and the world, including the American economy, jobs, immigration, crime, and national security, all the Clinton campaign -- and the "Establishment," both Republicans and Democrats alike -- can do in the final stretch of the election is to distract us from those issues and to lie. Stand by for more distractions and lies.
Hillary Clinton as president would be a disaster for our Supreme Court, our troops, our military industrial base, and our national intelligence capabilities.
I agree with Congressman Jim Jordan (R-OH), Chairman of the Freedom Caucus and Vice Chairman of the House Special Committee on Benghazi, who in his recent Philly.com Op-Ed explained this about Hillary Clinton's lack of integrity and callous heart:
"When Sean Smith's remains were being returned to the United States, Clinton told his mother that the video was responsible. She also told Tyrone Woods' father that she was going to have the filmmaker responsible arrested, knowing full well that this was a coordinated terrorist attack . . . ."
Clinton could not be trusted to tell the truth to the grieving parents of American heroes who had just died in Benghazi so that you and I can enjoy the blessings of liberty in America. What kind of human being could be so heartless?
Congressman Jordan's bottom line: "For Clinton, politics trumped the truth and honoring the memories of the lives lost in Benghazi. That alone disqualifies her from ever being commander-in-chief."
We are not electing a Pope. Trump is the best leader at this point in American history to address the issues at hand, including the global jihad movement that has deliberately infiltrated the "establishments" of both major political parties through what the Muslim Brotherhood in North America has described as its well-planned "civilization jihad." American core values, including "life, liberty, and the pursuit of happiness," are at stake.
In the face of any further distractions, and we can all count on them, every effort should be made to shed light on the nature of evil facing our nation, as described in Steve Bannon's masterfully-directed documentary film, "In the Face of Evil," based on Peter Schweizer's book "Reagan's War" and moderated by former Attorney General Edwin Meese.
If American voters have not already seen it, every American voter should see the award-winning film, "In the Face of Evil," before he or she votes next month for our next Commander-in-Chief.
Trump, like every other mortal man, is imperfect. But Trump is uniquely experienced and prepared to lead this nation by word and deed "In the Face of Evil" that threatens to destroy what C.S. Lewis would call American "first things." Clinton, on the other hand, along with her globalist establishment supporters from both parties and the Muslim Brotherhood with whom she has been in bed figuratively for the past eight years, personifies the 21st century "face of evil."
Trump has proven himself to have the heart of a father and the courageous leadership to turn this country around in the face of evil. By the grace of God and a few Marines (and other patriotic advisors), Donald and Melania Trump offer Americans of all generations real hope.
Hillary Clinton offers distractions and blatant lies.
As Ronald Reagan said, "You and I have a rendezvous with destiny... We must act today in order to preserve tomorrow."
Joseph E. Schmitz is a foreign policy/national security advisor to Donald Trump. He served as DoD Inspector General from 2002-2005, and is a Partner in the law firm, SCHMITZ & SOCARRAS LLP. He graduated from the US Naval Academy and Stanford Law School.
–
TheBlaze contributor channel supports an open discourse on a range of views. The opinions expressed in this channel are solely those of each individual author.