Let's not pretend that President Barack Obama's nomination of Merrick Garland to the Supreme Court is about anything other than politics.
The president and his political allies may pay lip service to such noble principles as honoring the Constitution or doing what's best for the country, but that is just so much window-dressing. We live in an era when a supine Congress meekly defers to the activist, progressive wing of the Supreme Court that legislates from the bench. Given that reality, whoever sits in the late Antonin Scalia's seat will have far more impact on the future direction of public policy than any single member of Congress. Naturally, then, replacing him inevitably is a highly charged political contest.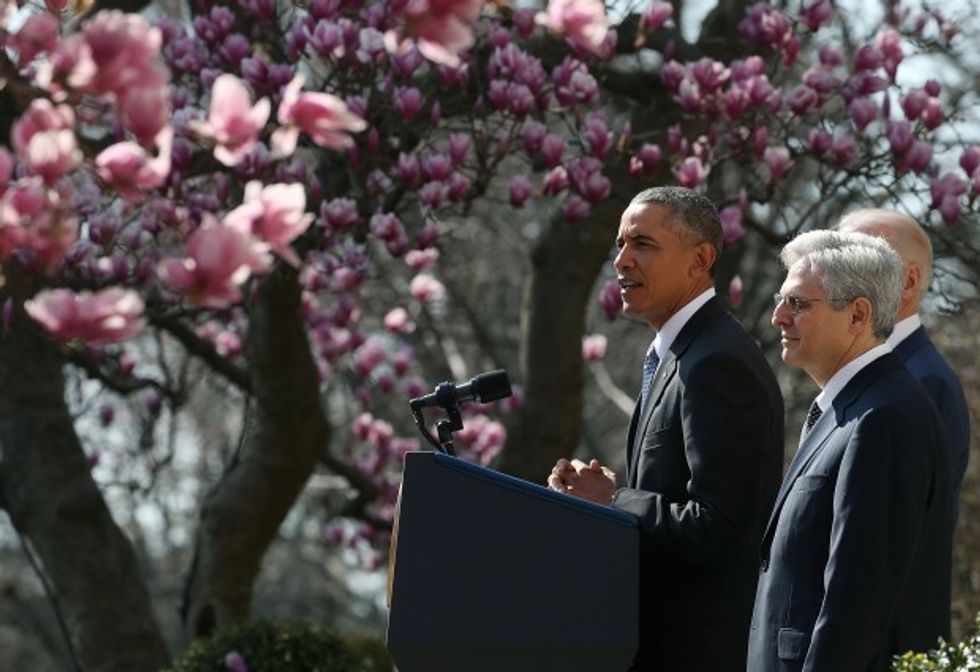 US President Barack Obama (L), nominates Judge Merrick B. Garland (R), to the US Supreme Court, in the Rose Garden at the White House, March 16, 2016 in Washington, DC.  (Photo: Mark Wilson/Getty Images)
In response to the Garland nomination, there are two different political paths along which Senate Republicans can proceed in the coming months.
The first path is the one staked out by Senate Majority Leader Mitch McConnell (R-Ky.) and echoed by a number of his GOP colleagues: Refuse to conduct confirmation hearings until after the national elections this fall.
This position has nothing to do with Garland's qualifications.
Indeed, the nominee comes across like an exceedingly fine person, a dedicated jurist who has served capably, decently, and fairly without scandal or blemish on his record. Instead, it has everything to do with not letting a lame-duck Obama, who has shown little respect for the separation of powers or the congressional prerogatives set forth in the Constitution, appoint a third justice who likely would be the swing vote on many crucial cases.
The other possibility is that Republican senators could back off from their current stance and decide to hold hearings and approve Garland's nomination. The most likely circumstance that could induce such a shift would be Donald Trump securing the Republican nomination for president. That would bring two dynamics into play -- one if it looked like Trump were to win the election in November and one if it appeared that he was heading for a landslide defeat that would cost the Republicans control of the Senate.
If Trump were to become president, what kind of person would he nominate for the Supreme Court?
Nobody seems to know what his core convictions are. The most he offers are generalized amorphous sentiments like wanting to make America great again. Does he even have a coherent political philosophy? He comes across as erratic and unpredictable. It is conceivable that he could nominate someone to the Supreme Court who would be less qualified and less satisfactory to conservatives than Garland.
If, it begins to like Trump will win, Republican senators may prefer to take their chances with Garland rather than roll the dice on a Trump nominee.
Alternatively, if it becomes clear that the Trump candidacy is driving the GOP into the ditch, I suspect two things would happen: First, if polls showed that Republican senatorial candidates were facing defeat due to their opposition to Obama's nomination of Garland, the survival instincts of politicians would quickly kick into overdrive and the judge would get his hearing and Senate confirmation.
Second, if polls showed Trump's candidacy in serious trouble, Republican senators might opt to confirm a man who appears to have a moderate streak in him rather than allow Hillary Clinton to nominate a young, hard-core progressive who would vote against every conservative constitutional and legal principle for the next several decades.
In the short run, Garland's nomination is stuck in mud. Later this year, though, depending on the Trump factor, Merrick Garland may indeed become the next associate justice of the Supreme Court.
Mark Hendrickson is Fellow for Economic and Social Policy with the Center for Vision & Values at Grove City College.
–
TheBlaze contributor channel supports an open discourse on a range of views. The opinions expressed in this channel are solely those of each individual author.