"WHAT?! ARE YOU KIDDING ME??" exclaimed legendary English commentator Ray Hudson.
Lionel Messi had just gone on a physics-defying zigzag past four of Athletic Bilbao's defenders to curve the ball on the bottom left corner of the goal.
The Barcelona fans in the San Mames stadium were going nuts, and so was Hudson:
"This man is absolutely mainline to pure footballing magic that belongs in a different galaxy altogether…absolute, astonishing, jaw-dropping genius from Lionel."
You really have to watch the replay to get the full effect of Messi's incredible goal and of Hudson's memorable commentary.
Since 2013, when he scored this goal, the world has grown used to expecting this kind of surprise from Messi, but the Argentine's well-rehearsed story took an unexpected turn earlier this summer.
After regulation and extra time, the Copa America 2016 championship match between the two best national teams in the tournament, Chile and Argentina, remained scoreless. By rule, the match then became a penalty shootout, giving each team five opportunities to score on spot-kicks.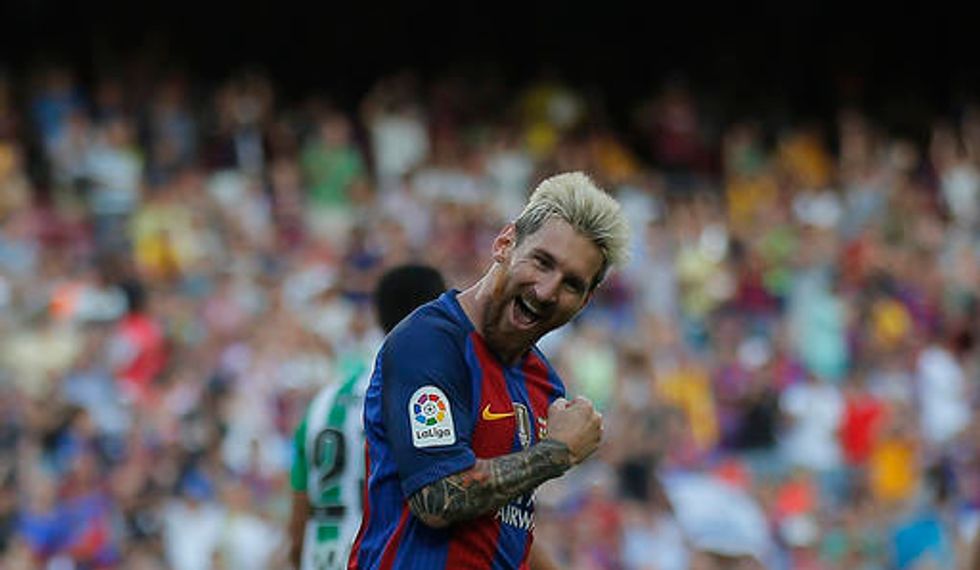 FC Barcelona's Lionel Messi reacts after scoring during the Spanish La Liga soccer match between FC Barcelona and Betis at the Camp Nou in Barcelona, Spain, Saturday, Aug. 20, 2016. (AP Photo/Manu Fernandez)
Chilean midfielder Arturo Vidal took the first shot, only to watch goalkeeper Sergio Romero make a heroic save. Then, with the wind at his back, Lionel Messi—arguably the best soccer player in the world—strut out to capitalize on Argentina's early advantage in front of a sold-out crowd of 81,000 people.
With over 500 career goals, he's one of the greatest scorers ever, but he also understands that goals only matter if they come at the right time. He once famously said "Goals are only important if they win you games"—and we've seen his goals win games before.
In the Spanish Supercopa of 2011, he took an assist from Adriano and scored the game-winner to put Barcelona up 3-2 in the 87th minute. And in a 2014 World Cup match against Iran he ended a scoreless match with a left-footed goal from outside the penalty box in the 90th minute.
When a competition reaches its decisive win-or-lose moment, the greatest talent is expected to rise and deliver victory. In the case of the Copa America championship, the first penalty kick for Argentina, which would pave the way for victory, went to Messi, considered the best player in history.
The whistle blew. With the momentum of a record 55 national team goals, he took a graceful three-step start and hit the ball with his left foot. The ball soared over the crossbar and landed on the stands.
The shock was universal. Messi missed!
As the shootout dragged on, Messi's frustration became increasingly evident. Tearing at his shirt and hiding his face, the champ was obviously taking his miss pretty hard. Chile would ultimately claim the title by a score of 4-2, sending Argentina home stunned by their second consecutive Copa America championship defeat.
Then, in a postgame interview, Messi informed the world that he was retiring from international play. Critics immediately began to question Messi's legacy and leadership qualities. After all, nobody wants to go out with a loss. It almost felt like he just gave up.
I can't imagine how Messi felt after the loss. I know I've made plenty of mistakes in my life and they've all been hard to overcome. I also know I've never been on the same stage as him.
Like Messi, we all mess up. Trust me, I'm a pastor. It's my job to help people find reconciliation with God and others, which is hard to achieve because we make mistakes all the time. We say hurtful things, we forget important dates, and we don't always try as hard as we should. Sometimes we lose our keys, and other times we miss penalty kicks. Messing up is a part of the human condition.
As I think about Messi and his legacy, I realize that we might not be able to tell his story without mentioning his missed penalty kick in the 2016 Copa America final.
But you know what? We also can't leave out that at age 20 he led Argentina to win their fifth FIFA World Youth Championship title; or that he's also the highest scorer in El Clásico, the regular match between Barcelona and Real Madrid, one of sport's greatest rivalries; or that in 2009 he led Barcelona to win all six possible season titles: Copa del Rey, La Liga, UEFA Champions League, Supercopa de España, UEFA Super Cup, and the FIFA Club World Cup; or that he's the only player in history to have won 5 Balon D'ors, FIFA's highest award for the best player in the world. We can't tell Messi's story and leave any of these accolades out of it.
If there's a silver lining to Messi's blunder, it's the reminder that even though highlight moments can greatly affect our stories, no single moment can define a life. No matter how badly we mess up and how disappointed or frustrated we feel about it, we don't have to let a moment define us.
And that's what Messi did last week when he announced he was returning to the Argentine national squad. It seems Messi will continue to delight us with his brilliance for a little longer.
–
TheBlaze contributor channel supports an open discourse on a range of views. The opinions expressed in this channel are solely those of each individual author.