This Friday I will join hundreds of thousands of pro-life activists on the National Mall to advocate for the lives of millions of unborn boys and girls at the March for Life. It will be my 15th March.
On one of the most important days of the year, I want to offer words to inspire young, pro-life women to consider running for elected office. I will share the stage with one of the nation's most courageous supporters of the pro-life cause – my friend and presidential candidate Carly Fiorina.
Many qualities have attracted me to Carly, but her steely resolve to stay true to her character and her moral conscience is what has impressed me most.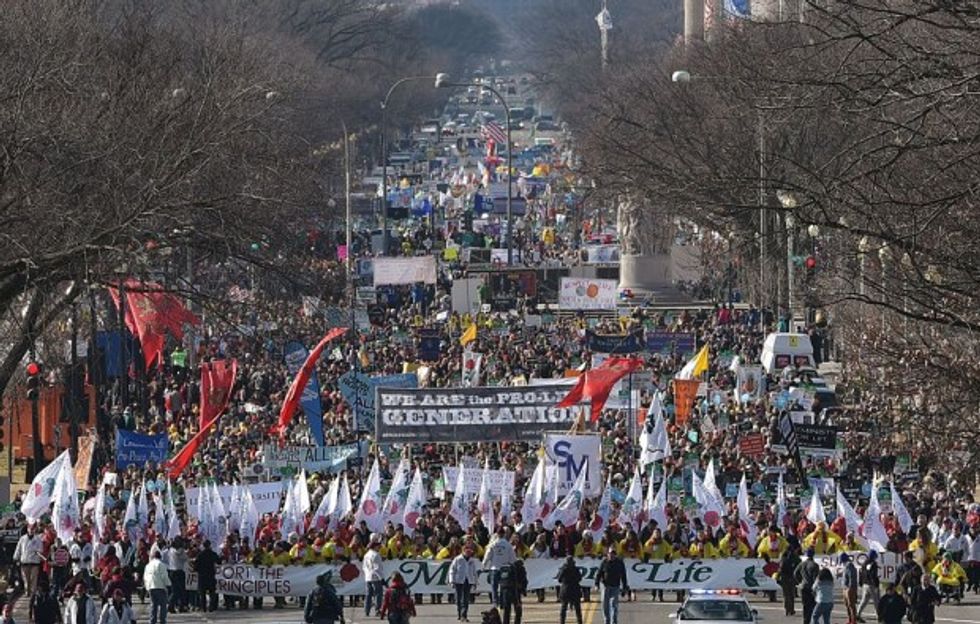 Anti-abortion activists taking part in the annual March for Life make their way to the Supreme Court on January 22, 2015 in Washington, DC. AFP PHOTO / MANDEL NGAN 
My own involvement in the pro-life movement as president of the Susan B. Anthony's List may suggest I've always held these convictions about life, but that's not the case.
When I attended Duke University, the College Republicans appointed me the "pro-choice chair" as part of their big-tent strategy to draw in more members. I remember challenging pro-life men on campus with this bold line: "When you become a woman, come back and talk to me."
I moved to Washington, D.C. for a summer internship at The Heritage Foundation in 1986. The intern house, known as the "Right House," was split in a culture war between two groups – traditional conservatives and libertarians. The libertarians were more my crowd. Looking back, I thought they were more fun.
At the same time, I became friends with a devout Catholic and Georgetown graduate named Chris. He was one of the best apologists for the pro-life stance I've ever met, before or since. Through conversations with him, I began to doubt my strongly held beliefs about abortion.
My conversion did not happen overnight. At the end of my summer internship, I went back to Duke, changed my major to philosophy, and really dug into the fundamentals. When I studied philosophy and attempted to adhere to its rules, it became very difficult to make a pro-choice argument without encountering what the topic truly is.
And the topic of abortion – the question at the heart of it – is "what's being eliminated?"
Atfirst, I answered that question with "I don't know." In a suspension of disbelief, I considered that it might be another person. As time went on, and I studied more, it became a matter of science. I accepted that I could not prove that the "thing" – the unborn child – was not a human being.
[sharequote align="center"]I accepted that I could not prove that the "thing" – the unborn child – was not a human being.[/sharequote]
That fundamental question and its answer was, for me, life-changing, and I'm grateful that I had a friend like Chris who wasn't afraid to engage the tough questions and have the tough conversations with me, the "opposition."
Nothing can substitute for the patience it takes to sit down and walk others through the formal arguments, asking them to examine consciences and belief systems. Today, I thank Chris and a handful of strong, merciful advocates for my pro-life convictions.
Carly Fiorina, on a national platform, is our country's Chris. This election cycle, she's ignited a conversation about the character of our nation by calling out Planned Parenthood for the illegal sale of baby parts on the main debate stage.
Planned Parenthood responded by paying activists to pelt Carly with condoms in Iowa. "The View" host Whoopi Goldberg attacked Carly and other pro-lifers, saying, "get out of my vagina."
Did this stop Carly? Indeed not– she later reappeared on "The View," defending her comments and calmly articulating, again, the love and virtue of the pro-life stance.
Carly generates conversations by effectively and thoughtfully challenging convention. Unlike some rudderless leaders in Washington, Carly has the courage to take on opponents and compel us to examine our actions.
Frank conversation caused me to confront my beliefs, and our nation will benefit from the same challenge.  Women are uniquely positioned to advance this conversation. So it's time we listened to Carly's arguments. I will do just that today alongside hundreds of thousands of men and women committed to standing up and protecting every precious life.