© 2023 Blaze Media LLC. All rights reserved.
Trump's gaffe was an unfortunate choice of wording but his message was sympathetic to veterans. My PTSD Marine father would have thought so.
In 1950, Korea was suddenly plunged into one of the most violent and bloody wars of the 20th Century.
One of the Americans sent to fight there was my father, 2nd Lt. John M. Schaeffer. During his tour there he would see vicious combat and endure some of the harshest winters on earth; the sights he saw defy imagination.
He saw dead Marines' bodies splayed out on barbed wire between the lines when the fighting settled into a stalemate and accepted the Chinese taunts across the no-mans land to come get their dead. The Chicoms knew that, whenever feasible, Marines never left their dead behind. He was eventually wounded by mortar fragments and received his Purple Heart while recovering on a Swedish hospital ship, and shipped home.
Once back in the states he was honorably discharged, got married and began a life.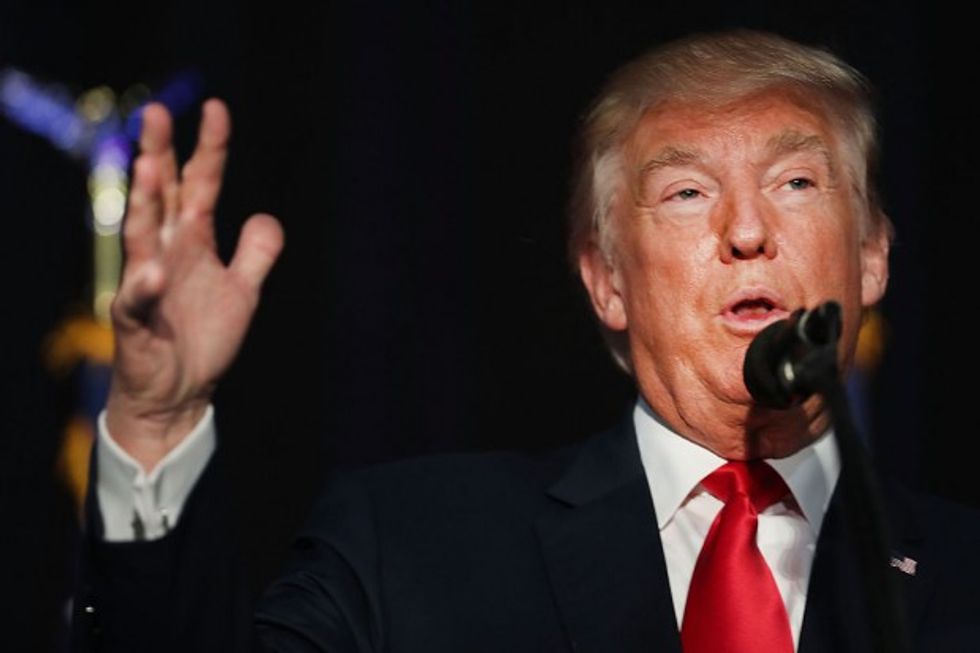 Spencer Platt/Getty Images 
Struggling along the way he raised five kids until his death in 1983. He suffered post-traumatic stress disorder in all that time.
I think I can say a few things on his behalf. First, he would be appalled at the prospect of a Hillary Clinton presidency (probably Donald Trump too for that matter).
What he would not be appalled by is what Trump said at an event sponsored by the Retired American Veterans PAC in Herdon, Virginia the other day.
"When you talk about the mental health problems — when people come back from war and combat, and they see things that maybe a lot of the folks in this room have seen many times over, and you're strong and you can handle it. But a lot of people can't handle it," Trump said.
"And they see horror stories. They see events that you couldn't see in a movie, nobody would believe it," he added.
The fact is some men can handle things better than others. That is with all stressful situations in life ... especially war. What made Ulysses Grant and James Longstreet such great generals was their cool under fire. Yet even the great generals like George Washington, Thomas "Stonewall" Jackson, and Douglas MacArthur once froze under stress. At certain moments they really couldn't handle what was being hurled at them.
In "Game Of Thrones" Brandon Stark asks his father, Eddard, if a man can be both frightened and brave. His father answers: "That is the only time a man can be brave."
True enough. There are only two kinds of soldiers in combat: frightened and dead.
Thousands of American soldiers, sailors, airmen and Marines have succumbed to PTSD over the years. It is one of the great tragedies of war. Even the ones you win.
At the Battle of Okinawa, 20,000 Americans suffered from acute PTSD which they called "combat fatigue." In short, they could no longer handle the fighting.
There is no shame in this.
Being unable to handle the worst expressions of the darkest side of the human soul laid bare before you day in and day out and its after-glow is no pejorative. If anything it is a declaration of one's humanity.
Trump's use of the phrase "can't handle it" was a poor choice of words. Honestly people, how many times have we said "Oops that was a wrong choice of words. What I meant to say was..."
But politicians, even amateurs, don't get rhetorical Mulligans. Once it's out there it stays. And the cynical opposition spin doctors will pounce. And, of course, their lackies in the mainstream media will run with it as ordered.
If you watch the entirety of Trump's speech and question and answer this man seemed sincerely sympathetic to veterans and their families in ways that Clinton--who lied to the faces of Gold Star parents standing by their boys' coffins just to maintain a political subterfuge--could never muster.
Yet the man misspeaks one sentence and that word choice is the take-away. Politics at its best. Now he at least knows how Gen. George Patton, another besieged leader inflicted with chronic foot-in-mouth disease, must have felt.
David Maulsby, the executive director of the Texas-based PTSD Foundation of America, told The Associated Press that, at first, he hoped Trump's remarks had been taken out of context. But after watching a recording of the exchange, he said the Republican nominee's words were derrogatory to veterans struggling with PTSD symptoms. I don't know what Mr. Maulsby saw.
"Our veterans who are struggling with post-traumatic stress as a result of their combat need to be encouraged to seek help, and not be told they are weak or deficient in character in any way, shape or form," he said.
Look, I am not a veteran. I have no clue if when the shaving cream hits the fan I'd be Bunny or Junior from "Platoon."
But I did live in the same house with a bona fide combat veteran for the first third of my life and have seen the psychological impact first hand. And I believe my father would have taken Trump's comments in the spirit of sympathy in which they were offered ... and given him a pass on the poor word choice in an extemporaneous moment.
I cannot say if he would have supported Trump's candicacy...I am my father's son and I find it difficult (although the thought of Hillary filling Justice Antonin Scalia's seat might have made it less unpalatable).
I can say with confidence however that had Hillary said the same thing at the same event, but for Fox and the radio waves, we'd not even be talking about it.
Brad Schaeffer is an energy broker, columnist, historian and author. He's had pieces featured in The Wall Street Journal, New York Daily News, Zerohedge, and Breitbart. Drop him a note at: shafemans@yahoo.com
–
TheBlaze contributor channel supports an open discourse on a range of views. The opinions expressed in this channel are solely those of each individual author.

Want to leave a tip?
We answer to you. Help keep our content free of advertisers and big tech censorship by leaving a tip today.
more stories
Sign up for the Blaze newsletter
By signing up, you agree to our
Privacy Policy
and
Terms of Use
, and agree to receive content that may sometimes include advertisements. You may opt out at any time.