The Free Dictionary defines scandal as: "A publicized incident that brings about disgrace or offends the moral sensibilities of society."
I looked this up after New York Times columnist David Brooks noted last week, for the second time in nine months, that the Obama administration has had no scandals.
Last May on PBS NewsHour Brooks said, "President [Barack] Obama has run an amazingly scandal-free administration, not only he himself, but the people around him."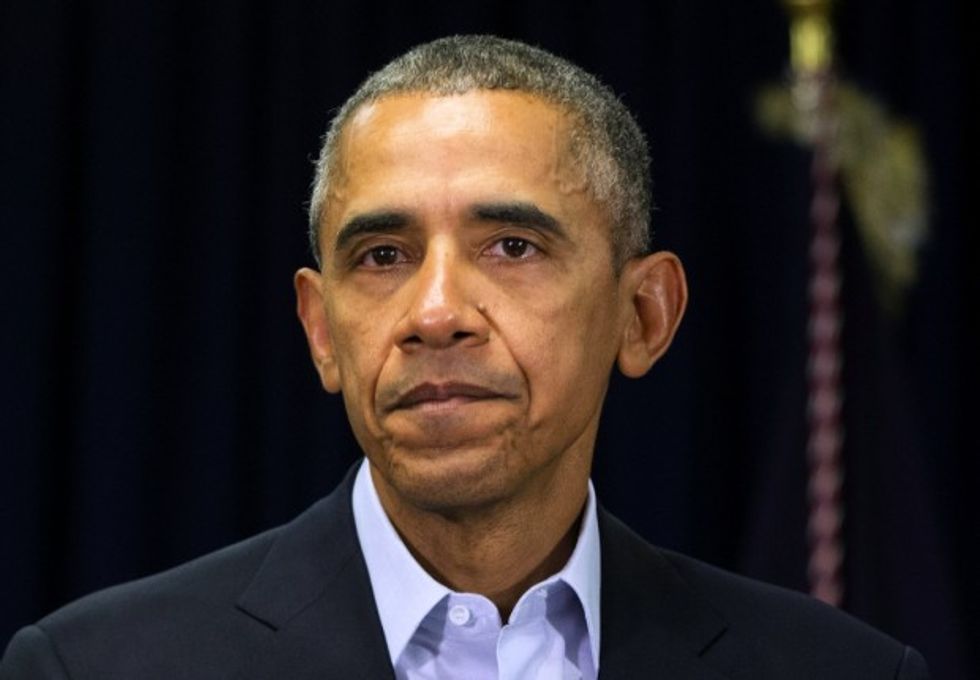 President Barack Obama speaks to reporters about the death of Supreme Court Justice Antonin Scalia at Omni Rancho Las Palmas in Rancho Mirage, Calif., Saturday, Feb. 13, 2016. Scalia, 79, was found dead Saturday morning at a private residence in the Big Bend area of West Texas. (AP Photo/Pablo Martinez Monsivais)
Brooks should return to obsessing over the creases in the president's trousers.
Perhaps Brooks sees no scandal because the failures of this administration do not generate enough media attention to offend the sensibilities of society. His newspaper does its best to ensure that.
Perhaps Brooks believes that no scandal exists because no one has been disgraced. He can be forgiven since no one in this administration seems capable of being disgraced.
Let us set aside these events:
Four other scandals, however, undermine the character of a free nation.
Article II in the Resolution of Impeachment against President Richard Nixon reads:
"He has … acting personally and through his subordinates and agents, endeavored to obtain from the Internal Revenue Service … confidential information contained in income tax returns for purposes not authorized by law."
That was a scandal and Nixon was forced to resign.
The Obama administration has used the IRS to harass political opponents, to audit contributors to opponent's campaigns and to abuse private information for political purposes.
The IRS officer responsible refused to testify before Congress and was voted in contempt. A criminal referral was sent to the DOJ and it was ignored.
The Commissioner of the IRS lied under oath and articles of impeachment for the commissioner have been filed.
No scandal here. Move along.
The government takeover of our healthcare system could not have been accomplished without lying to the American people.
We were promised that it would not cover abortions, that it would not cover illegal immigrants, that we could keep our insurance and our doctors, that our costs would be reduced by $2,500 per year and that it would not increase taxes. All of those statements were untrue and known to be untrue at the time.
The website, Healthcare.gov, was a billion dollar scandal that was never completed, never tested and never necessary. IBM offered to build the website for free and their offer was declined.
The winning bid went to a Canadian company whose U.S. executive was a classmate of Michele Obama's at Princeton.
Millions of Americans have lost their coverage and their doctor, costs are skyrocketing, abortion coverage is mandatory and this entire debacle has, since its inception, been covered by the media as good policy opposed only by Republicans for political reasons.
No scandal here. Move along.
Just 56 days before the president's re-election a terrorist attack in Benghazi killed our ambassador and three other brave Americans. For weeks the administration lied that the attack, which they watched in real time, was a spontaneous response to an Internet video.
When the attack began our military automatically scrambled a team to come to the aid of Americans under fire. Someone ordered them to stop.
Some believe that Obama aide Valerie Jarrett made that decision. I don't know if that is the case, but it is scandalous that no one in the media seems to care about what the president was doing that night and who gave that order.
No scandal here. Move along.
Our effort to reach rapprochement with Iran, the world's largest state sponsor of terrorism, is a continuing scandal to this day. The Obama administration was anxious to release $150 billion of frozen assets to Iran in return for Iran's promise to not build a nuclear weapon.
The United Nations approved an agreement that Iran refuses to sign or submit to its legislative body for approval.
Iran got the money. We got the promise. If they have stopped enriching nuclear material we wouldn't know because we have agreed to allow them to do their own inspections.
Since then Iran has ignored U.N. resolutions and tested ballistic missiles and just last week, in contravention of all international agreements, used videos of captured American sailors for propaganda.
This continuing scandal is considered by the administration to be its signal foreign policy achievement. The media accepts that judgment.
That will, of course, relieve David Brooks of the need to rigorously examine administration policy and he can return to observing the creases in the president's trousers.
At least he can do that honestly without insulting us.
If you would like to be added to John Linder's distribution list please send your email address to: linderje@yahoo.com or follow on Twitter: @linderje
–
TheBlaze contributor channel supports an open discourse on a range of views. The opinions expressed in this channel are solely those of each individual author.
–
TheBlaze contributor channel supports an open discourse on a range of views. The opinions expressed in this channel are solely those of each individual author.