Planning that dream vacation?
You'd better go soon if you want to take advantage of low airfare.
The Obama administration is preparing a new regulation on aircraft that could dramatically increase the cost of flying. The Environmental Protection Agency recently declared it has the authority to regulate carbon dioxide emissions from aircraft and will move to set standards limiting how much aircraft can emit.
Part of the EPA's decision to regulate carbon emissions from aircraft comes from a push by the United Nations to develop a global emissions reduction program. Affordable air transportation is threatened by the EPA's actions.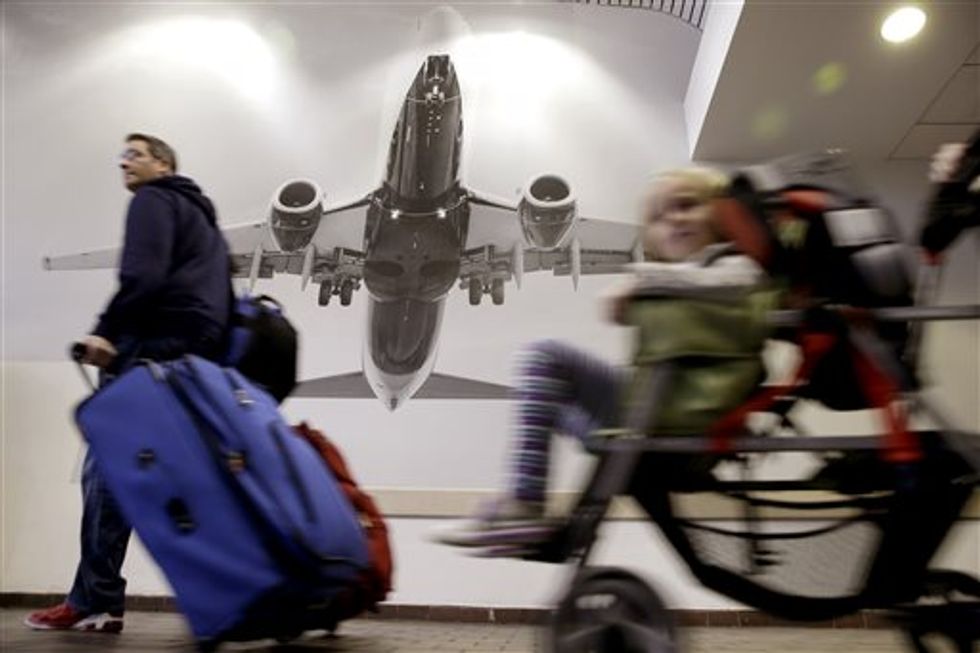 (AP/Seth Wenig)
The EPA recently published an endangerment finding for carbon emissions from aircraft. An endangerment finding is the first step in the process of issuing a regulation and is a document stating that the EPA believes aircraft emissions are impacting public health. The action follows a familiar pattern to how the EPA gave itself the authority to regulate power plants. They agency declared carbon emissions from power plants a threat because of their potential impact on global warming and then issued an unprecedented and costly regulation on America's electricity industry. The EPA won't have time to finish the regulation under President Obama, but in issuing the endangerment finding the agency hopes to bind the next administration to regulating carbon emissions from aircraft.
The EPA's move to regulate aircraft also shows that the agency will leave no stone unturned when it comes to regulating the lives of Americans. Commercial aircraft contribute to just 2.2 percent of total U.S. carbon emissions, but the EPA believes even this small percentage of emissions needs its own regulation. The move by the EPA comes on the heels of President Obama's weekly address where he focused on global warming. In the address he said, "There's still much more to do," hinting there are still more regulations to come from his administration.
A similar policy aimed at reducing carbon emissions from the airline industry has been proposed by the European Union and is estimated to be extremely costly. The EU wants a cap-and-trade program for all airline carriers with routes that touchdown in Europe. Airline carriers would be required to reduce carbon emissions or trade for carbon reduction credits. When the cap-and-trade program was first proposed back in 2011, US carriers estimated they would have to spend $3.1 billion by 2020 on carbon credits if had gone into effect. The EU cap-and-trade program would have raised the price of airfare for consumers; a flight from New York to London could have risen by as much as $57.
Ultimately, the EU's cap-and-trade regulation was delayed. EU regulators agreed to wait until the United Nations had a chance to devise a global carbon emissions scheme for aircraft. The International Civil Aviation Organization, the branch of UN that covers aircraft, is expected to approve a global emissions standard later this year. The EPA cited the UN emissions standard as one of the reasons they are moving forward with its regulation.
Instead of driving up the cost of the airfare, the EPA should reserve course and the State Department fight against the proposed UN regulation. Consumers should be worried about harmful effects of overregulation on the airline industry. In the 1970s, flying was an expensive luxury that few could afford to do regularly. Since deregulation of the industry, prices have dropped and carriers have expanded routes benefiting millions of Americans. What's more, the EPA's regulation would have little to no impact on global temperatures since US aircraft only contribute to a small amount of US carbon emissions and a miniscule amount of global emissions. The EPA's aircraft regulation simply means Americans will pay more the next time they fly.
Grant Kidwell is a senior policy analyst at Americans for Prosperity where he focuses on energy and environmental issues. He hold's a MA in Economics from George Mason University and a BA in Political Science from James Madison University.
–
TheBlaze contributor channel supports an open discourse on a range of views. The opinions expressed in this channel are solely those of each individual author.