In an exclusive AP report, the Obama administration acknowledged that it took another step closer to sealing a nuclear deal with Iran.
The latest negotiations between the United States and Iran would require Iran to "cut hardware it could use to make an atomic bomb by about 40 percent for at least a decade." In addition, the Iranians would receive "immediate relief" from sanctions that have hurt their economy.
As an added bonus and bargaining chip to secure Iran's acceptance of the agreement, the United Nations would agree to roll back elements of its arms embargo against Iran.
The "good" news, however, is that Iran would be limited to only 6,000 centrifuges which is down from the 6,500 that Iran asked for in recent weeks, but a far cry from the original 500 to 1,000 that the U.S. had initially called for in talks with the country.
In this handout photo provided by the White House, President Barack Obama speaks with President Hassan Rouhani of Iran during a phone call in the Oval Office September 27, 2013 in Washington D.C. Getty Images
The Obama administration, however, wants the America public to stop focusing on the number of centrifuges. The administration believes that with the proposed "restrictions on enrichment levels" and the "types" of centrifuges that Iran has, the time it would take Tehran to covertly make a nuclear weapon would be "extended to at least a year" under the negotiated 10-year moratorium. Currently, Iran would only need two to three months to produce a bomb.
How do we know for certain that Iran doesn't already have a bomb? Should the "extended timeline" make the American public feel safe?
Other countries, like France, are calling for a 25-year moratorium, while the U.S. plan would begin to lift restrictions after 15 years.
Additionally, as part of the deal, Obama would be able to begin lifting some existing economic sanctions against Iran immediately while most of the punitive U.S. based economic sanctions would be phased out overtime. Other sanctions would be suspended as Iran proves that it is in compliance with any final agreement.
The chilling title from an article written in June 2014, should be on the minds of every American as the Obama administration works to secure a deal with Iran and without the assistance of the U.S. Congress.
The title, "Trust Iran Only as Far as You Can Throw It," is a reminder that we are dealing with a country that cannot be trusted to keep their word.
"There has never been any doubt in my mind that elements within Iran's security services have facilitated [Islamic State]," said Col. Derek Harvey, a retired Army intelligence officer and senior Central Command advisor.
Harvey also believed that if there was to be a solution to the rising threat of the Islamic State, it must not include the collusion between the U.S. and Iran.
These are certainly strong words that would have anyone reasonably questioning whether entering into an agreement with Iran would be a good idea, especially without the expertise of those in Congress assisting in the negotiations.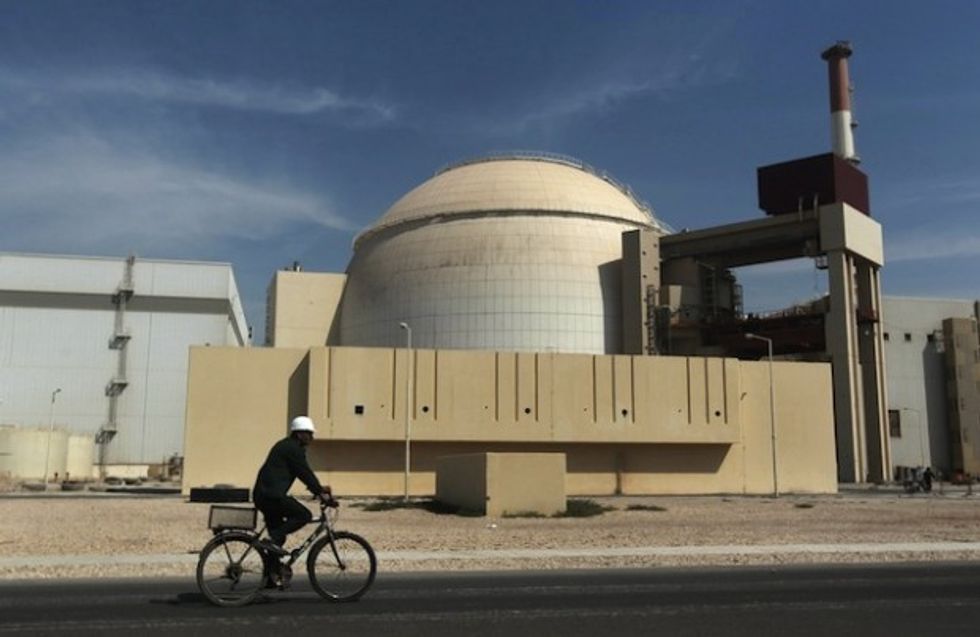 In this Oct. 26, 2010 file photo, a worker rides a bicycle in front of the reactor building of the Bushehr nuclear power plant, just outside the southern city of Bushehr, Iran. (AP Photo/Mehr News Agency, Majid Asgaripour, File)
The article's author further claims, that "American veterans of the long-fought Iraqi war, maintain that Iran has long played a double game in Mesopotamia and the Levant, both enabling Sunni extremists to infiltrate countries such as Iraq, Syria, Lebanon and then swooping in as the only safeguard heralded against the very forces they helped unleash."
Also, the article quotes other retired and active duty personnel claiming that the people who eventually became Al Qaeda in Iraq (the forerunner to Islamic State) came out of Iran and that Iran, not wanting to see a post-Iraq war democracy, secretly did what it could to prevent that from occurring.
If these high-ranking military officers can be believed, then the U.S. is not only negotiating with Iran but is possibly proposing a long-term agreement with members of the Islamic State group, itself.
–
TheBlaze contributor channel supports an open discourse on a range of views. The opinions expressed in this channel are solely those of each individual author.