Last year President Barack Obama traveled to my home state of Tennessee for what Politico dubbed an "Obamacare victory lap."
The president visited an elementary school in Nashville for a speaking event closed to the general public, where he touted the supposed successes of his signature healthcare law and answered a few questions on Twitter (he must not have seen mine).
The president assured Tennesseans that Obamacare is working – we're just all apparently not smart enough to realize it.
"It's important to remember that everybody who has health insurance benefitted and continues to benefit from this law, even though a lot of folks don't know it," he said at the time.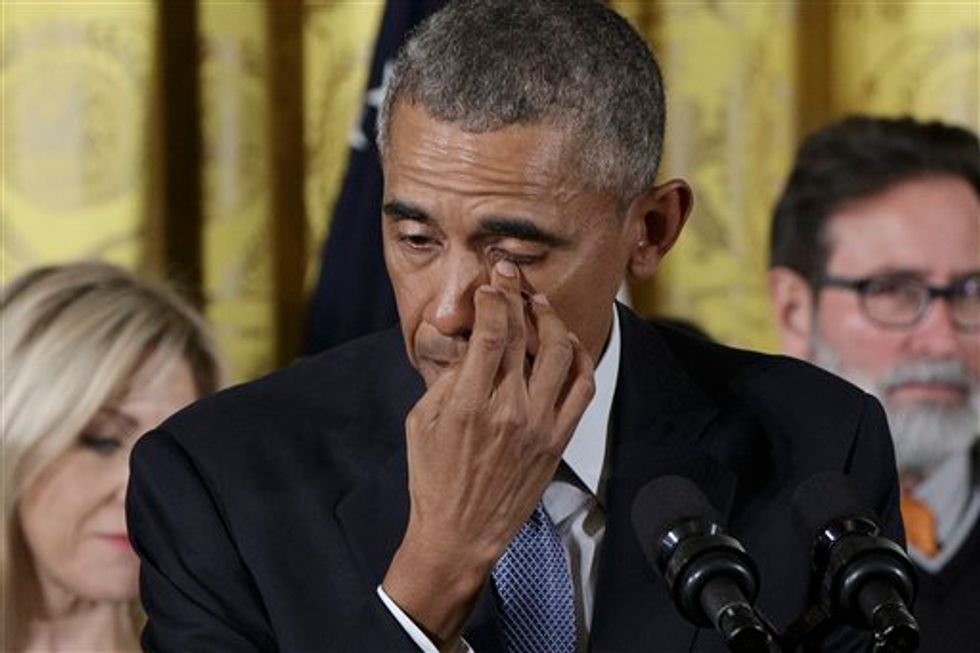 (AP Photo/Carolyn Kaster)
The president's words were eloquent, as usual. The only problem is that, a year later, we know that just about everything he said turned out to be untrue.
Let's go point-by-point:
During his remarks, President Obama said "We now have about 166,000 Tennesseans who have health care who didn't have it before."
The president's claims were misleading even back then. In 2013, for example, more than 28,000 Tennesseans lost their health insurance in a single day as a direct result of the healthcare law.
Now, however, that statement has become an outright falsehood. Months after the president's visit, Tennessee's Obamacare co-op went belly up, leaving nearly 30,000 people in a lurch. That pales in comparison to this week's news that BlueCross BlueShield of Tennessee will exit the Obamacare marketplace in three regions of our state next year, sending more than 100,000 Tennesseans into the search for a new insurance plan.
In the same speech that day, President Obama said "Health care costs have been held – the inflation on health care costs have actually proved to be the lowest – since the Affordable Care Act passed – in the last 50 years. So we're actually seeing less health care inflation."
In reality, the largest insurer in my state raised insurance rates by 62 percent this year, and 36 percent the year prior – a far cry from President Obama's original promise to "cut the cost of a typical family's premium by up to $2,500 a year."
The president further stated that, "Through the Affordable Care Act exchange plan, there is enormous choice of plans."
Wrong again. Today there are 73 counties in Tennessee with only one insurance option on the Obamacare exchange.
In light of all these untruths and more, I would like to send President Obama a formal invitation to come back to my state – this time for an apology tour, rather than a "victory lap."
If the President thinks Tennessee was an appropriate destination to brag about his healthcare law back then, it should also make a suitable location to finally own up to the shortcomings of Obamacare today.
With Tennessee's Obamacare marketplace labeled as "very near collapse," premiums on the rise, and our roster of available insurers in freefall, my constituents deserve some follow-up from the president who promised them it wouldn't be this way.
Despite his deceptions and fuzzy math, the president did say something during his visit last year that I can agree with: "If folks have better ideas, you should accept them."
Indeed, my conservative colleagues and I have offered ideas on health reform all along. Most recently, we compiled these proposals into a comprehensive plan that we are calling a "Better Way" for health reform; a substantive, 37-page policy agenda covering everything from medical malpractice reform, to maintaining guaranteed coverage for those with pre-existing conditions, to spurring competition by allowing the sale of health insurance across state lines.
If the president makes the trip to Tennessee, I'll be on the tarmac waiting to present him with his very own copy of our plan – because after all the failures of Obamacare, it's past time he took his own advice.
Congressman Diane Black is a registered nurse representing Tennessee's 6th District. She serves on the House Ways and Means Committee and Budget Committee.
–
TheBlaze contributor channel supports an open discourse on a range of views. The opinions expressed in this channel are solely those of each individual author.