A political scientist at Harvard has written a book about irreconcilable differences called "Our Kids: The American Dream in Crisis." If you don't have time for the whole book, you can read the Washington Post's op-ed about it.
In a nutshell, poverty produces family instability, which in turn produces poverty. This vicious cycle occurs in a world of vanishing blue collar jobs, growing single parent families, and decaying social institutions like scout groups and church groups.
Upper class families with two incomes tend to be surrounded by other two income families ensconced in communities of school counselors, sport coaches, youth pastors, tutors, and mentors.
The result, according to the author, is a growing social gap between rich kids and poor kids. This gap that poor kids experience results from a lack of adults around when they get in trouble, or just need someone to talk to. Poor kids are ensconced in communities of overworked and chronically stressed single parents, under-funded and under-performing schools, and isolated, drug-ridden, violent neighborhoods.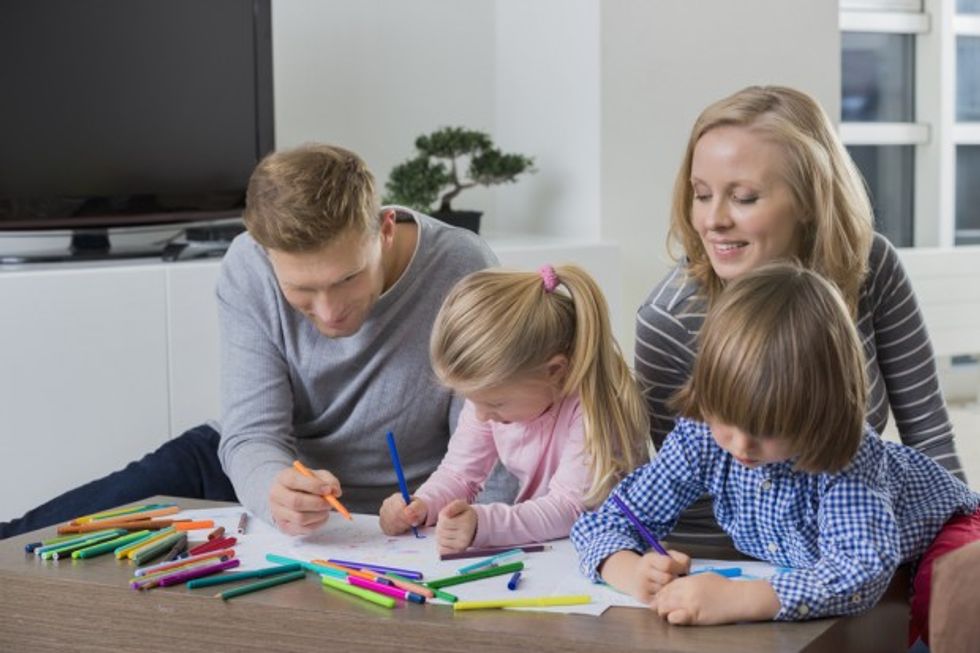 Photo Credit: Shutterstock
All children are at the mercy of their parents' choices, so take a step back and examine the choices that predominate in each world. And don't preach to me about victims of circumstance. It's demeaning to the intellect and capacities of disadvantaged citizens to portray them as dumb animals, simple creatures who somehow lack the uniquely human power to determine our response to circumstance.
The single biggest difference between the two worlds is the nature of their social relationships.
Two parent families, higher education, and religious networks predominate in the more prosperous sphere.
Any individual or family can beat the odds. Just ask Ben Carson. But the power of institutions like marriage, college, and religion is undeniable.
Marriage is one of the strongest hedges against poverty, both because it makes two incomes possible and because it legally obligates the parents to each other in a way that benefits the security of their children. As anyone who has been married for any length of time can tell you, marriage is a relationship that sometimes travels on the fumes of obligation alone.
Religious networks imply not just belief in God and commitment to attending services, but the presence of like-minded individuals within close proximity who, ideally, form the backbone of the community in time of need. Religious networks are voluntary but by their very nature inspire an obligation toward our fellow humans that is simply not present in the Kiwanis Club.
Secure employment in today's world implies some degree of post high-school education, an attainment that is imminently accessible thanks to government-backed student loans. And marketable skills are only part of higher education; it is as much the social network of a larger world that opens up employment opportunities.
Today's world turns on social relationships. Just ask the Arab Spring.
No child should go hungry, but there's a big difference between Food Stamps and a father who shows that a real man gets up and goes to work every day, even when he doesn't want to.
Ask anyone who's ever been successful in business how important the "who you know" part of their career has been. Then ask them where they encountered their first professional contacts. Steve Wozniak dropped out of Berkeley after a year; Steve Jobs dropped out of Reed College after six months; and if Mark Zuckerberg, who never finished Harvard, hadn't needed a date, there wouldn't be that all-important Facebook button at the bottom of this article.
And it doesn't really matter where you go to college. Even a graduate of Northern Michigan University can be a CEO. Just ask Starbucks.
Finally religion. The biggest minefield of all.
It's fair to reject belief in God. It's fair to reject organized religion even if you do believe in God. Fair does not mean no impact, however. One of religion's basic tenets is to care for the widows and fatherless.
Some of the very best people I know don't believe in God and don't need religion to motivate them to serve others in need. I admire them greatly, but for those of us without such impulses, religious organizations are an exceedingly effective way to bind us together.
When I was a kid, we used to toss out the phrase "It's a free country" to justify whatever we felt like doing. l don't hear that so much today, but it's just as true.
We can make babies at virtually any age, with or without marriage, with or without a relationship to the other biological parent. If our family structure necessitates it, we can depend on taxpaying citizens for food, shelter, and clothing.
We can choose any belief system that speaks to us or none at all (although non-belief is its own form of belief). We can reject membership in any form of organized religion.
We can do anything we feel like doing, but we can't deny that certain behaviors tend to result in certain outcomes.
Declining to participate in the very social relationships that promote prosperity tends to result in less prosperity.
Involving ourselves in marriage, higher education, and religious communities tends to provide layers of opportunity and security for ourselves and our families, which tends to result in more prosperity.
We can have it all. We just can't have it all at once. That's called irreconcilable differences.
Donna Carol Voss is an author, blogger, speaker, and mom. A Berkeley grad, a former pagan, a Mormon on purpose, and an original thinker on 21st century living, her memoir "One of Everything" will be released May 2015. Contact: donna@donnacarolvoss.com.
–
TheBlaze contributor channel supports an open discourse on a range of views. The opinions expressed in this channel are solely those of each individual author.