The mainstream media has recently sensationalized many cases of alleged police brutality and individuals like Rev. Al Sharpton cry wolf in hopes of establishing divisive claims that white police officers and other authorities victimize minorities.
But, are these recent nationally sensationalized claims of police brutality against young minority men and women a product of racism or a growing lack of respect for authority?
The millennial generation has been brought up in a rapidly changing American society in which mutual respect has been demanded and where there is little room for tolerance. The liberal left has created an "outrage industry" that consistently tries to destroy American values and beliefs through the notion of political correctness and equality. This "outrage industry" has recently been explained perfectly in the book "End of Discussion," by Mary-Katherine Ham and Guy Benson.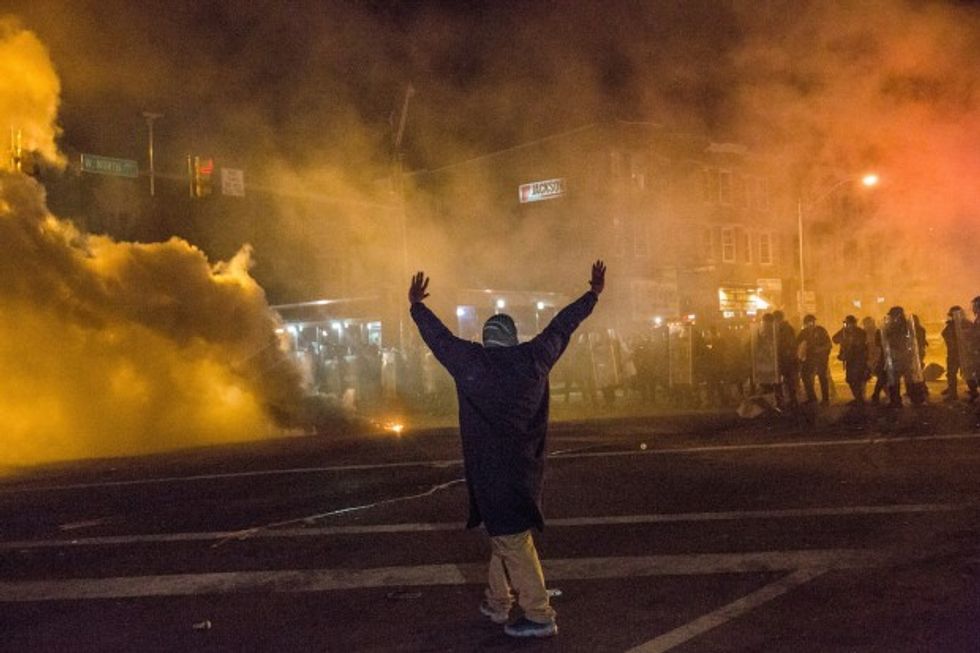 A protester walks through tear gas as police enforce a mandatory, city-wide curfew of 10PM near the CVS pharmacy that was set on fire yesterday during rioting after the funeral of Freddie Gray, on April 28, 2015 in Baltimore, Maryland.  (Photo by Andrew Burton/Getty Images)
The millennial generation has been taught not to see color, sexual orientation, or gender and any group in society who does is either malicious, backwards, a bigot, or a Republican.
If someone says a racist comment in the privacy of their own home they must relinquish ownership of their basketball team; if a baker declines to bake a cake for a gay wedding they are a bigot and the bakery needs to be closed; and if a certain arm of the United States military does not allow women to serve in combat they are sexist.
Where is American freedom of expression and religion? Is this obsession with tolerance creating a fanatical generation full of intolerance and contempt for an opposing point of view?
The left has been expanding their "outrage industry" through the millennial generation by blaming all of the poor economic, educational, and criminal statistics of minorities on institutions aimed at serving and protecting all Americans. Police officers serve, protect, and deeply care about the community they work in and want nothing less than safety for their fellow neighbors. But, the left has demonized these institutions and falsely blame these brave men and women for the internal struggles of minority communities.
The Republican Party is founded on tolerance, equality, and principles of opportunity for all who put forth the hard work to attain it. But, the left has used it's sharply crafted "outrage industry" to demonize these values through the guise of intolerance. Millennials views have been shaped and warped by an increasingly sensitive and ignorant elite liberal class composed of community organizers with race-colored glasses and celebtrities who sell hatred for America.
By indoctrinating this false tolerance into the worldview of millennials the left has produced a generation full of volatile rage. They have created an easily activated army of drones who can be manipulated through unfounded frenzy by an elite group of tolerance agitators ready to burn down a city at a moment's notice.
Demonstrators faceoff against police during a protest against the shooting of Kimani Gray, March 13, 2013 in the East Flatbush neighborhood of the Brooklyn borough of New York City. 16-year-old Kimani Gray was shot and killed by police on March 9, provoking protests and unrest in the neighborhood. Credit: Getty Images
Many of these nationally reported cases of police altercations were brought about by millennials blatantly disrespecting police authority. These young people were either confrontational, rude, disobedient, or aggrieved toward police, which caused the police officers to respond the way there were trained to.
At the end of the day the reason these cases of violent police altercations that have resulted in death have been so sensationalized is because they are so rare which is what makes them heavily reported news. But, just because it is news doesn't make it the norm and is in no way responsible for the troubling statistics of minority communities.
Rev. Al Sharpton and other "outrage industry" organizers are the African American community and America as a nation a disservice by perpetuating these alleged police and other brutal incidences as a product of racism before any information is released about the incident. This leads to inciting unnecessary violence between black Americans and white Americans and more importantly between millennials and authority.
By inciting these feelings through shaky and unfounded evidence and reports is inciting young black millennials to distrust authority based on race and promotes an ideology that violence is an acceptable remedy for the devastation of their community.
Although, let me be clear that this is not an unfair notion by minorities in certain situations and it is important to stay vigilant as to not repeat history. But, by allowing the left to continue producing this outrage through a very precocious generation to pass their agenda is destructive to the nation and the rule of law.
–
TheBlaze contributor channel supports an open discourse on a range of views. The opinions expressed in this channel are solely those of each individual author.