Few topics elicit the sort of vitriol you get when you dare attack pornography.
Like Gollum guarding his "Precious," in J.R.R. Tolkien's masterpiece, porn apologists cannot help but curse you as those "Bagginses" when you try to point out the incredible harm porn causes them personally and society in general.
The reasons for their passionate defense of such a hideous, exploitative, cancerous industry are varied, but chief among them is the fact that this is a multi-billion dollar racket.
"Globally, porn is a $97 billion industry, according to Kassia Wosick, assistant professor of sociology at New Mexico State University. Between $10 billion and $12 billion of that comes from the United States."
A lot of people at the top, usually — and not surprisingly — men, are making millions off of the exploitation of women. That is not to minimize that men are being exploited too, don't get me wrong, but the core of the pornography business are women — young women to be more precise. The core of the clientele are men, though more and more women are lured to it everyday.
Did you know that, "porn sites get more visitors each month than Netflix, Amazon and Twitter combined"? Given the numerous harmful effects of pornography use, we must wake up and fight back against this leviathan.
It won't be easy. The billions in resources allow this vile industry to spread its corrupting influence to the highest levels.
If you have any doubts about that, you should take the time to watch "The Whistleblower," the movie depicting the true story of Kathryn Bolkovac, a Nebraska cop who uncovered a sex trafficking ring being covered up at the highest levels of the United Nations when she worked as a peacekeeper in post-war Bosnia. Words cannot describe the outrage one feels after learning of Miss Bolkovac's story and the fact that most of us have never heard of her.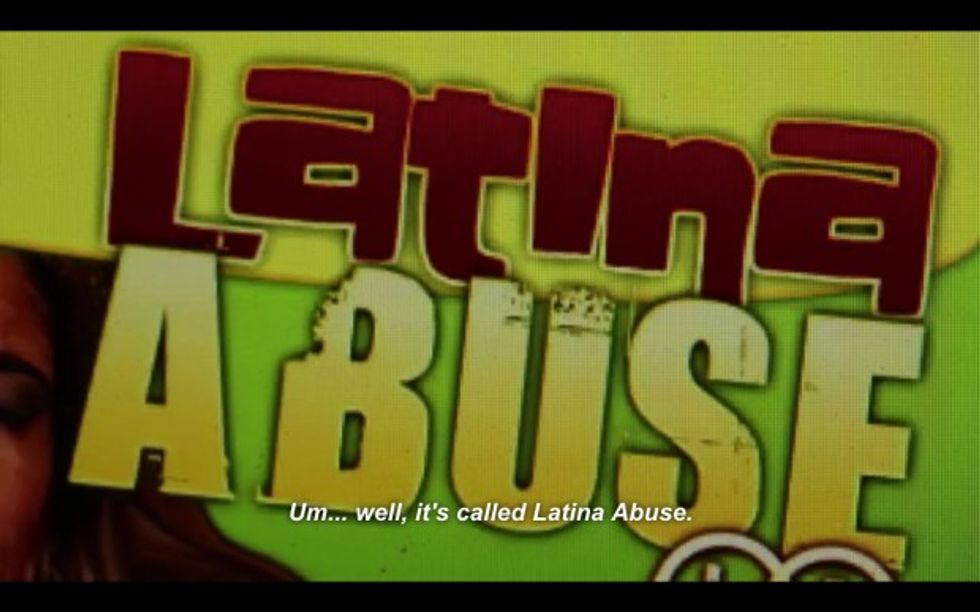 Sceneshot from Netflix documentary "Hot Girls Wanted." (Mario Diaz)
Last week, I watch another scandalous film: the Netflix documentary "Hot Girls Wanted." This documentary will break your heart. And I must warn you (because Netflix doesn't) of its graphic nature. It follows the "career" (if it can be called that; most girls are used and disposed off in three to six months) of a handful of girls wanting to "be stars" by recording amateur pornography. Apparently, that side of the business is growing exponentially with the advent of the Internet.
A "manager" recruits the girls through a simple Craigslist ad, offers them a free flight to Miami, where they stay with him while he gets them porn shoots. They pay him rent and a cut of their "salary."
I couldn't hold back the tears as one young woman (a Hispanic, hitting even closer to home for me) described her first "job" in the "industry" for a hideous outfit called "Latina Abuse." Even as she is seen trying to justify it, saying, "Good and bad is what your opinion is at the moment," the young girl confesses it was indeed "abuse" and particularly "degrading."
In the scene — which again, I must warn is very graphic, even when just partially shown in the documentary or even as written here — she is brutally abused verbally and physically, with multiple slaps to her face, as she is forced to perform degrading acts for a man. The stated goal is to have her throw up and then for her to clean it up in an even more degrading manner.
Another girl is seen going into a shoot with a much older man who, in the movie, is supposed to be her uncle who is abusing her. The "director" is seen explaining to the man that he is going forward with the "act," even though she hasn't said "yes."
In real life, the young girl is in clear distress, even though she goes through with it.
"I hate it," she says, "It's bondage."
That's pornography for you. It's slavery. And if you are even casually involved with it, I want you to consider what you are enabling. I dare you to watch this documentary.
These girls have to be 18 by law. But they are children, make no mistake about that. You can see in this documentary how they are being exploited, manipulated, and enslaved, while they purport to be "free."
In one revealing scene, a girl is called for a "job" that is supposed to be easy money. She describes arriving at the jobsite and realizing it is just her and one scary looking guy in a room.
"I was terrified. I didn't know if I could tell him 'no,'" she says.
But as bad as all of this is, one of the most shocking things in the film is that the requirement that the girls be 18 is just about the only regulation they have.
"The industry is not subject to any other federal regulations, and none have been created in the digital age," an on-screen caption reads.
Have we lost all shame? Are we to allow the sexual exploitation of our daughters in broad daylight with complete impunity?
We simply cannot turn a blind eye to this anymore. No amount of money, ridicule, or political pressure should silence our voice. Let us climb to the mountaintop and proclaim the truth about this industry to anyone who will listen, until the day these exploiters are denounced for the filthy human scourge that they are and every woman is respected and treasured.
We must demand accountability from our lawmakers.
Yes, it is a monumental task. Yes, it will require great sacrifice. But we can do it. We must do it.
Just as we destroyed the great exploitation of slaves, also a financial juggernaut in its day, by standing up for righteousness, fairness, and justice, let us stand together again to abolish today's slave trade (the sexual trade) that is enslaving our young people, condemning them to a life of heartache and regret, bringing innumerable social ills for our society.
Mario Diaz, Esq. is Legal Counsel at Concerned Women for America, the nation's largest public policy women's organization. His book Be Spent: Winning the Fight for Freedom's Survival is available now at Amazon. Follow him on Twitter @legalblurbblog.
–
TheBlaze contributor channel supports an open discourse on a range of views. The opinions expressed in this channel are solely those of each individual author.