Before September 11 terror committed by radical Islamists was not in the minds of most Americans. It's no coincidence though that once terror attacks begin to perpetuate across the globe with more frequency, the words Islam and terror became an ambient noise.
It's been almost 15 years since September now. There continues to be an increase in terror acts by groups that profess to commit atrocities that are motivated by their radical Islamic beliefs.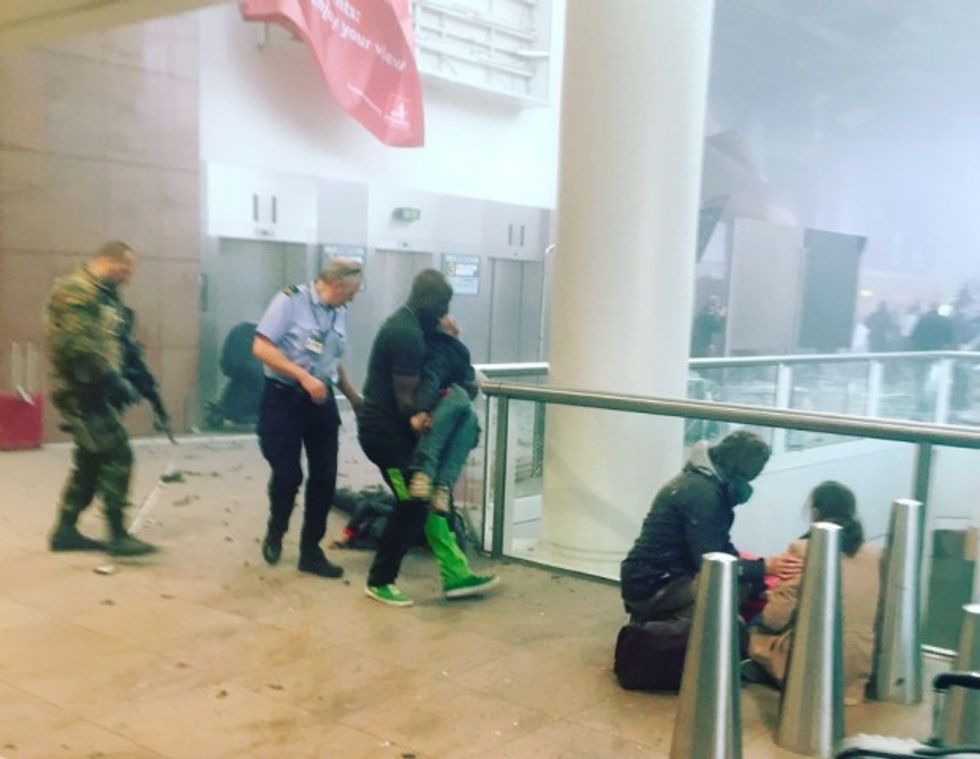 This photo provided by Georgian Public Broadcaster and photographed by Ketevan Kardava, shows the scene in Brussels Airport in Brussels, Belgium, after explosions were heard Tuesday, March 22, 2016. (Ketevan Kardava/ Georgian Public Broadcaster via AP) 
Today when Westerners hear about an explosion, a mass shooting or a combination of both, our collective thoughts go immediately to another terrorist attack. And this response is not wrong. Many would have us believe that if we immediately jump to the conclusion that any mass atrocity is the result of Islamic radicalism, then we have somehow succumbed to a bigoted bias known as Islamaphobia.
Many would like rational human beings to divorce themselves from common sense and rationalism and to look at each instance of mass murder objectively. After all, the indiscriminate shooting and blowing up of civilians in Brussels, Parisians, downing of international airliners, and mass murder at a Southern California holiday party could be the random work of any small group of deviants or lone wolf.
Unfortunately, this is illogical.
As a country, we have seen the spread of violent extremism related to radical Islamists continue to rise. At some point, we need to stop making excuses and address the elephant in the room.
Radical Islamic terrorism is the root cause of a vast majority of all terror attacks around the globe.
If we can take this seemingly small step towards realization, maybe we can look at making the giant leap of figuring out how to protect ourselves from the exponential rise of radical Islamic terrorism.
As the Syrian refugee crisis continues to affect several Western countries, the argument that it is un-American to deny entry into the U.S. based on religion alone abounds.
Is it un-American for the government to try to protect itself from an existential threat?
Naturally the un-American argument cannot stand alone; it is much too simplistic.
Several factors need to be considered concerning the Syrian refugee issue and all future Muslim immigration. The first consideration should be the immigrant's stance on the political ideology of Islamism.
It is not bigoted or racist if an attempt is made to decrease the number of immigrants that are diametrically opposed to Western liberal democracy and the freedoms it offers to all people fortunate enough to live in said countries. There are plenty of countries in the world where strict adherence to the Koran and sharia law is practiced. There are plenty of countries that openly discriminate against and punish women, homosexuals, frivolous lifestyles and limit speech and personal freedoms.
Yes, that is the exclusive nature of the ideology of Islamism.
In today's America, such blatant disregard and discriminatory practices seem grossly archaic. It is almost beyond belief that these types of sentiments are openly held and practiced in modern society.
Why isn't there an American uproar over such an un-American philosophy?
I believe the sad reality is that years of political correctness has numbed Americans to the threat or silenced them due to fear of being labeled a bigot.
The San Bernadino attacks may have been prevented if a concerned neighbor had reported what he thought was suspicious activity by the radical Islamists.
One neighbor of the terrorists stated she "refused to report the pair to authorities after witnessing suspicious activity at their apartment over fears she would be labeled racist." And a man working in the area said: "he noticed a half-dozen Middle Eastern men in the area in recent weeks, but decided not to report anything since he did not wish to racially profile those people.
Political correctness has literally killed Americans.
There continues to be the rhetorical argument from conservatives in America that it is important to identify the threat of terrorism as stemming from radical Islamists. It often seems that their tirades about how their political opposition refuses to use the phrase is somehow diminishing our effort to combat the threat.
I find this argument interesting because it is a historical anomaly.
In past conflicts, the United States has always known who the enemy was. During World War II, the Allies rallied against Nazism and Japanese Imperialism. During the Cold War, Western democracies stood resolutely against Communism. And for the last decade and a half since September 11 Western countries have been astonishingly unconvinced at who the enemy is.
Is a lack of defining the enemy ultimately detrimental to winning the war against radical Islamism? I would argue it is for several reasons:
First, historically it has zero precedent.
The ancient military general and strategist Sun Tzu is famous for is often quoted dictum, "know your enemy and know yourself." The inability to name an enemy demonstrates that we are lacking in both issues.
Similarly, Carl Von Clausewitz' "On War" has been a military primer since the end of the 19th century that has stressed the importance of developing an accurate assessment of the enemy. However, instead of mapping out a plan to defeat a defined enemy we seem to have lost ourselves in his fog of war. Simply avoiding the obvious enemy gives citizens and military personnel a sense of confusion and frustration that we are not serious about the issue.
Second, not being clear about whom we are fighting plays into the Islamist narrative that Western governments are all liars. If Western nations are being deceitful or ignorant of the nature of the threat, we come across as corrupt and incompetent.
Finally, by not defining the threat we are limiting the national campaign: "if you see something, say something."
What exactly are we looking for?
If terrorism has nothing to do with radical Islamism, then are we merely waiting to give the play-by-play to reporters—post blast? Have we simply become the Chris Bermans of a terror attack?
Can we really expect Americans to report suspicious activity if the suspicious people are Muslims? We have been told for years now that Islam has nothing to do with terrorism.
What will we have to endure again as a nation before we esteem safety over our fear of appearing bigoted?
God help us with our blind ambition to not offend.
Anthony DeChristopher holds a M.A. in Strategic Security Studies from National Defense University's College of International Security Affairs. He blogs at exceptionism.com
–
TheBlaze contributor channel supports an open discourse on a range of views. The opinions expressed in this channel are solely those of each individual author.