While Marco Rubio's stance on immigration puts him at odds with some Republican primary voters, his willingness to enter the legislative fray would be an asset in the general election.
The reverse is true where Donald Trump is concerned. While his proposal to deport millions of illegal aliens and build a wall across the U.S-Mexican border has some appeal in the Republican primary, it would be a liability in the general election.
That's what Paul Kengor, a noted Ronald Reagan biographer and political science professor, told me in an interview. Kengor, who teaches at Grove City College in Pennsylvania, is calling on Rubio and Sen. Ted Cruz of Texas to join forces and run on the same ticket this fall. Kengor would prefer to see Rubio at the top of the ticket, but expects that either combination would be a potent force.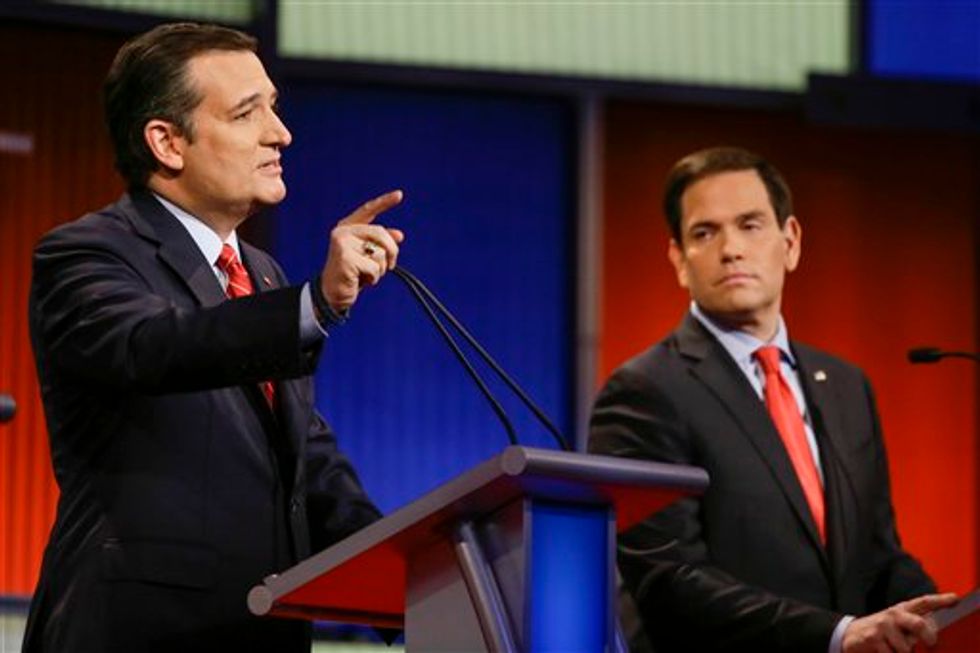 Republican presidential candidate Sen. Ted Cruz, R-Texas, answers a question as Sen. Marco Rubio, R-Fla., looks on during a Republican presidential primary debate, Thursday, Jan. 28, 2016, in Des Moines, Iowa. (AP Photo/Charlie Neibergall)
Trump has been winning the early primaries not because he has broad appeal among Republicans, but because the majority of votes are divided between too many other candidates, he explained. Moreover, Trump has high unfavorability ratings that would spell trouble for the GOP in the general election if he were to become the nominee, Kengor warns. In fact, a Gallup Poll shows that Trump has the highest negative rating of any candidate in either of the major parties.
"The irony here is that Hillary Clinton is right behind Trump in terms of her high unfavorability ratings," Kengor says. "There have been polls that show her losing to all the top Republican candidates except for Trump. Hillary Clinton is unlikeable and beatable. She represents the old Clinton machine and there's nothing new or dynamic in her candidacy. But if Republicans and conservatives blow it this year and lose out on a golden opportunity, they may not be back again for another generation."
The Real Clear Politics Average does show Clinton with a slight lead over Trump while Cruz and Rubio both outpoll Clinton. However, Rubio stands out as the one who beats Clinton by the widest margin.
"With Rubio, you have the most complete conservative with across the aisle appeal since Reagan," Kengor says. "But for some Republicans to say they want to banish him because they disagree with him on immigration, or because they object to one vote, that's madness. I'm constantly shocked by the demands for 100 percent ideological purity. Liberals don't make this mistake, which is why they win."
Rubio was part of the "Gang of Eight" U.S. senators who crafted the immigration bill of 2013. The legislation, which went down to defeat, provided illegal aliens with a path to citizenship, but this path was contingent upon tighter border security and more robust visa tracking methods.
"What Rubio did with the immigration bill makes him more appealing to the general electorate," Kengor says. "It may hurt him in the primary, but in the general election he will be seen as someone who was trying to resolve the problems we have with the immigration system. That will be a positive."
He added:
"We are making a mistake by looking at the immigration issue through the eyes of the Republican primary. While Trump's position may help him with some primary voters, it will kill him in the general election. The question should not be who can win the primary? The question should be who can beat Hillary? I think Rubio can."
Now would be a good time for Rubio and Cruz to dial back the attacks on one another and think seriously about teaming up, the Grove City College professor suggests. He also advises conservative activists and the Republican Party operatives to think seriously about demographic realities going forward in the 21st century.
"There's a realism to Rubio that a lot of people on the right have not come to terms with," Kengor says. "Rubio understands that the fastest growing demographic group is Latinos and at some point you have to persuade them. You've got to convince them of the conservative message. Your approach can't be let's get them out of the country and stop more of them from coming in. They're the one demographic group that is having children. You can't be a party of predominately white Europeans and just win with that group alone in the 21st Century."
While there may be "small, technical differences" between Cruz on Rubio on key issues like immigration, they are actually very close ideologically, Kengor notes.
"Together Cruz and Rubio are the majority in the primary, and together they can win in November," he says. "But it is time for the other two remaining Republican candidates who have no chance to drop out."
–
TheBlaze contributor channel supports an open discourse on a range of views. The opinions expressed in this channel are solely those of each individual author.