Sen. Harry Reid (D-Nev.) stood on the Senate floor and declared Donald Trump the GOP's Frankenstein monster this week.
Citing a recent Washington Post opinion piece, Reid laid Trump's ignorant policy drivel and belligerent behavior at the feet of those hateful, evil, obstructionist Republicans.
Trump, he surmised, was just following in the footsteps of the few conservatives who have actually stood against the Barack Obama regime and persisted in opposing his liberal agenda.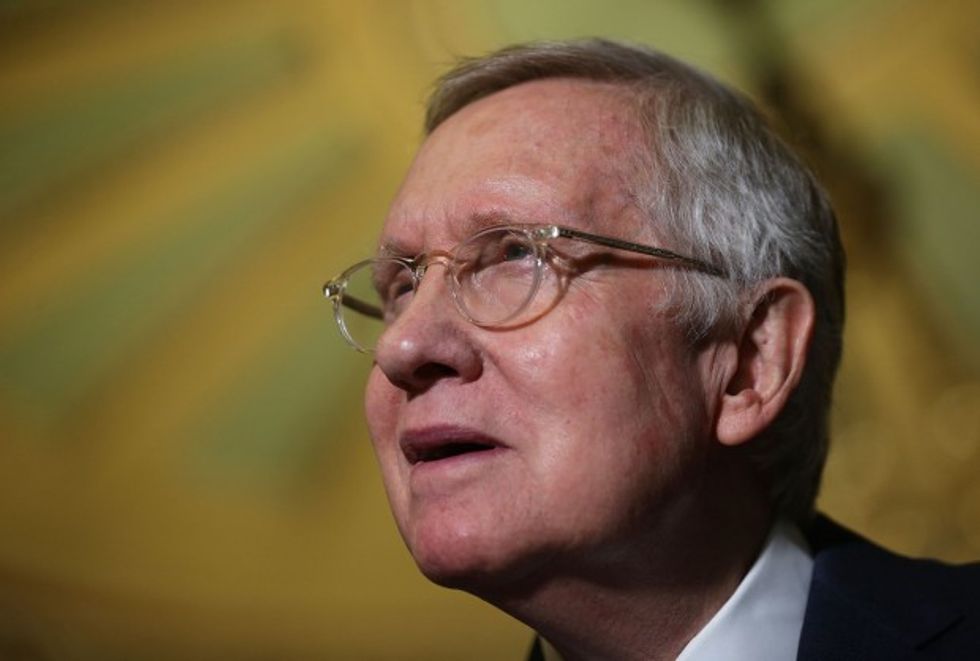 U.S. Senate Minority Leader Sen. Harry Reid (D-NV) speaks to members of the media after the weekly Democratic Policy Luncheon at the Capitol September 9, 2015 in Washington, D.C. (Photo by Alex Wong/Getty Images)
While I think Reid is right about the danger of the spray-tanned hooligan currently filling stadiums and spewing third-grade truisms, he misdiagnosed the cause of the Trump phenomenon - something conservatives want to attribute to mere anger, and liberals believe is mere bigotry.
Let's start with the fact that it's clinically insane to describe the majority of Republican legislators as "obstructionist" within a few months of working with them to pass a trillion dollar omnibus spending bill that continued to fund both sanctuary cities and Planned Parenthood.
There is simply no credible way to suggest that such weak-kneed capitulation by Republicans could have given rise to the orange-haired beast, stitched together from bits of conflicting ideologies and sparked to life with a massive dose of self-willed pragmatism.
Such actions only set the stage.
The true credit for the quasi-political monstrosity known as Trump goes to the conservative reactionaries who supported his rise, many of whom are now desperately trying to backpedal by penning scathing articles around the conservative blogosphere and #NeverTrump-ing all over Twitter.
That's nice, I guess.
But let's not pretend that a solid year of tolerating and encouraging Trump's antics didn't land us exactly where we are - watching him rack up delegates and praying for a savior to emerge at convention.
It's always easier to point the finger elsewhere, but the future of the nation demands that we place responsibility where it belongs and face the truth.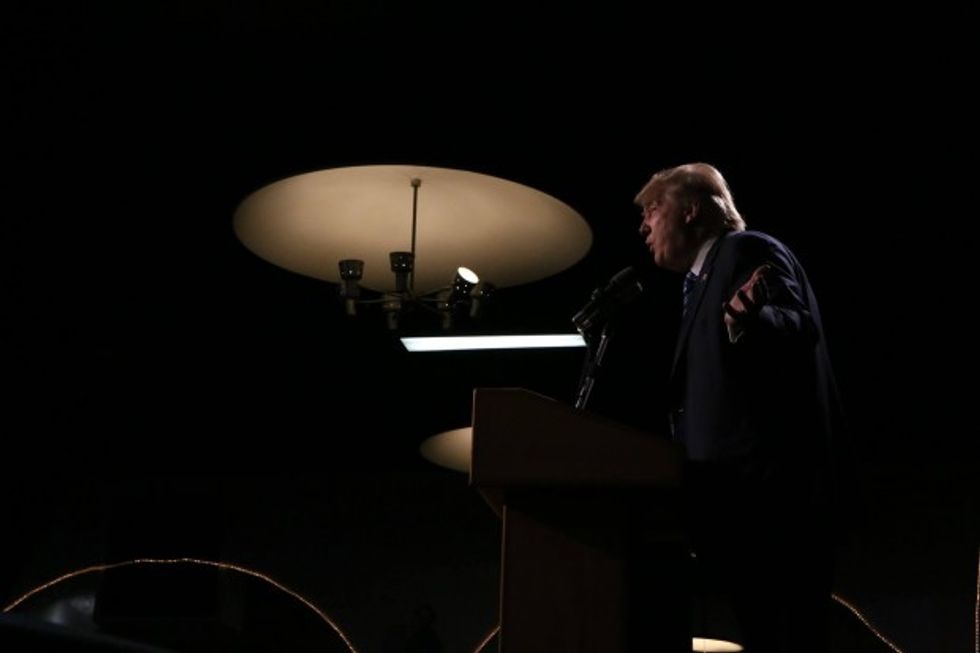 Donald Trump speaks to supporters in Waterloo, Iowa.

Photo courtesy of Prezography. Used by permission. (Dave Davidson, Prezography)
Many respected conservative leaders fostered the political environment that produced Trump - one of blind reactionism and broad, often aimless, rebellion against a nebulous political establishment.
As if nurturing this monster and lending a microphone to his fascist ramblings wasn't enough, conservatives also lent him the strategies he has used to blend into our own circles and deflect all criticism.
Think it's coincidence that Trump reflexively attacks the media, after witnessing Newt Gingrich's shining moment in South Carolina?
Do you suppose anything but good right-wing coaching would allow one of the biggest crony capitalists in recent memory, who openly admits to buying political favors, to stand on a Republican debate stage and criticize the donor class?
This guy learned our language, wore our colors, and took cover in our foxholes.
Let's roll the clock back to last year and see what leading conservatives had to say about Trump before they recognized him as a threat to conservatism.
"Donald Trump getting in today – it might be the shot of adrenalin that every Republican needs because finally somebody is just laying it on the line and is willing to fight for the country and fight for their beliefs and they're not being shy and they're not being politically correct and they're not being timid and they're not being weak and they have a very specific agenda and that's good." - Sean Hannity, June 2015

"Donald Trump has single-handedly changed the debate in terms of electoral politics now. There is a bunch of us who have been saying similar things, doing similar things. But none of us is running for president and none of us has been covered by the media day in/day out with every syllable that we utter." - Rush Limbaugh, July 2015

"(Trump is) the Winston Churchill of our time" – Michael Savage, July 2015

"Whatever you think of him (Trump), the fact of the matter is we have got to start defending people who are speaking out." – Mark Levin, July 2015

"As I've said, for the Republican establishment the issue is Trump; for a large part of the base the issue is the Republican establishment." – Mark Steyn, August 2015
Many other conservative personalities (I exclude Ann Coulter, who is as likely to praise Cam Newton's fumble rumble skills as conservative positions these days) joined this chorus of praise for The Donald, drowning out the handful of voices that tried to warn them.
The fact of the matter is that Trump might have gone back to reality TV by now if the many conservative leaders now opposing him had not spent so much time legitimizing him first.
They played the part of Dr. Frankenstein, and now seek redemption as their monster crushes conservative hopes for victory while reviving the hopes of the establishment he was meant to destroy.
It turns out that the ring and the dark lord are one.
It's rare that I give much thought to the ramblings of liberals like Reid, and I almost scrolled by this time too.
But I'm slowly realizing that it is this exact attitude - the thoughtless rejection, the immediate look-away, judging the value of a statement by the person saying it - that hatched Trump and ensnared his supporters.
Angry reactionism may indeed overthrow much that we hate. But as the French Monarchy and the Russian Czars can attest, there is always something worse waiting to fill the void.
The good news is that Trump can be undone by the one weapon he has carefully avoided throughout the last year: truth.
Truth negates reactionism the way anchors negate drift: by providing something fixed and unmovable to grip – and that's what his supporters lack. Trump is exposing the fact that America's moral majority has adopted political relativism.
Reckless spending is okay, as long as our guys are funding it.
Domestic spying is good, as long as we're in charge of it.
Internet censorship is cool, as long as it's our idea.
Single-payer healthcare is great when our guy proposes it.
Trump's supporters applaud him for all the same things they condemned President Obama for, without so much as appreciating the irony.
Opposition is important, and our very system of government was built to foster it; but becoming defined by what you oppose rather than what you support keeps the focus on that which you oppose.
It allows a different kind of evil to rise as a savior.
There's still time to stop Trump and restore ideological conservatism to predominance in the GOP, but it will only happen if conservatives accept responsibility and reject the gullible reactionism that spawned him in the first place.
–
TheBlaze contributor channel supports an open discourse on a range of views. The opinions expressed in this channel are solely those of each individual author.