One thing is for sure. The presidential debate scheduled for Monday night has the possibility of turning out to be anything but presidential when the guests start arriving.
Republican presidential nominee Donald Trump and Democratic presidential nominee Hillary Clinton are scheduled to debate Monday night at Hofstra University in Hempstead, N.Y. as Lester Holt, anchor of NBC Nightly News takes his turn at moderating the two nominees.
Barring accusations of a hidden earbud this time or an unplanned coughing incident, the event should proceed as determined, with six timed segments of approximately 15 minutes each on "major topics," selected by the moderator and given to each candidate a week in advance.
Unfortunately, the major topics will not include what could seemingly turn out to be at least a major concern for one or both of the candidates who may be distracted by audience members.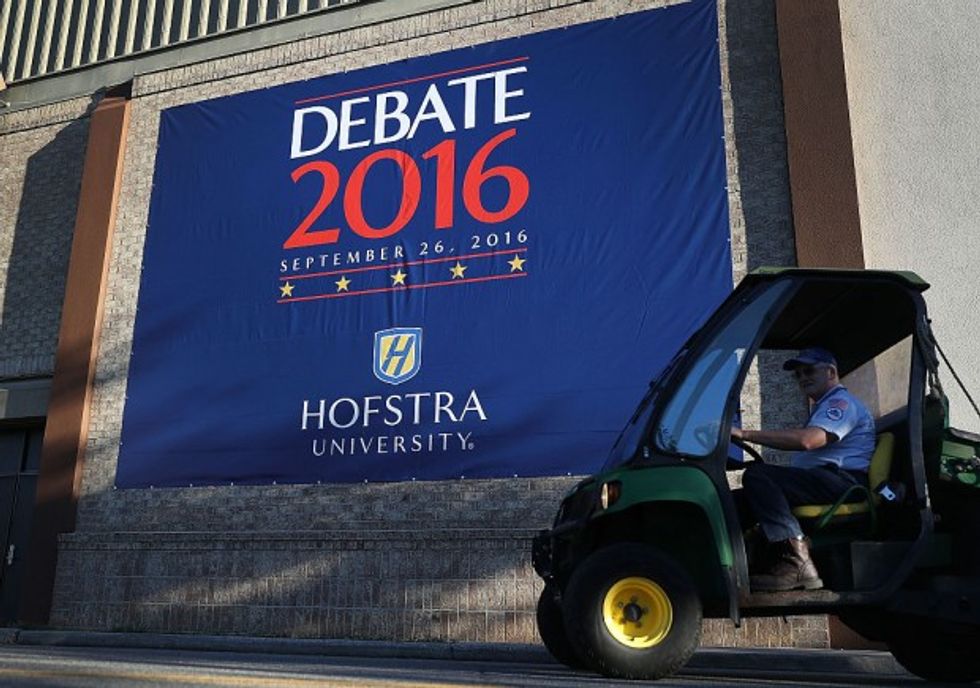 A debate sign hangs on a wall outside the media center setup for the first U.S. presidential debate at Hofstra University on Saturday. (Getty Images/Joe Raedle)
Clinton invited billionaire Mark Cuban to be her guest at Monday's event and sit ringside, I mean, in the front row so that he can "rattle" another billionaire? I don't think so.
Even Cuban believes that Trump stands to win in the long-term just by being a presidential nominee should he lose the election, which Cuban claims would be Trump's "dream scenario." Cuban claims Trump's net worth will increase tenfold because of the presidential race especially if he loses to Clinton.
Cuban's appearance in the audience at the debate can only help Trump increase his net worth as the potential "dueling of billionaire eyes" unfold on our television screens. Trump should send Cuban a thank you note after the event for helping him increase his net gain.
The ever quick to respond Trump, after learning of Cuban's invitation, immediately extended his own invitation to Gennifer Flowers, former model who alleges to have had a 12-year sexual relationship with former President Bill Clinton. He denied having sexual relations with Flowers as he once did concerning accusations leveled by then White House intern Monica Lewinsky.
Flowers immediately accepted the invitation and the stage was set for potentially one of the most un-presidential debates in American history. You just can't make this stuff up. But wait!
According to another source, rumor has it that Paula Jones, a former Arkansas state employee who sued President Clinton for sexual harassment in the 1990s, is still waiting for an invitation and Juanita Broaddrick, who claims she was raped by the former president would also like to attend.
@ThePaulaJones @realDonaldTrump Please tell us your going Paula?After what they did to you it's time to serve it up cold!Veterans for Trump!

— Jay Aubin (@RealJay_Aubin) September 24, 2016
Jones also tweeted from her Twitter account that she believes the families of murdered Benghazi families should be invited to attend, as well.
@ThePaulaJones @realDonaldTrump Please tell us your going Paula?After what they did to you it's time to serve it up cold!Veterans for Trump!

— Jay Aubin (@RealJay_Aubin) September 24, 2016
Perhaps none of this will happen as it appears someone finally came to their senses and shouted, "How is any of this presidential?" Sorry, that was me.
However, someone on Trump's campaign has finally spoken up and apparently reigned Trump in again. I'm guessing he was reminded, perhaps by Roger Ailes, that he has been on a roll lately while looking and acting more presidential.
It could also have been Kellyanne Conway, Trump's campaign manager who pulled the plug on allowing Trump to publicly resurrect Hillary's husband's skeletons from the past on such a dignified occasion as a presidential debate. After all, that's what social media is for, right?
Conway told George Stephanopoulos on ABC's "This Week" that Flowers "has not been invited by the campaign." Trump's running mate, Mike Pence also insisted that Flowers will not be in attendance.
While it might make for good entertainment to watch Clinton become distracted by the many alleged "ghosts" of her husband's past, it is far more important that the American public is able to tune in and view a serious and honorable event.
There are many issues facing us today which require a move away from "reality show drama" to a genuine discussion regarding what each candidate plans to do to help this country get back on its feet after almost eight years of President Barack Obama's policies.
We have a country divided along racial lines, domestic terrorism occurring in our streets almost on a weekly basis and a divided GOP party that isn't going to be easily repaired just because Texas Republican Sen. Ted Cruz finally endorsed the GOP presidential nominee.
Most of the American public are fed up. They are searching for a leader who can begin to lift his country out of the muck and mire we currently find ourselves steeped in.
Many believe it's too late to fix America but for those who think it can still be done, theatrics and mudslinging while entertaining, have no place in the upcoming presidential debates.
Only the American public should be in the front row seats at Monday night's presidential debate. Cuban, Flowers and all of the rest of the "actors" should just tweet from the sidelines and stay home!
–
TheBlaze contributor channel supports an open discourse on a range of views. The opinions expressed in this channel are solely those of each individual author.