© 2023 Blaze Media LLC. All rights reserved.
Seeing the Bigger Picture of Motherhood, Even When You've Been Relegated to the Margins
As moms we are going to bump up against feeling underappreciated by our culture and even members of our own family.
This picture is the Mother's Day present I received from our son last year. He loves art, so he was eager to bestow this masterpiece to his adoring mama. I ohhed and ahhed over it and was careful to mention the details: his happy face, the net, the sun, the clouds, the lines behind the ball indicating it was sure to be a goal.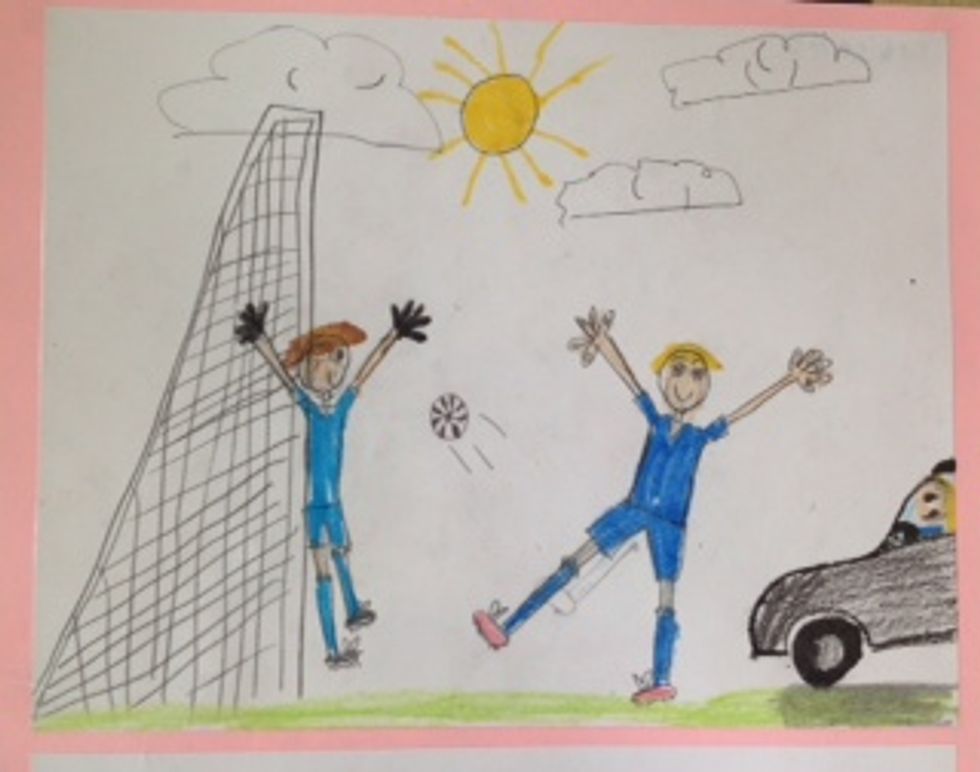 Courtesy of Julie Hildebrand.
Then he asked, "Do you like the way I drew you?"
I held the picture up again because I honestly hadn't noticed me in the picture at all. He pointed to the most outer right edge and said, "There you are!"
I looked and, yes, there I was on the edge, not even all of me, just what you could see driving in from the periphery.
I told him I loved the picture and thanked him for it, but I confess, the wind was taken out of my sails. In my son's tribute to me, there I was, on the edge of the action and quite literally marginalized. Off to the side, not really a part of the scene.
I always pictured myself, you know, more in the picture. A starring role, even.
Moments like that can be deflating, but it's such a small piece of the bigger picture. I know my role as a mother is esteemed, validated and one of honor.
The Bible elevates and celebrates motherhood throughout its pages, but I am especially drawn to the way Jesus deals with motherhood, and specifically His own mother, Mary.
We talk about Mary a lot around Christmastime and her role in Jesus' earthly arrival. Then, there was that wedding in Cana where Mary told Jesus they were out of wine.
But, for most of Jesus' three-year ministry, His mom was on the periphery, if you will. We know she was cheering Him on and supporting Him even as others accused and mocked Him. We know she was never far from His heart. And we know He loved her dearly.
Of course, Jesus loved her dearly, that's who He is and what He does. He loves us all dearly. But He did something special for her -- and at one of the most significant moments in world history.
There is a small, but very powerful exchange in John 19:26-27 that tells me all I need to know about how Jesus loved His mom and what He thinks about motherhood.
While Jesus was hanging on the cross, in excruciating pain, He looked down to see His mother standing next to His disciple, John. Seeing His mother's anguish as she watched His agony had to break His heart.
"When Jesus saw His mother there, and the disciple whom He loved standing nearby, He said to His mother, 'Dear woman, here is your son,' and to the disciple, 'Here is your mother.' From that time on, this disciple took her into his home."
Jesus was about to give up His life, but first He entrusted His mother into John's care. Jesus provided for her, honored her and revered her – all while hanging on the cross to atone for our sins.
There is so much going on at the crucifixion, have you ever noticed this interaction or let it sink in? Every time I read it I cannot get past Jesus' agonizing pain and His suspension of death to completely cover His mother in love, honor and protection.
He paused the action of the cross for his mama.
After Jesus dies, the earth will immediately acknowledge His final breath – the rocks will cry out, the veil in the temple will be torn, the sky will grow dark and the earth will tremble.
But first, His mom.
When Jesus honored His mother from the cross, He honored motherhood.
As moms we are going to bump up against feeling underappreciated by our culture and even members of our own family. But we've already been esteemed. Our position has already been deemed honorable, sacred and worthy.
Jesus paused on the cross so we would know this.
–
TheBlaze contributor channel supports an open discourse on a range of views. The opinions expressed in this channel are solely those of each individual author.

Want to leave a tip?
We answer to you. Help keep our content free of advertisers and big tech censorship by leaving a tip today.
more stories
Sign up for the Blaze newsletter
By signing up, you agree to our
Privacy Policy
and
Terms of Use
, and agree to receive content that may sometimes include advertisements. You may opt out at any time.