Republican presidential candidate Sen. Ted Cruz received some bad news over the weekend when his much touted ally, GOP Sen. Jeff Sessions of Alabama endorsed Donald Trump at a rally in Huntsville.
Sessions endorsement comes right before Super Tuesday's election in Texas where Cruz is expected to win. According to the Monmouth University poll, released last week, Cruz has support from 38 percent of GOP primary voters in Texas as compared to Trump's 23 percent.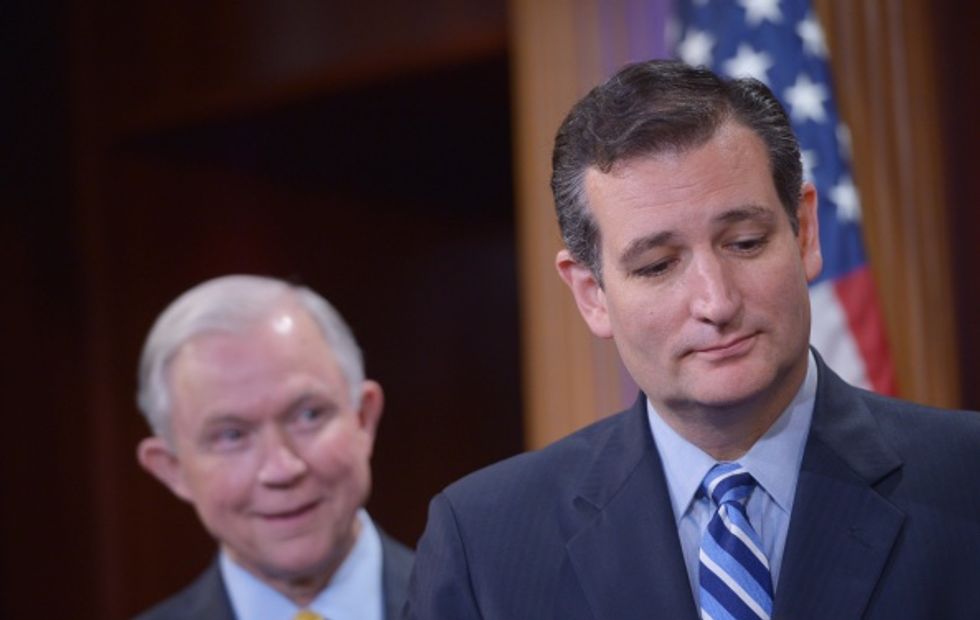 Senator Ted Cruz (R), R-TX, and Senator Jeff Sessions (L), R-AL, appear at a press conference on immigration in the Senate Studio of the US Capitol on September 9, 2014 in Washington, DC. AFP PHOTO/Mandel NGAN
However, some media outlets before Sessions' endorsement claimed that even though Cruz was ahead in most public polls in Texas, Trump was gaining momentum. Will the Sessions endorsement put Trump over the top?
Many would agree that if Cruz loses his home state of Texas to Trump, his campaign's future would be in question.
Why did Sessions wait until now to endorse Trump? Why did the man who once praised Cruz throw his support behind Trump?
Sessions who stood firmly against the Senate's 2013 Immigration bill that would have given illegal immigrants a pathway to citizenship, said of Cruz's opposition to the bill that, "without the vigorous opposition of Ted Cruz, this bill likely would have passed."
Cruz name-dropped Sessions five times at the Iowa GOP debate and also brought up his name in South Carolina, California and Las Vegas. Was Cruz expecting Session's endorsement?
Many feel that Cruz wanted to be associated with Sessions because he is the ranking Republican in the Senate Judiciary Committee and was ranked by National Journal in 2007 as the fifth-most conservative Republican in the Senate. I'm sure Cruz was hoping that he would also receive Sessions' support for his GOP presidential bid.
Although, some may have believed that Sessions would eventually endorse Cruz, Sessions was seen in August 2015 at a Trump rally wearing Trump's signature "Make America Great Again" cap.
Sessions, also had never endorsed a candidate in his two decades in Congress until now. So, why did he decide to endorse someone and why not Cruz?
Perhaps Sessions' tough stance on illegal immigration explains it. Although, his timing so close to the biggest election day of the year in Cruz's home state of Texas is more than a little suspicious, Sessions sees Trump as the one who will get the job done.
"There is an opportunity this year, Tuesday, and we have the opportunity -- we have an opportunity Tuesday. It may be the last opportunity we have for the people's voice to be heard. You have asked for 30 years, and politicians have promised for 30 years to fix illegal immigration," Sessions said.
"The American people have known for years these trade agreements have not been working for them," Sessions said. "We now have and will soon have a vote on the Transpacific Partnership (TPP), Obamatrade, and it will damage America. It will create a commission that undermines our sovereignty, and it should not pass. Donald Trump when he gets elected president will see it does not pass."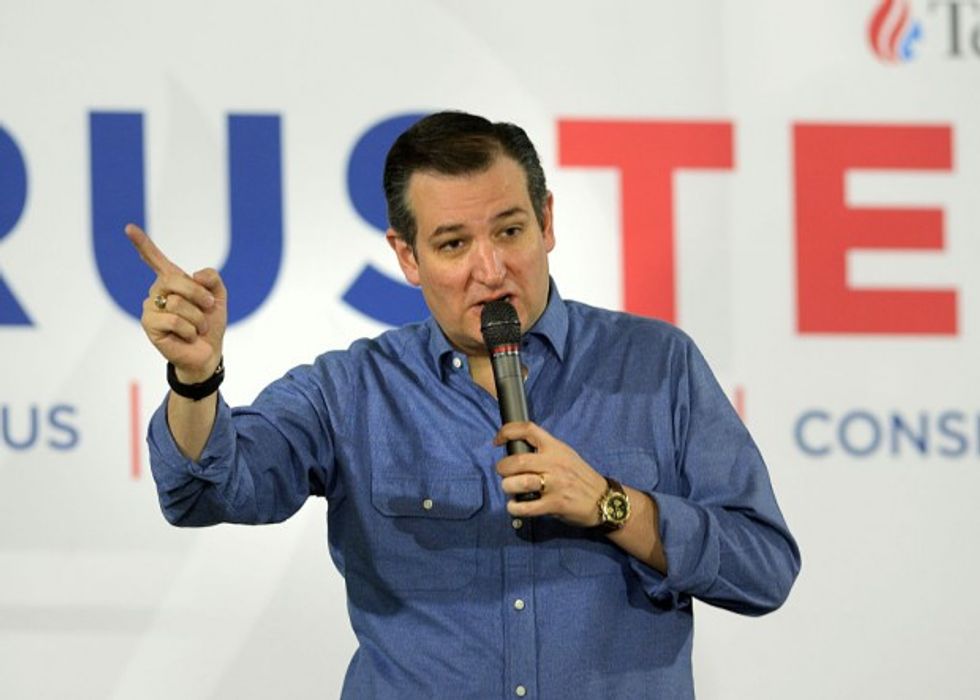 Ted Cruz speaks at Exeter Town Hall, Jan. 20, 2016. (Getty Images/Darren McCollester)
If Cruz does not carry Texas then it may be time for him to reassess his campaign goals. Would he choose to stay in the race or would losing Texas send a clear signal to the Texas senator that Americans have chosen their candidate?
While clearly there are many who do not support Trump as the GOP presidential nominee and in fact have started a #NeverTrump campaign which has garnered 269K tweets on Twitter against the Republican frontrunner, the support for Trump at the moment seems to continue to flourish despite his controversies.
Trump's latest controversy involves former Klu Klux Klansman Grand Wizard David Duke. Trump claimed in an interview on Sunday that he didn't know enough about Duke to disavow him.
Trump Declines 3 Times To Denounce David Duke And The KKKhttps://t.co/TYWKmVtiWC#tcot#NeverTrump#ccotpic.twitter.com/HwUkpp1BLb

— The Billie Williams (@bcwilliams92) February 29, 2016
Trump later claimed that he had previously rejected support from Duke.
For the record, condemning the KKK isn't something you should have to think twice about. #nevertrumphttps://t.co/Dp9rMWmU4Y

— Reid Ribble (@reidribble) February 29, 2016
One #NeverTrump tweet even questioned Trump's sincerity toward voters.
People are rising up against the Donald with #NeverTrumphttps://t.co/EVQuFSlRLwpic.twitter.com/z3mAehIxDL

— The Independent (@Independent) February 27, 2016
While another #NeverTrump tweet indicated that people were beginning to rise up against Trump. However, so far that remains to be seen.
Whatever the case may be, Trump continues to enjoy strong endorsements from those who represent themselves as Tea Party members, evangelicals and others. Cruz has picked up some endorsements himself but they haven't necessarily given him the same boost that Trump has seemingly enjoyed from his endorsements, especially the latest from Sessions.
In this unusually tough election cycle that has been fraught with many GOP voters verbally attacking other GOP voters, the impact on the election from Sessions' support of Trump may go a long way in determining whether Cruz will win Super Tuesday or go down swinging.
–
TheBlaze contributor channel supports an open discourse on a range of views. The opinions expressed in this channel are solely those of each individual author.