© 2023 Blaze Media LLC. All rights reserved.
The Greek debt crisis is powder keg, poised to erupt in a mess of economic destruction and radicalization. But what can we learn from this situation and how can we prevent it from coming to a head?
Greece is a ticking time bomb.
Not only is this comedy of errors holding the worldwide economy hostage, but Europe's bloody history also shows us how over-burdensome fiscal punishments heaped upon a particular nation can have devastating global consequences.
Adolf Hitler's rise to power was facilitated by the socio-economic fallout from post-World War I reparations levied against Germany. We clearly learned from that mistake, giving the Germans a break after World War II, and we shouldn't forget it now.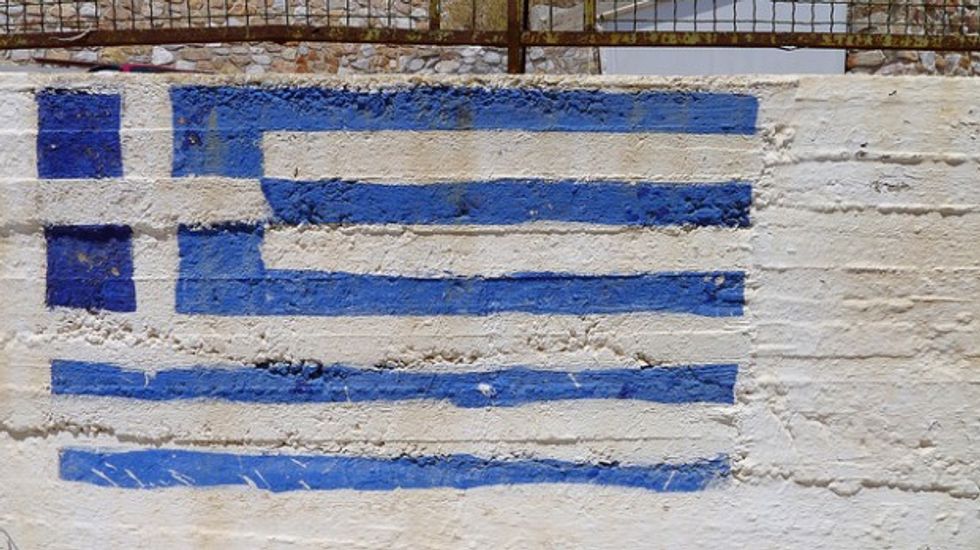 (Image via Domitille Parent/flickr) 
The last thing we need in this era of Islamic State is a global power vacuum creating a breeding ground for radicalism. A Greek default could lead to that, especially since austerity has already empowered the Syriza party (the "Coalition of the Radical Left") – boosting its share of the popular vote from 5 percent in 2007 to 36 percent eight years later– and fueled the rise of the neo-Nazis Golden Dawn party from having no parliamentary representation to receiving the third most votes in the 2015 election.
But these are only among a few of the things we can learn from Greece's present quandary. Here are a few other major takeaways.
1. Greece Needs A Drastic Debt Reduction
There is no other option but to forgive around half of Greece's $323 billion balance.
The country's current debt equates to nearly 180 percent of its GDP and is definitively unsustainable. To put that in terms everyone will understand, it's like racking up a $90,000 credit card bill when you make around $50,000 a year. Now, you're clearly at fault because no one forced you to overspend, but the lender is culpable too, for underwriting failures and a lack of lending discretion. Such is the relationship between Greece and its French and German lenders.
But unlike France and Germany, your credit card company won't hold out hope for full reimbursement, as you'll inevitably default and probably go bankrupt. They'll try to negotiate a settlement with you, taking what they can get and forgiving the rest. That's what the European Union should do. Swallow its pride, take what it can get and do everyone a favor.
2. Greek Leaders Are Tough Negotiators, But Terrible Stewards Of Their Economy
In the wake of austerity's failure – with GDP having contracted by 25 percent and the youth unemployment rate now above 50 percent, according to Eurostat – Greek leaders are doing absolutely the right thing not to swallow a deal that would be tantamount to a poison pill for the economy. Unfortunately, Greece's leadership is woefully inept and incapable of implementing any lasting changes no matter how good of a deal they ultimately get.
To give you a sense of the priorities of these lifelong politicians, one of the current regime's first actions when it took power a few months ago was to improve the living conditions of incarcerated criminals, including a terrorist – much to the consternation of the U.S. government. A sane reaction to a budding financial crisis would be to finally make the rich pay their taxes, not scrimp in the prison fund.
3. Greece Must Recognize The Need For Drastic Economic Reform
It's going to be tough with the current leadership, but for Greece to right its course it must drastically rethink the country's economic policies. From the fact that tax evasion robs the Greek government of €30 billion each year, according to the Federation of Greek Industries, to the presence of industries that completely lack competition, the nation's financial framework is riddled with fatal flaws.
Real estate settlement companies are a good example. Only a certain number of licenses are available and everyone charges the same amount. As a result, there's no incentive to grow, innovate or improve efficiency.
Greece must also reform its pension program and attack special interests. Unfortunately, none of this is likely to happen until the country addresses its sense of entitlement. Greeks are playing the role of the victim, as if other countries are primarily to blame for its woes and there is something somehow owed to it. Simply put, Greece needs to wake up and get over itself.
4. The Euro Is Broken
Economists have long said that a monetary union could not work without an accompanying fiscal union between the member-states. Greece makes it impossible to continue ignoring this warning. It desperately needs to devalue its currency in order to promote tourism as well as boost its exports. But they can't because Germany doesn't need or want to.
Something eventually has to give, but unfortunately European leaders are too distracted by the specifics of Greece to reflect on and fix their monetary union.
5. Austerity Is Not Europe's Solution
There are many economists who believe that the best way to stem the tide of a liquidity crisis is to undertake a massive cash infusion. That's what the IMF did for Mexico in 1995 and Brazil in 1998, and it's what the United States did in the face of the Great Recession. The problem is it's unpopular.
"The IMF estimated that we would incur nearly $2 trillion in direct costs saving the financial system, but at the end of 2013, our financial programs were projected to generate a positive return for the taxpayer of more than $150 billion," former U.S. Treasury Secretary Timothy N. Geithner has written. "But many Americans just remember the initial characterization of the financial rescue as a handout."
However, European leaders lacked the courage to make such an unpopular decision, choosing to simply ride out the storm instead. The contrast between the two paths could not be clearer: The U.S. economy is now the strongest in the world, while Europe's continues to lag.
6. Democratic Governments Need Term Limits
Regardless of how this drama unfolds, one thing it's made abundantly clear is the need for term limits in a democratic society. Despite quadrennial elections, pretty much the same three families –Papandreou (three generations of prime ministers), Karamanlis (two generations of prime ministers) and Mitsotakis – have been in power for most of Greece's history. That has led to complacency, stale ideas and self-concerned career politicians who have little practical experience. It also lies at the heart of the current problems.
Odysseas Papadimitriou grew up in Athens, Greece and is CEO of the personal finance websites WalletHub and CardHub. He previously worked as a senior director at Capital One.
–
TheBlaze contributor channel supports an open discourse on a range of views. The opinions expressed in this channel are solely those of each individual author.

Want to leave a tip?
We answer to you. Help keep our content free of advertisers and big tech censorship by leaving a tip today.
more stories
Sign up for the Blaze newsletter
By signing up, you agree to our
Privacy Policy
and
Terms of Use
, and agree to receive content that may sometimes include advertisements. You may opt out at any time.