The average Obamacare premium will rise 25 percent in 2017.
Some lucky states—like Arizona—will see a 116 percent increase.
That sounds like a bad thing, I know, but what if it's the best thing that ever happened? This is where you might think I'm crazy and ask what I'm thinking.
Finally, finally, finally, something has thrown a spike strip in front of Hillary Clinton.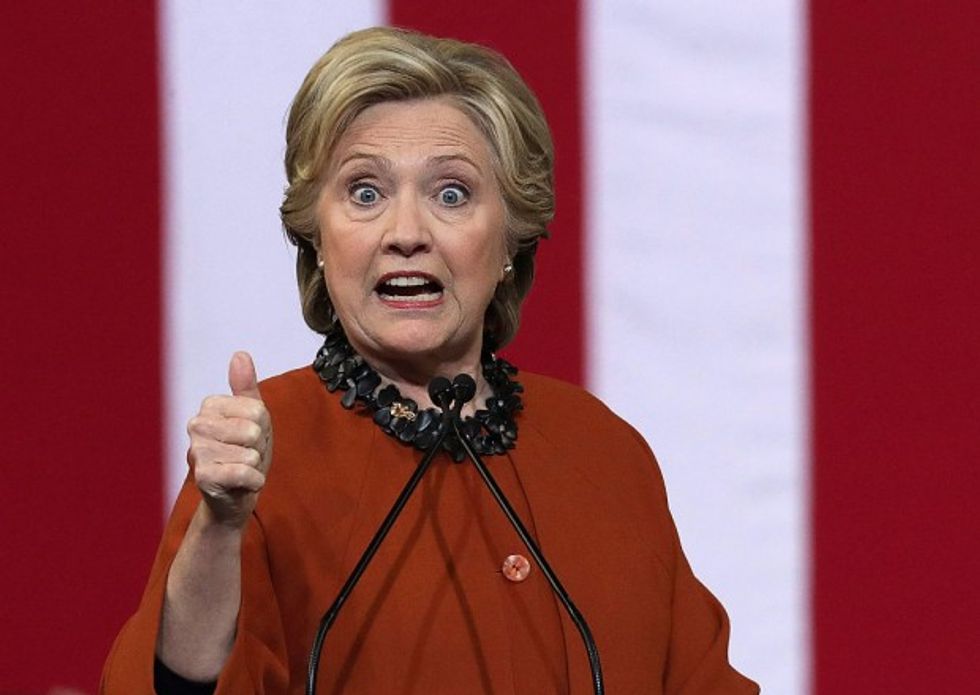 Hillary Clinton (Alex Wong/Getty Images)
Until now, even wiping her private server "with a cloth" wasn't enough to break her stride. Lying to the FBI and lying to us that she didn't lie to the FBI didn't wind her. Also no drag on her momentum? Deleting emails under federal subpoena; turning pay-to-play into a grotesque art form; failing to report $15 million donated by Algeria to the Clinton Foundation while she was being confirmed as secretary of state; and video evidence she is the Godfather of a political mafia that pays homeless people to make trouble at Donald Trump rallies.
None of these things can slow her down if they don't get reported. Or, if they do get reported, they don't even rate a slap dash number of seconds. Alongside wall-to-wall coverage of Donald Trump's character flaws and criminal behavior—real or alleged—they're actually boring. But skyrocketing health insurance premiums and deductibles are horrifying attention-getters. They're her kryptonite.
She has, fortunately, wedded herself to Obamacare. (Did you know it was called Hillarycare before it was called Obamacare?) They sink or swim as one, and Obamacare is dropping like a stone. Premiums and deductibles that bite us in the posterior do not, fortunately, require media coverage to achieve maximum hurt. All they require is a letter from our insurance carrier or an email from our employer, and we're slayed.
It's the economy, stupid. At least it's the trump card. Always has been, always will be. Corruption, treason, and brass knuckles are nothing compared to our ability to put food on the table.
Thanks to cold, hard economic facts, Clinton's lead over Donald Trump is suddenly shrinking in key states like Florida and Nevada. Some polls show them tied in Nevada, and Bloomberg puts Trump two points ahead in the Sunshine State. Down-ballot House and Senate Republicans also stand to benefit, especially those who have argued all along that Obamacare is deeply flawed. Anything that thwarts Hillary Clinton and down-ballot Democrats is okay in my book.
The spike strip alone is reason enough to celebrate skyrocketing premiums, but it gets better. Depending on how the cookie crumbles, we may be able to ride the crushing rate increases all the way to no health insurance at all. Conspiracy theorists and ten year olds alike know Obamacare wasn't meant to succeed. It was meant to destroy health insurance as we know it and usher in our very own single payer system.
By all means, let's destroy health insurance as we know it, but let's also destroy health insurance in general, except in the case of catastrophic care. You don't use your auto insurance to get an oil change; why should you use your health insurance to get penicillin? We could have policies with extremely high deductibles that we would use only if absolutely necessary, and everything else would be private pay. When private buyers and sellers transact in the free market, competition and choice go up while costs and inefficiencies go down. Can you think of a more efficient way to bring down healthcare costs than to pay for them out of our own pocket? No one is more invested in maximizing your buying power than you. We would still need a safety net for the poorest among us, but maximizing our buying power would simultaneously minimize our tax burden for providing it to others.
It would be such poetic justice if the Obamacare leviathan choked on itself, and the phoenix of prudent consumption rose from its ashes. In the meantime, the ravages of Obamacare bind us together against a common foe, and after such a fractious election season, we're going to need a little unity.
Skyrocketing Obamacare premiums might be the best thing that ever happened.
–
TheBlaze contributor channel supports an open discourse on a range of views. The opinions expressed in this channel are solely those of each individual author.