A woman named Sunday was out hunting for food with her 1-and-a half year old strapped to her back, while her two older children slept when the Opposition Force of South Sudan (known as the OP and aligned with the sacked Vice President Riek Machar) overran her village.
Hearing the attack from the forest, she set as fleet-footed as a malnourished, 20-something woman can run through the thorny bush—aiming to reach her children before the militants. Instead the OP nabbed her, and forced her to become their cook.
Sunday's husband is a life-time soldier in the Sudanese People's Liberation Army (President Salva Kiir aligned) and so she kept her head low, tried to serve well-enough to ward off excessive beatings and rapes from the "enemy," while patiently banking on a swift rescue for her children, village, and herself.
Soon, the SPLA did attack the OP holding Sunday's village captive.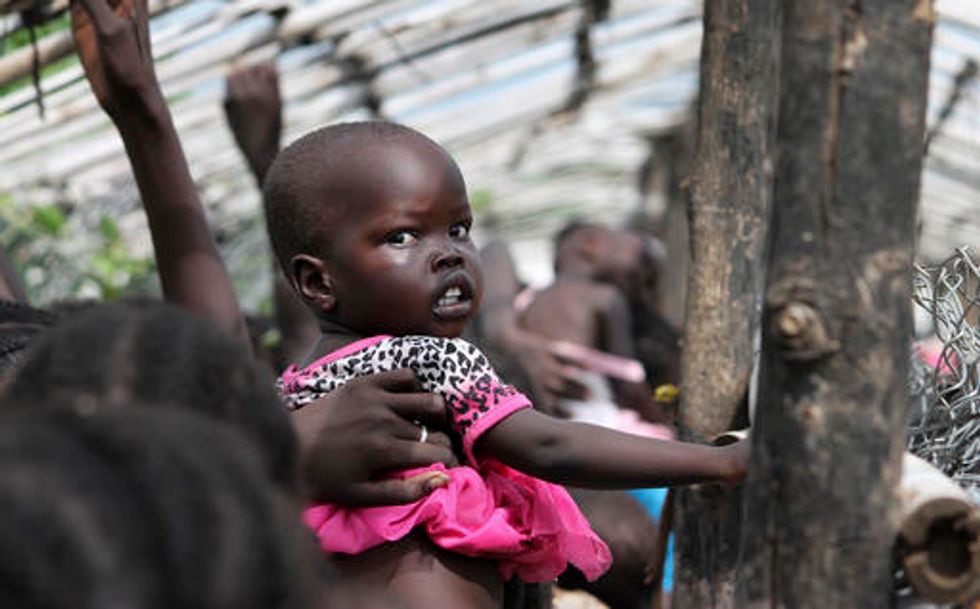 (AP Photo/Justin Lynch, File)
Only, instead of liberating Sunday, they accused her of being a spy because she cooked for the "enemy." Her own national army took her captive. Her would-be liberators tied her in the barracks and there five men at a time entered her room many times per day—raping her over and over again while mocking her and spitting in her face.
Sunday's family believed she'd been taken captive; many such stories circled through the tribal system of how their own soldiers were taking wives and daughters as sex slaves. Still, Sunday's family had to be careful because their own army had the village on a tight lockdown and they feared to go out looking for her. Many days into the battle, the SPLA went out to pillage nearby villages for fresh "supplies." Sunday's family seized their opportunity.
They found Sunday tied and bound on the floor. Even when they cut her loose, she was paralyzed with pain and unable to move. They bravely struggled, and carried her all the way home.They realized her stomach was so severely swollen they had to do something. Having no doctor, no medicine, and no medical training whatsoever, they boiled water and kept trying to flush her uterus outwhile pushing on her stomach. But they said the fluid flooding from Sunday was so blood and puss-tainted they feared she would die.
One of Make Way Partners indigenous leaders was a full day away, but they had heard that he would help anyone, anywhere in this sort of trouble—even if it meant he were falsely accused of being a spy, again.
Even as I write, we are facilitating a medical evacuation for Sunday and her baby. Our indigenous leader will see to the care of her two older children.
Our first order of work will be her physical care, but we will not stop there. Just as we're already providing for Dorcas Ayak, who was also rescued from a government-sanctioned rape camp, we will also provide Sunday our Faith, Hope, and Love holistic care. We'll take every step possible to ensure that Sunday has every opportunity for emotional, mental, and spiritual healing as well.
Today, I have told you the story of Sunday's disappearance.
I ask your prayers and financial support to partner with God through the work of MWP in Sunday's full restoration. Here I am!
–
TheBlaze contributor channel supports an open discourse on a range of views. The opinions expressed in this channel are solely those of each individual author.