(WARNING: This article contains portions of lyrics that are highly graphic in nature.)
For me, getting a new computer is kind of like that quintessential feeling so many writers feel when they buy a new leather-bound journal. It's not QUITE as good; you can't feel the pages between your fingers and the smell of leather wafting in the air—but it's still fun.
Ok—to the point. Among my new computer's features is a Beats Audio system which allows listeners to hear music "the way the artist would play it back for you."
"Beats by Dre," incidentally, was founded in part by rap icon Dr. Dre.
You know what else Dr. Dre is responsible for?
Beating up women.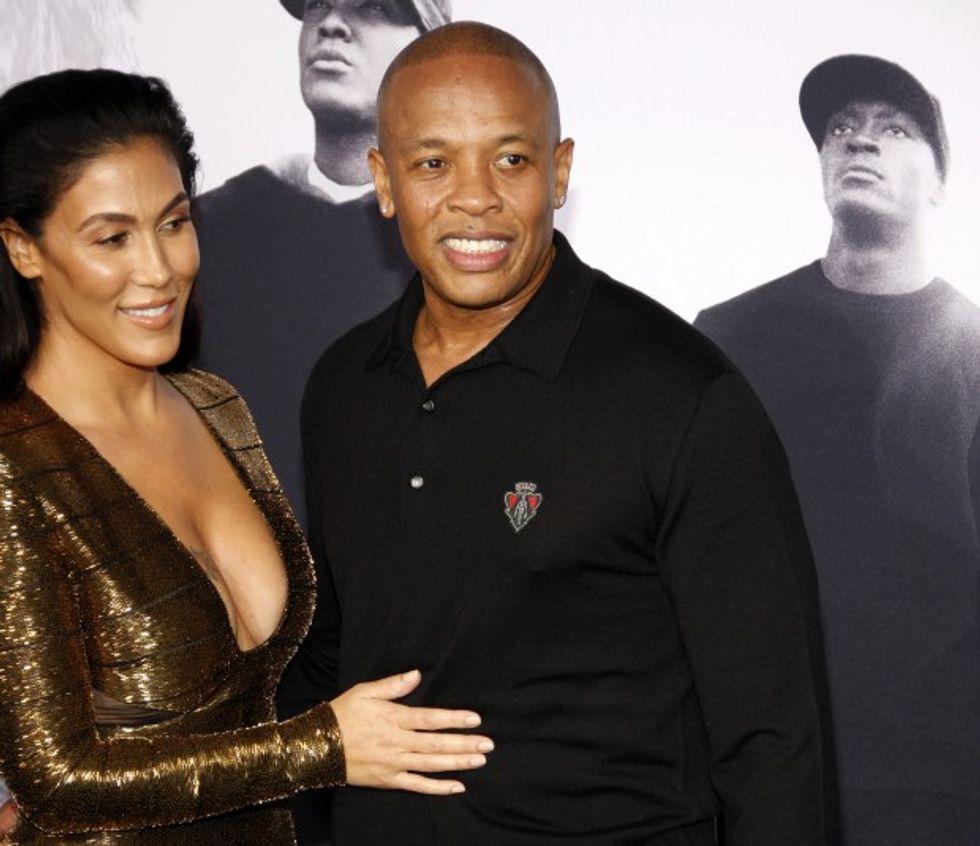 Dr. Dre and Nicole Young at the Los Angeles premiere of 'Straight Outta Compton' held at the Microsoft Theatre in Los Angeles, USA on August 10, 2015. Photo Credit: Shutterstock
But apparently you wouldn't know that from the new flick "Straight Outta Compton," which highlights rap group N.W.A.'s ("Niggaz Wit Attitudes") rise to fame.
As one of Dre's victims Dee Barnes writes in a recent Gawker piece, Dre "straddled me and beat me mercilessly on the floor of the women's restroom at the Po Na Na Souk nightclub in 1991."
Barnes continues: "Like many of the women that knew and worked with N.W.A., I found myself a casualty of Straight Outta Compton's revisionist history."
Sadly, her experience is not uncommon. Domestic violence is rampant particularly amongst women in the African American community, who—as Time.com put it, are "almost three times as likely to experience death as a result of [domestic violence/intimate partner violence] than White women."
Furthermore, African American women "experience sexual assault and [domestic violence/intimate partner violence]at disproportionate rates and have the highest rates of intra-racial violence against us than any other group."
Sadder still, violence against women is widely glorified in rap culture. Barnes writes of N.W.A.'s "disgusting, misogynistic views on women in songs like 'A B*tch Iz a B*tch,' 'Findum, F*ckum & Flee,' 'One Less B*tch' …"
And it's certainly not just N.W.A.
A few disgusting examples:
Jasper Dolphin of Odd Future: "Punch your b*tch in her mouth just for talkin' sh*t / You lurkin' b*tch? Well, I see that sh*t / Once again I gotta punch a b*tch in her sh*t / I'm icy b*tch, don't look at my wrist / Because if you do, I might blind you b*tch."

Snoop Dog: "B*tches ain't sh*t but h**s and tr*cks / Lick on these n*ts and suck the d*ck."

Big L: "So we could never be a couple hun / F*ck love / All I got for hoes is hard d*ck and bubblegum."

Chief Keef: "You ain't gonna let me f*ck you and I feel you / But you gone suck my d*ck, or I'll kill you."
Indeed, as L.A. Times reporter Tracy Brown puts it, "[black] girls have grown up with the pervasive message that violence against black women and girls is normal, natural, and justifiable."
My heart aches for victims like Dee Barnes, and kudos to her for pointing out that this movie glosses over this ubiquitous element of the rap and hip hop culture. The problem with Barnes' analysis, however, is where she places blame for this monstrous behavior:
It's law enforcement's fault.
Despite her frightening experience with the movie's protagonists, Barnes sings the praises the film's "accurate" portrayal of the cause behind the violence.
Specifically [emphasis mine]:
"Accurately articulating the frustrations of young black men being constantly harassed by the cops is at Straight Outta Compton's activistic [sic] core. There is a direct connection between the oppression of black men and the violence perpetrated by black men against black women. It is a cycle of victimization and reenactment of violence that is rooted in racism and perpetuated by patriarchy. If the breadth of N.W.A.'s lyrical subject matter was guided by a certain logic, though, it was clearly a caustic logic."
She ultimately gave her attacker an out.
Oh, it's not his fault—it's the widespread police brutality against the black community that forced him to slam her to the ground and come close to taking her life.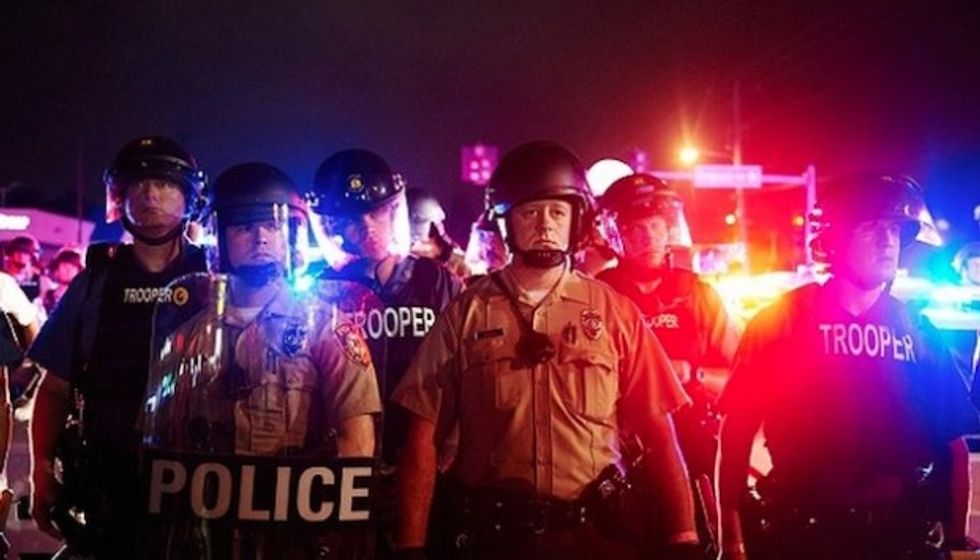 St. Louis County Police and Missouri State Highway Patrol troopers stand guard as protesters march on West Florissant Avenue in Ferguson, Missouri on August 9, 2015. A day of peaceful remembrance marking the anniversary of 18-year-old black teen Michael Brown's killing by police in the US city of Ferguson came to a violent end on August 9 as gunfire left at least one protester injured. (Michael B. Thomas/AFP/Getty Images) 
I'm not going to sit here and say that corruption and racism doesn't exist across America. The police beating of Rodney King DID happen, and in our flawed human state, it's not the first or the last abuse of police power to ever take place.
That said, if you've read my work for any length of time, you know how I feel about the blanket assumption that all police are abusive, and that systematic racism is the norm. It's just plain false.
We've mercifully come a long way from the terrible days of fire hoses and snarling dogs set on innocent people solely because of their skin color—and to act as though that is still how it's done is dishonest, and perpetuates an entirely different kind of situation: One in which black youth are taught to not only fear but to violently challenge law enforcement, even to their demise (see: Michael Brown).
The idea (and one that "Straight Outta Compton" seems to perpetuate) is that most cops were absuive, that most cops are STILL abusive, and that this is the root of the violence problems in the African American community.
For argument's sake, let's assume Rodney King-like treatment IS the norm.
You're telling me that police harassment gives black men carte blanche to beat women? Sell drugs? Join violent gangs and routinely kill each other? (Which, incidentally, is the cause of infinitely more black deaths than those perpetrated at the hands of police.)
So powerful is this mindset that it has caused a victim of violence herself to assign primary blame to something other than the character of her attacker himself.
What's more, Barnes doesn't mention the prevalence of broken families in the African American community; specifically a lack of solid fathers in the lives of young black men.
Dre himself admitted in a just-released statement about the attack that it was due to wild living and a lack of structure in his life:
"Twenty-five years ago I was a young man drinking too much and in over my head with no real structure in my life," said Dre.
Though, depending on who you listen to, some have found a way to assign that blame elsewhere as well—claiming African American men aren't present in the lives of their children because they are disproportionally in jail.
What about taking responsibility for the fact that one must actually commit a crime in order to be put in jail?
But, there's an excuse for that too. I once had someone tell me that she was "ok" with the concept of the looting in Baltimore after Freddie Gray's death in police custody, because—after all—they have led underprivileged lives their entire lives, and they are frustrated. So therefore, it's excusable that they would loot a neighborhood to within an inch of its life.
Let me be clear. Race-related violence does exist; both at the hands of police and individuals alike.
Because we're human, and flawed.
But every time someone perpetuates the lie that the vast majority of police officers are racist and interested only in suppression of the black community (rather than the suppression of the prevalent CRIME in the black community), you cheapen the memory of those who truly been victims of racism and violence, and you do nothing to fix the real and serious problems within the African American community.
Here's the deal. Oppression (real or perceived) as an excuse for immoral, destructive behavior is an excuse, and nothing more.
People say that by virtue of MY skin color, I have no right to make these statements.
Fine.
So, would you mind if I let the lives of someone like Frederick Douglass (a slave turned writer, orator and abolitionist); George Washington Carver (a slave turned botanist and inventor); or Booker T. Washington (a slave turned author, orator, educator and adviser to presidents) do the talking for me?
Mary Ramirez is a full-time writer, creator of www.afuturefree.com (a political commentary blog), and contributor to The Chris Salcedo Show (TheBlaze Radio Network, Saturday, from noon to 3 p.m. ET). She can be reached at: afuturefree@aol.com; or on Twitter: @AFutureFree
–
TheBlaze contributor channel supports an open discourse on a range of views. The opinions expressed in this channel are solely those of each individual author.