Last week, Space Exploration Technologies Corporation, better known as SpaceX, suffered yet another setback in its mission to explore the final frontier.
SpaceX's Falcon 9 rocket exploded in Cape Canaveral, Florida while undergoing tests for its scheduled launch two days later. Fortunately, no one was injured but the payload, a Facebook satellite which would have extended internet access to remote areas of Africa, was destroyed in the explosion. While this is clearly a loss for the private space industry and for millions who are awaiting internet access, it also represents a substantial loss to American taxpayers.
SpaceX receives one of the highest levels of government funding when accounting for government contracts, government-backed loans, and tax incentives. This funding includes $5.5 billion in contracts from NASA and the Air Force, a $106 million loan from the beleaguered Export-Import Bank, and $20 million in tax abatements from Texas. The Export-Import Bank loan was even named the deal of the year.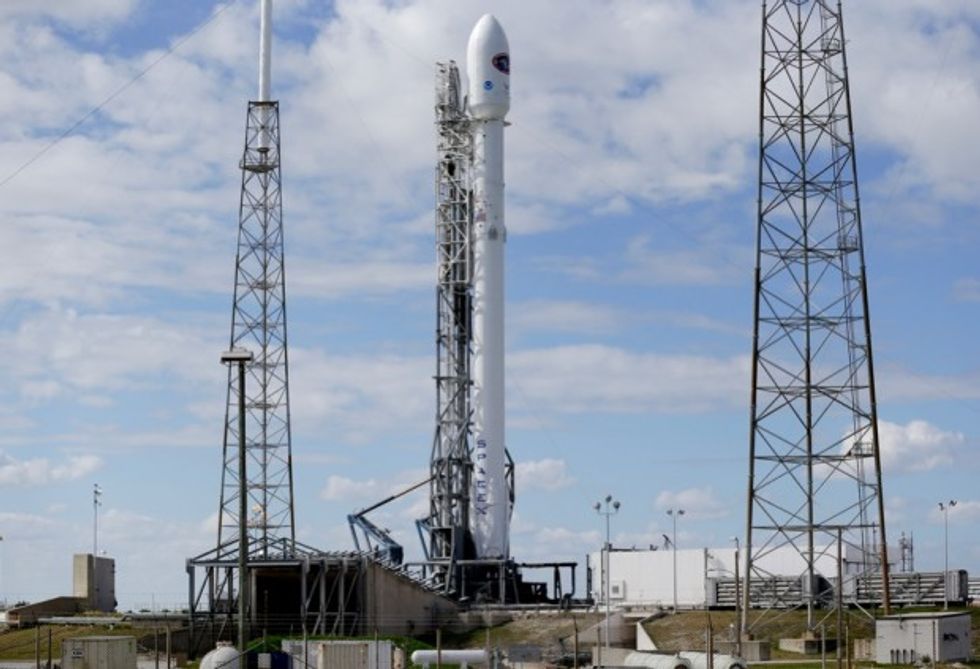 A Falcon 9 SpaceX rocket stands ready for a sunset launch from complex 40 at the Cape Canaveral Air Force Station in Cape Canaveral, Fla., Sunday, Feb. 8, 2015. (Image source: AP/John Raoux)
These massive government subsidies are of course nothing new for Elon Musk's companies, which have been "boldly going" into taxpayers' pockets for quite some time. Tesla and Solar City, which are currently merging, have been living high on the government hog since their inception. Tesla has received the largest amount of taxpayer goodies, including a $1.3 billion incentive package for a factory in Reno and $517 million from selling zero emission credits to other vehicle manufacturers in California. Amazingly, Tesla found a way to get its competition to subsidize it.
Yet, despite these billions in taxpayer funded goodies, the future for Tesla and Solar City look a lot like the recent tests for the Falcon 9. As it turns out, Tesla and Solar City are burning through cash like rocket fuel.
Tesla is spending money at light speed, burning through more than $3 billion in capital since just 2014, while Solar City has only brought in $1.5 billion in revenue while amassing over $3 billion in debt. As Tom Hanks might say, "Houston, we have a problem."
Although it's conceivable that all three of Elon Musk's companies will reverse their fortunes and turn a profit, the question remains: why should taxpayers foot the bill? Even though all of Musk's companies certainly possess the potential to create exciting new products, the results never seem to match the rhetoric. Every product or service they introduce seems to achieve one small step for man and one giant hit to taxpayers' wallets.
Simply put, regardless of their goals, private companies have no business milking taxpayer dollars. If their concept is a good one, they should have no problem securing financing in the private sector, leaving tax money for essential services or to be returned to the hardworking Americans to whom it belongs.
It's often said that one should "shoot for the moon because if you miss you land among the stars" – but when it comes to SpaceX, shooting for the moon just means your taxpayer-funded rocket simply explodes on the launch pad.
The SpaceX episode should be yet another clear lesson for lawmakers to end corporate welfare once and for all.
Eric Peterson is a Senior Policy Analyst at Americans for Prosperity. You can follow his policy and sports musings at @IllinoisEric89
–
TheBlaze contributor channel supports an open discourse on a range of views. The opinions expressed in this channel are solely those of each individual author.