"In support of the Global War on Terror."
That's what was written near the top of my mobilization order following the attacks on the United States on Sept. 11, 2001. I was soon deployed to Guantanamo Bay, Cuba, to help care for the "worst of the worst" of unlawful combatants from Afghanistan.
The fresh attacks in Paris demonstrate that Islamists who want to kill us still know how to market themselves to those who would want to join the carnage.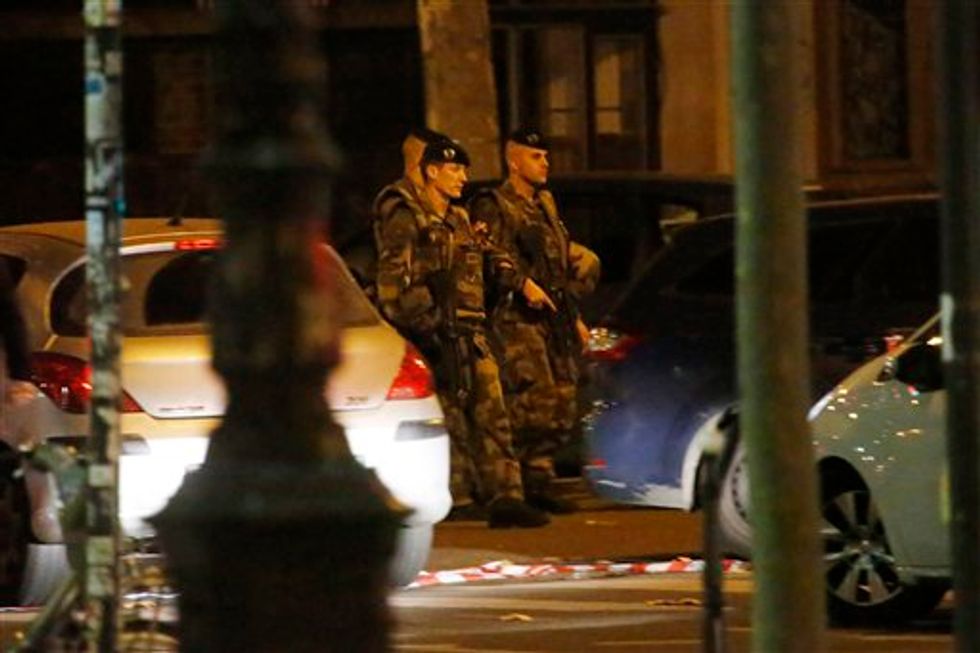 French soldiers patrol after a shooting outside the Bataclan theater in Paris, Friday Nov. 13, 2015. Well over 100 people were killed in a series of shooting and explosions explosions. French President Francois Hollande declared a state of emergency and announced that he was closing the country's borders. (AP Photo/Jerome Delay)
All of this and more, including the recent bombing-in-flight of a Russian passenger plane flying over the Sinai in Egypt, are the result of the vacuum in the Middle East caused of the withdrawal of America troops.
Before President Barack Obama claimed victory in Iraq and pulled out the last U.S. forces in December 2011, there was no such thing as Islamic State, nor could there have been.
Our human intelligence and systematic capturing of suspected Islamists was at an all-time high. Information gathered from captives helped save many lives and allowed us to track down and then capture or kill the worst of the worst who were still on the loose.
Then came the posture change; the 2009 apology tour by the president' the Arab Spring; and then the pull backs, both in Iraq and Afghanistan. Heck, there's not even a carrier group in the Middle East right now!
Message sent: The United States is in retreat.
If the United States is in retreat, whom do you think would exploit such a posture?
Russia, China, Iran, North Korea, Cuba, Al Qaeda, the Taliban, and the many faces of the Islamic State. And that's just the ones we know about, and doesn't include potential copy cats and "lone wolves," who are just as deadly.
Our proxy war in Syria with Russia (more like two enemies pretending to be cordial while they circle each other with long knives in their hands) is another complication in a constantly changing world crisis.
Chaos is an understatement.
Were the attacks in Paris conducted instead in New York City, say in Madison Square Garden during a Knicks game, a Broadway theater during a performance, a busy corner on 42nd Street, and Penn Station at rush hour, would we react any differently than the French government saying the attacks are "an act of war?"
Really?
How soon we forget Sept. 11, 2001.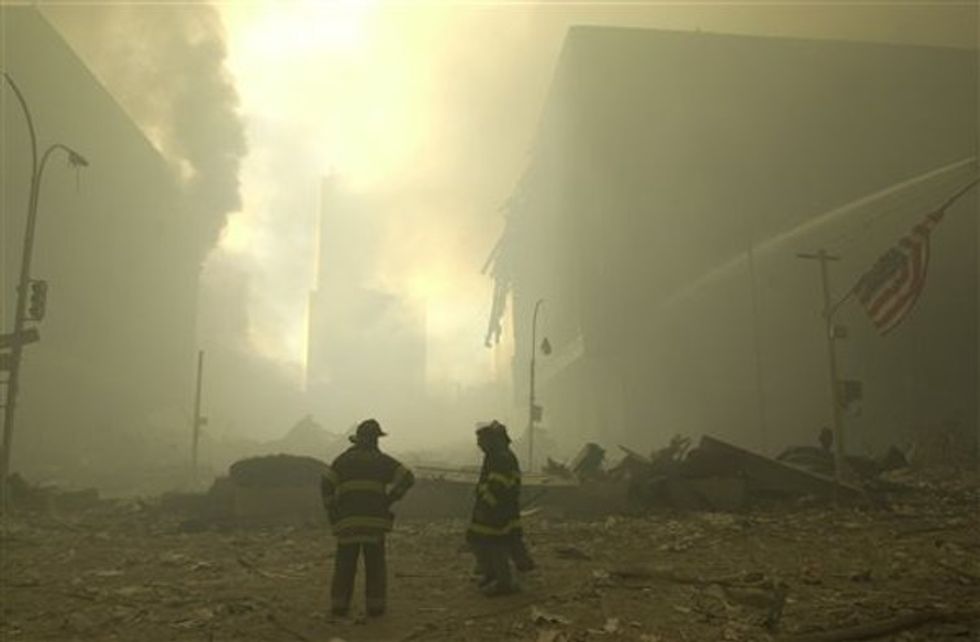 Emergency workers and a flag at ground zero on the evening of Sept. 11, 2001 after the September 11 terrorist attacks on the World Trade Center in New York City.(AP/Mark Lennihan)
The act of war was then, and many attacks before that ignored in a global sense.
Our enemy has been at war with us since at least Nov. 21, 1979, when U.S. Marine Corporal Steven J. Crowley was mortally wounded while defending the American embassy in Islamabad, Pakistan from radical Muslim "students," bussed to the location after false reports of U.S. troops occupying the holy mosque at Mecca, Saudi Arabia.
The radical "students" attempted to burn down the embassy, and held the American staff in siege for several hours until finally escorted away by Pakistani military and police forces.
Crowley, perhaps the very first casualty in the Global War on Terror, died in the hands of a nurse fighting desperately to keep him alive in the secure safe room on the embassy's second floor. A memorial park dedicated in Crowley's name is less than a mile from my house, and I think of his sacrifices and Islam's tyranny every time I pass it.
The solution?
Send the United States Marines and the Army back to Iraq and Afghanistan, and stay. Create and then implement a Middle East Marshall Plan, and then, as we've seen in the countries we fought and then defeated in World War II (Germany, Japan, Italy), enjoy peace and prosperity in our time.
Tears, flowers and rhetoric will not win the Global War on Terror.
The alternative to admitting we are at war and then doing something about it is evident now in Paris.
With the blood and horror of body parts and blood staining our TV and computer screens from yet another attack from unlawful combatant Islamists in the Global War on Terror, now nearly 36 years old and counting, we have a choice. But only action and total commitment will do.
Until all Islamists are dead or no longer have the means or will to kill us, we must defend ourselves. And in this Global War on Terror, the best defense is an active offense.
–
TheBlaze contributor channel supports an open discourse on a range of views. The opinions expressed in this channel are solely those of each individual author.