© 2023 Blaze Media LLC. All rights reserved.
One in six patients hospitalized in the United States is an inpatient in a Catholic hospital.
By Dr. Grazie Pozo Christie
The ACLU has found their solution. Catholic hospitals should be made to perform abortions and sterilizations — or be shut down.
Their problem is a little more elusive. The ACLU is desperately looking for one single documented and proven case in which a woman died or was injured at one of these hospitals by not having an abortion or not being sterilized. Without a case like this, they cannot hope to get the general public, which likes and appreciates these hospitals, behind their solution.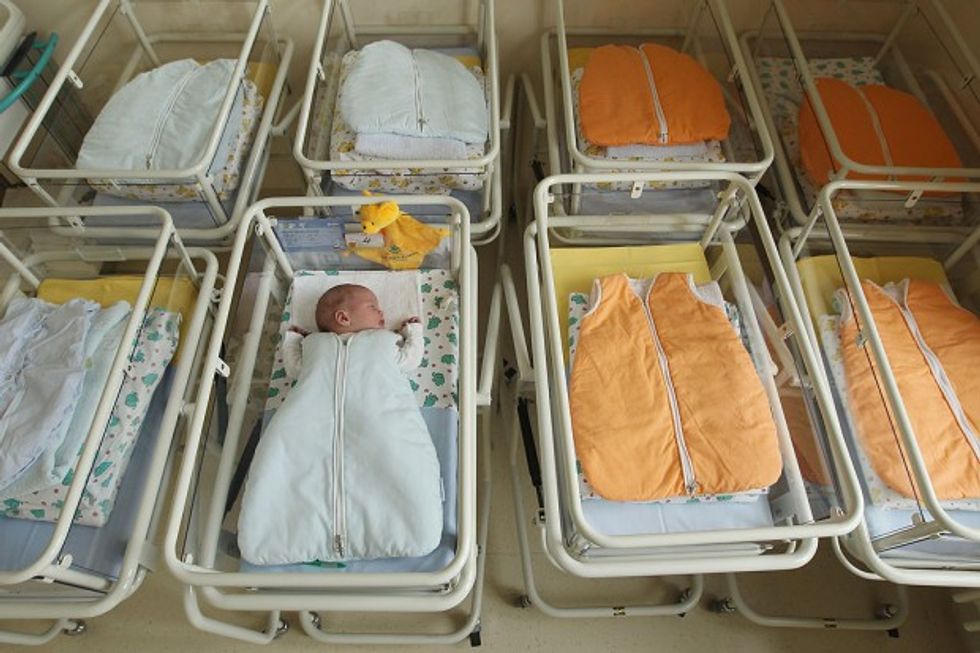 (Sean Gallup/Getty Images)
A recent report, meant to terrify and galvanize the public against these hospitals, lists the sixteen Catholic health care directives with which the ACLU disagrees. Every one of them has to do with the dignity of human life and its preservation in stages and conditions that the ACLU does not respect or value. The ACLU calls an abortion a "reproductive health service," much like a pap-smear, and disdains the world-view of those doctors and nurses who, having been educated to preserve life - not eliminate it - should see it any differently.
The report presents several anecdotal accounts of women who were allegedly put at risk in a Catholic hospital. While pseudonyms and second hand accounts abound, details and facts are scarce, and documentation and proof of harm non-existent. Some of these are about women who were in danger of miscarrying their babies in the second trimester. The ACLU contends that they should have been offered an abortion immediately instead of allowing the process to proceed naturally, with every chance given to the baby to pull through. Even these undocumented tales do not claim that the women died or were physically injured. Only that they were "at risk." Even more nonsensical are the anecdotes about sterilization. We are asked to believe that briefly postponing a strictly elective procedure, one whose object (contraception) can be achieved in any number of ways, could possibly harm a woman. Again these women are said to have run some vague "risk" by having the procedure done elsewhere.
The report gets one thing right. Catholic hospitals are a hugely important part of our health care system. One in six patients hospitalized in the United States is an inpatient in a Catholic hospital. These hospitals save more lives, release patients sooner, and fare better on patient satisfaction surveys than for-profit institutions, but they certainly do not share all the beliefs of the ACLU. The hospitals, under firm guidance from the U.S. Conference of Catholic Bishops, consider a pregnant patient to be carrying a second patient - small and young, but dignified and of great worth. The clear goal when caring for the mother is to preserve her child for her and bring them both through safely. This is classical Hippocratic medicine at its shining best.
The ACLU pays lip service to religious liberty and purports to defend it, but their defense stops sharply at the border of their own belief system. The simple fact is that the ACLU would like medical decisions to be made strictly according to their own criteria, and their own sliding scale of values. They cannot comprehend a world-view that takes a holistic, gentle, and respectful approach to the great mystery of procreation - and strives to save all the irreplaceable patients involved.
Dr. Grazie Pozo Christie specializes in radiology in the Miami area and serves on the advisory board for The Catholic Association.
–
TheBlaze contributor channel supports an open discourse on a range of views. The opinions expressed in this channel are solely those of each individual author.
Want to leave a tip?
We answer to you. Help keep our content free of advertisers and big tech censorship by leaving a tip today.
more stories
Sign up for the Blaze newsletter
By signing up, you agree to our
Privacy Policy
and
Terms of Use
, and agree to receive content that may sometimes include advertisements. You may opt out at any time.