It is almost impossible to draw a legitimate analogy for the aftermath of suicide. Usually, the suicide of a loved one is as unexpected as being struck by a freight train in a place where there are no train tracks. For many it is worse, because the crush isn't a one time occurrence but something that reoccurs day after agonizing day. The pain, shock and regret are completely inundating. Picking up the pieces, healing and dealing with the loss usually takes a lifetime.
Suicide has been in the news so often that many are inoculated from surprise… that is until their soul is the one which has been ambushed.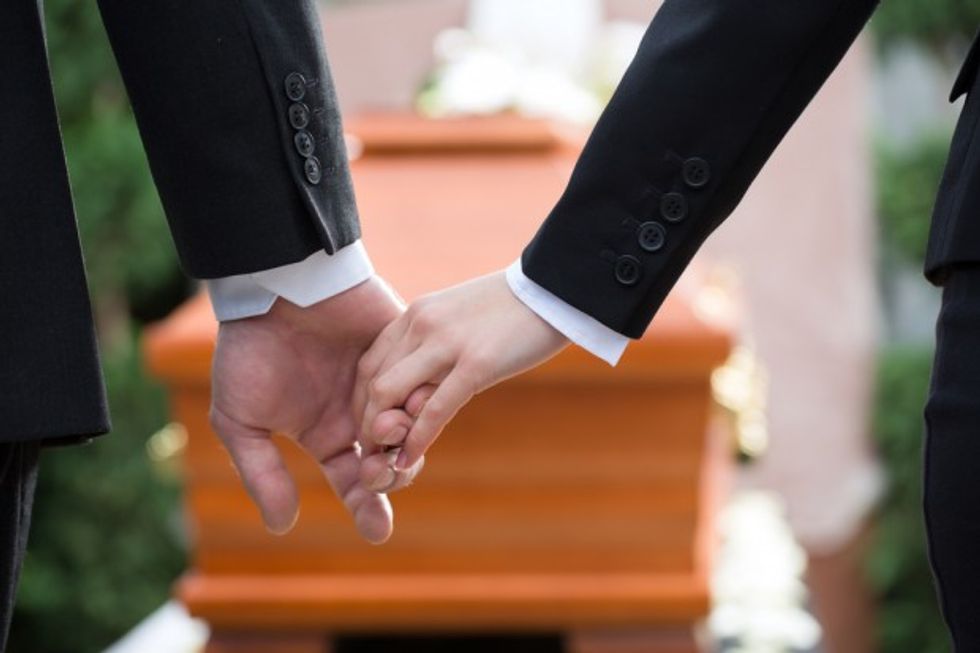 Photo Credit: Shutterstock
The latest victims hail from Anadarko, Oklahoma. This Mayberry-esque town of less than 7,000 residents has endured the loss of four people in a span of weeks. The youngest person to take her life was a girl… the tender age of 11. In the wake of the unexplainable, family, residents and friends are forced to navigate and cope with the aftermath.
Studies show that losing a loved one can increase a person's own risk for suicide. While there is no perfect handbook or conclusive compass to wade through the pain of someone who has committed suicide, there are several thing that can assist those who are coping with the loss of a loved one. As a person who struggled with suicidal tendencies in earlier years and who also has counseled worldwide with loved ones left behind, I have found some traceable steps that have assisted many in the process.
Don't blame yourself. One of the common mistakes survivors make is taking responsibility for someone else's decision. While it is normal to evaluate the past to decipher if warning signs were unnoticed or neglected, it becomes unhealthy and unwarranted when used as a platform to take personal blame. If there is recognition that mistakes or oversight took place, then you must make peace with unintentional omission and allow it to drive you to greater connectivity with remaining relationships. Further, it can serve to heal you and other family members by developing stronger bonds and the commitment to deeper, open conversation.
Grieve. A season of deep brokenness, tears and personal recovery is healthy and expected. While there is no specific timeframe, since we are all different, survivors must guard against allowing the time to extend to parameters that cultivate depression and the breakdown of physical and emotional well being.
Find support. It is crucial to not to allow yourself to become isolated. More than ever, survivors need to plug into avenues of strength and support. Professional counselors, survivor groups, clergy and institutions of faith are great avenues of healing. Secrecy, separation and seclusion, when embraced for long periods of time, enhance grief rather than diminishing it.
Use your pain as a platform. This may happen immediately or take an extended period of time. Either way, one of the best ways to respond to tragedy is to commit to offer assistance to others enduring similar struggles. Your experience puts you in a unique position to relate, understand and equip others. This can be done through volunteering, blogging, starting a support group, or even speaking to shelters, youth groups or addiction centers.
Reject denial and embarrassment. Many family members respond to a loved one's suicide or attempted suicide by trying to hide themselves or the truth about their loved one's death or attempt. It is important to understand that someone else's bad decision is not an indictment or reflection of you being a failure. The tendency to conceal truth only enhances the inability to communicate devastation and hurt. Furthermore, embracing secrecy is embracing the very culprit that most likely led to a loved one's death. Confession, even about our most troubling issues, is the pathway to peace.
Expect valleys. Birthdays, holidays and family traditions can reignite the fuse of suffering. Struggling can be done in a way that cripples or catapults you. While setbacks are expected and normal, it is important to develop coping mechanisms that will equip you to weather emotional storms while moving towards incentive to aide others. Don't beat yourself for visiting depressing valleys but don't allow yourself to park in them either.
For people who end their life, suicide ends the chance of regaining lost ground. However, this is not true for those who remain. The pain, hurt and confusion of why a person took his or her life may always linger but better days are ahead where the anguish is not so debilitating. Especially when backed by the desire to connect with others who are forced to charter the same path.
–
TheBlaze contributor channel supports an open discourse on a range of views. The opinions expressed in this channel are solely those of each individual author.