The afternoon of July 2, 1863 was hot even by Pennsylvania's sweltering mid-summer standards. Perhaps nowhere more so than in the town of Gettysburg where the second day of the greatest battle of the Civil War was underway.
The previous day, Gen. Robert E. Lee's invading Confederates had driven the Union Army from the town and onto a rise of ground called Cemetery Ridge. Now Lee strove to dislodge the stubborn Yankees from their stronghold with a powerful en echelon assault and pave the way for a Southern victory and ultimate independence. Both sides fed unit after unit into the meat grinder of the intense fighting that had begun in the late afternoon. As the Rebel attacks gained momentum, it was up to fresh Union reserves to beat them back.
One of the units called into action was the 2nd Brigade, 1st Division, II Corps - the famed "Irish Brigade" under the command of Galway-born Col. Patrick Kelly.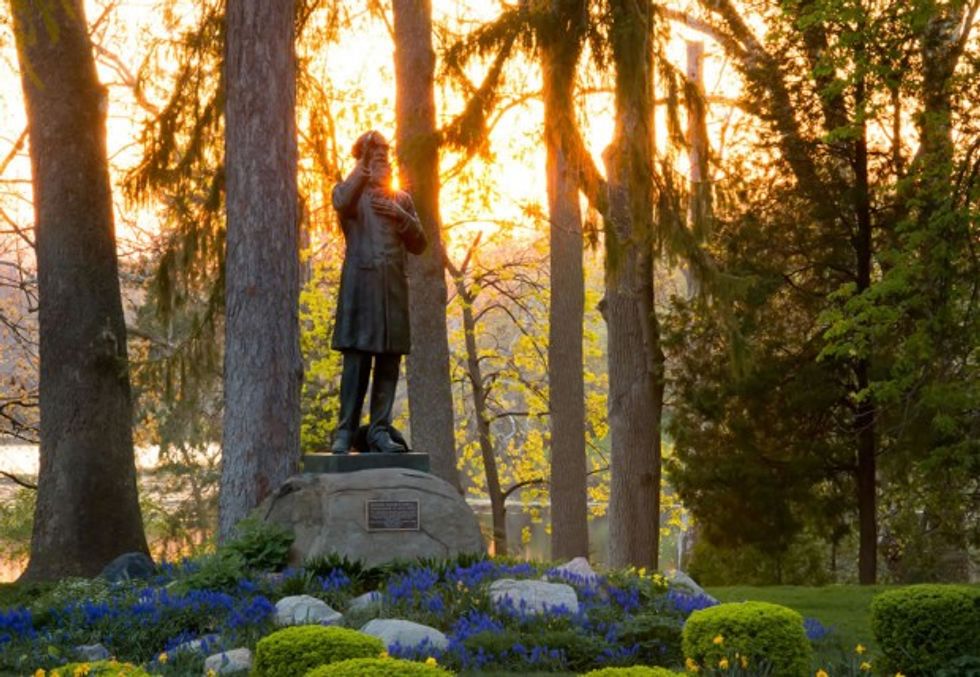 Gettysburg Museum
The unit consisted of 530 staunch Irish immigrants from New York, Philadelphia, and Boston. Before going into action, the brigade presented one of the most striking scenes ever witnessed on a battlefield. The men all took a knee, their caps in hand and heads bowed. Their chaplain, Father William Corby, stood upon a boulder and, shouting above the din of battle swirling all around them, lead a prayer granting the men absolution as their emerald green battle flag snapped in the summer breeze.
Then they formed up and pitched into the fight, charging under intense fire through a wheat field strewn with the wreckage of war—dead and wounded men and horses and overturned wagons—and into a tangled woodlot filled with Rebels in a desperate effort to blunt Lee's attack on this sector of the line. They would emerge from the fierce engagement minus 40 percent of those who'd just been granted absolution a mere hour before, with all their battle flags.
Other regiments made up of predominantly Irish immigrants fought throughout the war with equal élan: 150,000 wore Union blue and 25,000 Confederate grey—and these figures don't even include American-born of Irish descent.
But there is something about the image of Father Corby leading his solemn prayer amidst the whiz of bullets and the concussion of artillery that rings particularly "Irish" to me. It also reminds us how much the Irish contributed to saving this nation—one to which many had just recently emigrated—and forging our country's destiny and national character.
The story of the Irish Brigade, a tale written in blood and astonishing bravery, perfectly illustrates this point. Of all the Union army brigades, only the 1st Vermont Brigade and the famous Iron Brigade suffered more combat dead than did the Irish Brigade during America's Civil War.
Formed in 1861 they originally consisted of 63rd, 69th and 88th New York and 29th Massachusetts Infantry regiments. Although the 29th were not Irish and could, in fact, trace their roots back to the Mayflower, the units fought side-by-side and routinely praised each other's gallantry. But the Boston Protestant Yankees did object to being in an outfit that was by the fall of 1862 labeled the "Irish Brigade." Nor were they fond of being soldered with the New York "Fenians" (Irish revolutionaries) so after Antietam they were replaced by the decidedly more Irish 28th Massachusetts.
The brigade was commanded by Brig. Gen. Thomas Francis Meagher who was as colorful as the men he led. An agitator in Ireland who participated in the Rebellion of 1848, Meagher escaped banishment in Tasmania and made his way to New York where he became a lawyer then soldier. When war broke out he actively lobbied Congress for an all Irish brigade.
The benefits were self-evident. An all-Irish unit would solidify Union support in America's largest Catholic minority while also offering Great Britain the prospect of an agitated Irish population should they intervene on the side of the Confederacy as many of the brigade's officers were well-known Irish revolutionaries.
The Irish Brigade at its zenith consisted of five regiments (the final addition being the 116th Pennsylvania from Philadelphia) numbering some 2,500 soldiers, officers and other ranks. They would fight in such violent battles as Fair Oaks, Gaines Mill, Savage's Station, and Malvern Hill. The unit would especially distinguish itself at the Battle of Antietam on Sept. 17, 1862 where they charged through murderous sheets of lead coming at them from determined Confederates hunkered down in a sunken farm road that would be so thickly matted with the dead that it was nick-named "Bloody Lane." They suffered 540 casualties.
Just three months later, at Fredericksburg, on a frigid Sunday, Dec. 13, 1862, the unit was ordered into a series of suicidal charges against a heavily entrenched Confederate line perched high on a hill and behind a stone wall. Tragically, the men from 24th Georgia who shot them down were Irishmen too. By the end of the day's fighting, the unit lost 545 out of 1,200 it took into battle that morning. The London Times correspondent William H. Russell wrote of Fredericksburg: "Never at Fontenoy, Albuera, or at Waterloo was more undaunted courage displayed by the sons of Erin..."
More losses followed at Chancellorsville, May 1-4, 1863. Leading up to Gettysburg, the brigade counted a mere 530 men in its ranks. Meagher was so frustrated by recruitment restrictions that he resigned in protest, ceding command to Col. Kelly. Kelly led them bravely at Gettysburg and their counter-attack temporarily blunted the Confederate advance. They suffered 202 casualties and only withdrew after it became clear they would be surrounded if they did not fall back, which they did in good order.
In May 1864 Kelly handed over brigade command to the more senior Col. Richard Byrnes who had returned from a Massachusetts recruitment tour. Byrnes was killed at Cold Harbor just two weeks later, putting Kelly back in command once again. Although they would continue to serve with distinction throughout the battles around Richmond, mounting losses—including the death of Kelly at Petersburg—effectively ended their days as an independent brigade. The survivors were absorbed by other units in the Union 1st Division, II Corps; they were mustered out of service at war's end in 1865, free to return to civilian pursuits in their new country.
Today the Irish Brigade's lineage lives on in the "Fighting 69th" of the New York National Guard who fought in World War I, World War II (Pacific) and Baghdad in 2004-2005. Ironcially, the nickname "Fighting 69th" was given to them by Gen. Lee at Fredericksburg, so impressed was he by their bravery. Indeed eleven members of the brigade were awarded the Medal of Honor in the Civil War.
So as you celebrate St. Patrick's Day, remember the emerald green banner has often been saturated with the blood of those who gave so much to insure that their new country should survive and prosper. And if perchance you should spy some men and women in green parading through your streets singing songs and hoisting a pint in a toast to their heritage, you best remember the Gaelic cry of the Irish Brigade who preceded these happy bands: "Faugh A Ballagh!" "Clear The Way!" Many an enemy on many a battlefield no doubt wished they'd heeded this call.
–
TheBlaze contributor channel supports an open discourse on a range of views. The opinions expressed in this channel are solely those of each individual author.