Most of what a member of Congress does in a given week is meet with constituents, whether in Washington, D.C. or at home.
They generally wanted to tell me what government was doing TO them. Very few were looking for more government.
I had been serving in Congress for 16 years when President Barack Obama was elected. In early 2009, I began noticing a change.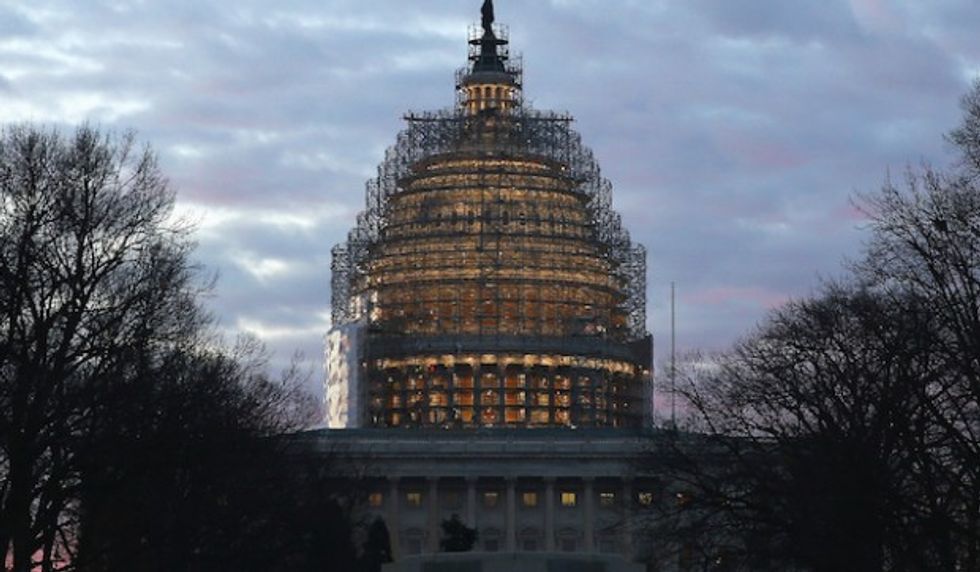 WASHINGTON, DC - JANUARY 20: The early morning sun begins to rise benhind the US Capitol building on January 20, 2015 in Washington, DC. (Photo by Mark Wilson/Getty Images)
We had just passed a trillion dollar stimulus package and a 75 billion dollar follow-up. In line were Cash for Clunkers, Dollars for Dishwashers and "free" golf carts.
Soon to follow was a government takeover of the finest system of healthcare in the world.
People were anxious and afraid. The lady who spoke it first was with a group from the Farm Bureau.
Quietly she asked, "Are we going to survive this?"
I said, "The recession? Sure we will. We've been through worse."
"No." she said. "The changes. Are we going to survive the changes?"
I was stunned. I now wonder if we will.
Every single policy of the last 7 years has been designed to change who we are and how we live.
If increasing the numbers of people with health coverage was the goal, we could have solved that by just broadening Medicaid eligibility and subsidizing premiums. That is essentially where we ended up anyway.
But no – the goal was to control what insurance we buy. And the health insurance markets were destroyed to accomplish that.
So, the Little Sisters of the Poor must buy health insurance that covers contraception and pediatric dentistry.
Christian bakers, whose religious beliefs cause them to refuse to participate in a gay wedding, are punished, but a trucking company is punished for not recognizing the religious beliefs of Muslim drivers who refuse to deliver liquor.
The IRS abuses our private information for politics and no one was fired. They didn't even lose their bonuses.
If we question these policies we are called bigots and racists.
Should anyone be surprised that about half of America is ready to elect a president who promises to burn it all down?
The Consumer Financial Protection Bureau will soon have details on every financial move you make from loans to debts to payments to credit card or debit card purchases.
Obamacare will capture every detail about our health and medical needs and that information will be shared between HHS, Social Security, the VA, the IRS, the DOJ, Medicare, state health agencies and health insurance companies.
Maybe no one in those agencies and departments will ever abuse our information. Maybe.
Even the Department of Education is building an extensive data base through Common Core.
Having mined the data from every nook and cranny of our lives, they now propose to use that information to shape our future.
My side doesn't want to shape the future. We wouldn't know how. I couldn't satisfy 10 percent of the people in any given room. Each of us comes to the table with different hopes and dreams.
So we want you to shape the future by the personal choices that you make.
We will elect a president this year who will either put us so far down the road to more government choices that a majority will vote for more "stuff" or a president who will once again focus on what made us a great nation – freedom.
We have been down this road before.
It is important to remember how dark the nightfall was when Ronald Reagan became president.
Reagan ran for president promising to restore the American dream. It has been said that the American dream was to own your own home. That is not true.
The American dream is to get your kids out of your home, and when Reagan took office we wondered if we ever could. We had 20 percent interest rates, 13.5 percent inflation, 8 percent unemployment and 17 percent mortgage rates.
On top of that, we were losing the Cold War. Between 1970 and 1980, the Soviet Union had increased its influence in 14 nations across the globe and our military was in shambles.
In his first inaugural address, Reagan addressed our challenges at home and abroad. Then he said this: "With a reliance on God's help, and our commitment, we believe that we can meet those challenges. And why shouldn't we believe that. We are Americans."
Reagan reduced the tax and regulatory burden on private enterprise and during the next 10 years, Americans created 4 million new businesses and 20 million new jobs. The size of the economy doubled from $3 trillion to $6 trillion.
Tax revenues doubled from about $500 billion in 1980 to over $1 trillion in 1990. And contributions to charities increased from $44 billion in 1980 to nearly $100 billion in 1990.
And we won the Cold War.
Reagan also said, "We are a nation that has a government - not the other way around."
That is what is before us in this election. I am not at all confident as to how we will choose.
If you would like to be added to John Linder's distribution list please send your email address to: linderje@yahoo.com or follow on Twitter: @linderje
–
TheBlaze contributor channel supports an open discourse on a range of views. The opinions expressed in this channel are solely those of each individual author.