Throughout the campaign, Donald Trump has repeatedly stated, "the last person [Hillary] wants to be running against is me." He is confident that he can do to Hillary what he has accomplished with the majority of the 17 candidates that began the race for the Republican nomination.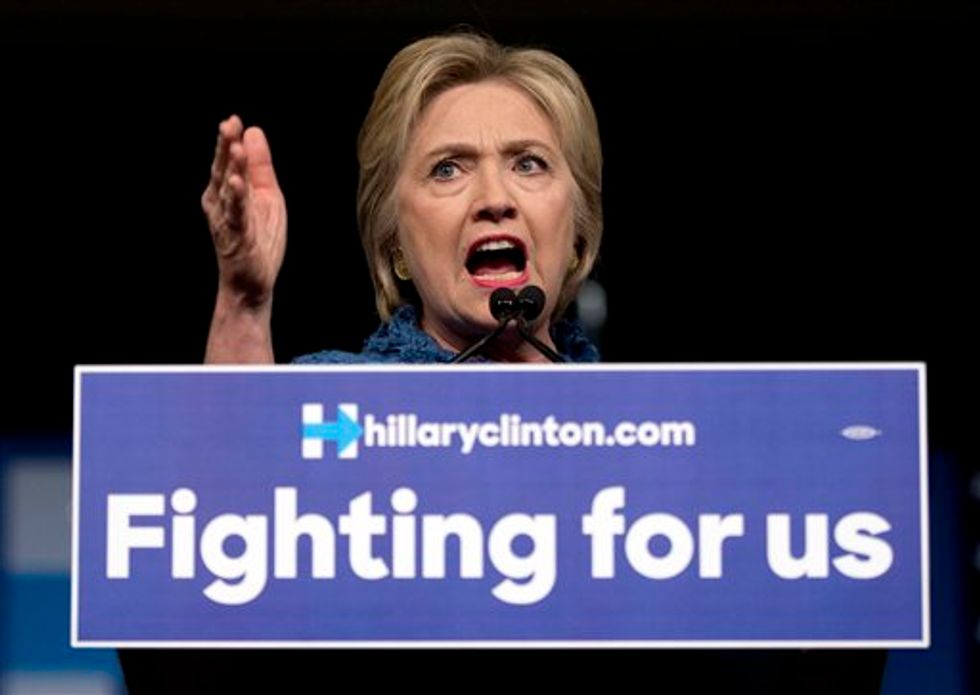 Democratic presidential candidate Hillary Clinton speaks during an election night event at the Palm Beach County Convention Center in West Palm Beach, Fla., Tuesday, March 15, 2016. (AP Photo/Carolyn Kaster)
The difference with Hillary, however, is Trump doesn't have to highlight physical characteristics or fabricate a derogatory narrative—all of that has already been established.
So what will be the result when the Trump political machine decides that Hillary Rodham Clinton is the main effort?
Scorched earth will probably be an understatement.
One of the most challenging aspects of running against Hillary is the fact that she would be the first female Democratic nominee for president. The Clinton camp is most likely assuming that this fact alone should lessen the blunt force trauma that political attacks usually entail, and for the most part they have been correct. Unfortunately, if Trump is her opponent, that notion is not based in reality.
To date, Hillary has been on the receiving end of a political attack strategy from the Bernie Sanders campaign that is equivalent to death by tickling.
Bernie knows why Hillary won't release her speech transcripts. He knows she's concealing the fact that she has repeatedly misplaced her "principles" for big money donations from Wall Street. Yet, he allows her to hide behind the premise that she will release them if everyone else, including Republicans, releases them—which should offend all Democrats since she is currently seeking the Democratic nomination.
No, Bernie simply waves his arms more vigorously, increases his voice intonation, and releases his frustration with a direct attack against the millionaires and billionaires. He flaps his arms and expresses how Americans are sick of the "damn emails," and when Hillary called him a Barack Obama hater he responded with a conviction laced "Madame Secretary, that is a low blow."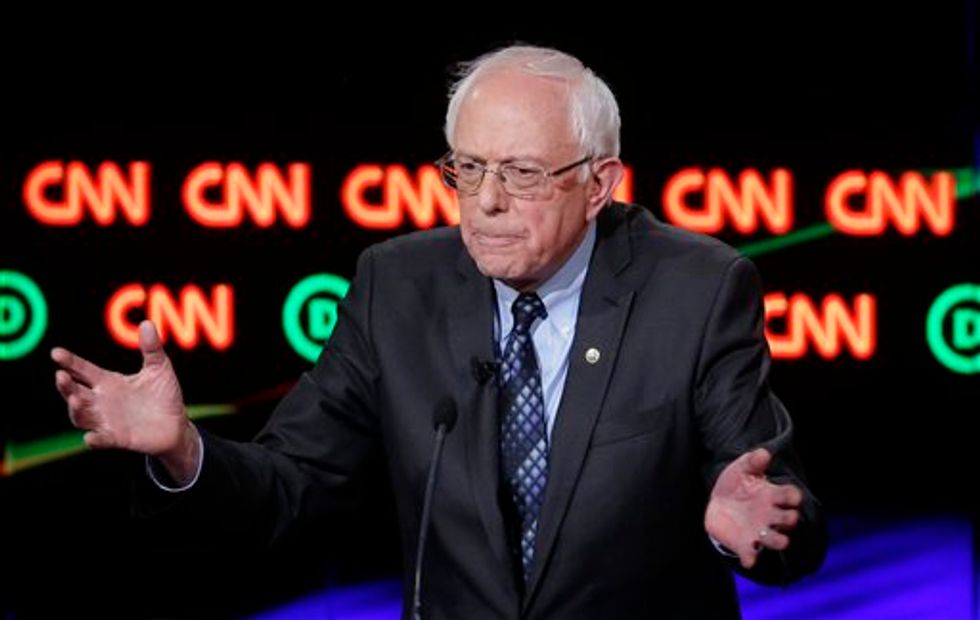 Democratic presidential candidate, Sen. Bernie Sanders, I-Vt., makes a point during a Democratic presidential primary debate at the University of Michigan-Flint, Sunday, March 6, 2016, in Flint, Mich. (AP Photo/Carlos Osorio)
Wow, what a startling counter-punch. This is the impotent style of attack that Hillary is growing more and more accustomed to.
Trump, however, has repeatedly demonstrated that being a woman does not insulate you from direct, accusatory, and demonizing rhetoric meant to insult, shock, and permanently label the victim. He has established that there is no "off-limits" when it comes to dragging your opponent through the mud. Commentators like Don Lemon were shocked at the suggestion that Bill Clinton's sexual history was fair game. To Trump, Bill is simply "one of the great abusers of the world."
When called on the carpet for his comments about women, Fox News moderator Megyn Kelly stated:
"You once told a contestant on 'Celebrity Apprentice' it would be a great picture to see her on her knees. Does that sound to you like the temperament of the man we should elect as president, and how will you answer the charge from Hillary Clinton, who is likely to be the Democratic nominee, that you are part of the War on Women?"
Trump's response essentially stated he didn't have time to filter everything he said through political correctness and neither did the country. He has since made a reference to Mitt Romney dropping to his knees, further demonstrating that Trump is both an equal opportunity attacker, and always willing to go to the gutter.
When social media was in a tizzy after "firebrand" Sanders shushed Hillary during a Democratic debate, women that support Hillary were not pleased with his sexist behavior. I think it's safe to assume Hillary will be treated with equal disregard as "little Marco," "lyin' Ted," and "low-energy Jeb."
If the GOP debates have demonstrated anything, it's that no amount of practice can prepare you for a counter-battery from Trump, and the Clinton campaign will be well aware of the dangers of poking the bear.
The Clinton campaign will also be cognizant of the amount of interviews and press conferences Trump consistently conducts. Trump is always the face of his narrative and attacks—daily conducting in-person interviews or calling into the morning shows. He paints himself as a tireless worker who is prepared to use that work ethic for the American people, while simultaneously labeling his female antagonist as not having the "strength or stamina" to take on our enemies.
Although Hillary states "I will work harder than anyone to actually make the changes that make your lives better," and claims to be the most transparent candidate in U.S. history—criminal investigation aside—it has been over 100 days since she has held a news conference—a fact that counters her self-described transparency and work ethic.
The Clinton campaign may find it a struggle to get Hillary to exude an equal amount of energy and engagements without literally diminishing her health. This political cycle has already revealed health related issues ranging from disorientation, coughing fits, and an email from close confidant, Huma Abedin, expressing how Clinton is often confused.
How her campaign, image, or health will survive the general election is anyone's guess. One thing, however, is certain; Hillary's "femaleness" will offer as much protection as a traditional Japanese shoji—which to date has withstood the onslaught of Bernie's feather duster attacks.
Anthony DeChristopher holds a M.A. in Strategic Security Studies from National Defense University's College of International Security Affairs. He currently works as an Independent Intelligence Consultant and blogs at exceptionism.com
Feature Image: AP Photos
–
TheBlaze contributor channel supports an open discourse on a range of views. The opinions expressed in this channel are solely those of each individual author.