Imagine you're a single mom living and working in Chicago with your two young children. You're working a minimum-wage job in retail, living paycheck to paycheck. But you don't complain.
Instead, you work hard and do right by your family. And your boss respects you – so much so that you were offered a promotion at the end of the year. But you had to turn it down.
It wasn't because of longer hours. It was because you couldn't afford to make less money.
Taking the promotion and the pay increase to $18 per hour from $12 an hour would have meant losing about one-third of your total resources. You would need to make the jump to an hourly wage of $38 for your promotion to make sense, financially.
This is the harsh reality for too many families in Illinois.
A new study commissioned by the Illinois Policy Institute illustrates how rather than providing a hand up, welfare and tax benefits available to low-income earners can penalize additional work. The end result is that welfare recipients can find themselves trapped in long-term government dependence.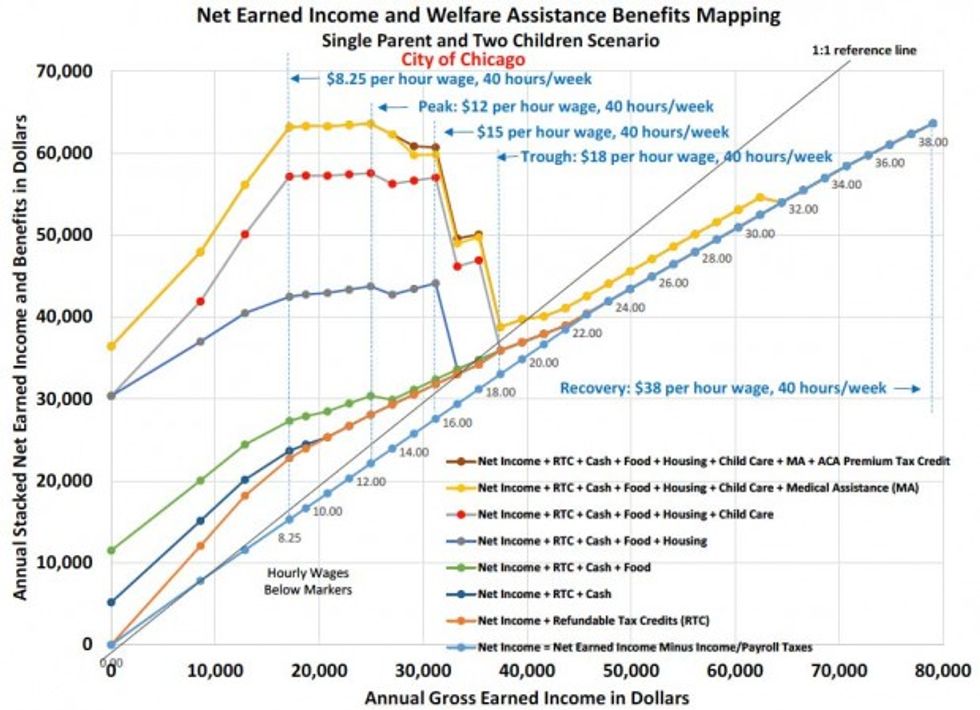 (Naomi Lopez-Bauman, Illinois Policy Institute
For single-and two-parent households in Illinois, there is a significant welfare "cliff" where the household may become worse off financially as parents work more hours or as their wages increase. That is because the available welfare benefits taper off by a greater amount than the increase in earned income, leaving many families in a worse financial position than they would face with a lower wage.
How was this level of dysfunction achieved? When faced with the challenge of persistent poverty, the default position of lawmakers, bureaucrats and welfare advocates is usually to "do something" by way of a government program.
These programs continue to grow, but politicians aren't paying attention to the impact that they, taken together, are having on the people they are supposed to assist. In addition, there is little coordination of eligibility between most of these programs, creating a poorly targeted patchwork of duplicative efforts to reduce poverty.
There is no lack of commitment to eradicate poverty in the U.S.; but the tools and tactics are poorly designed.
The complex and duplicative welfare system is punishing many of those who seek to move up the ladder of economic opportunity rather than rewarding them. A new approach that is focused on rewarding work – not discouraging it – should be politicians' main goal.
It is time for federal and state lawmakers to overhaul the entire welfare infrastructure. While the welfare system is often portrayed as a hand up, it ultimately becomes a trap that robs families of the opportunity for a better life.
When a parent in poverty accepts a promotion, they should have more income in their family budget. No one should have to avoid attempts to achieve their version of the American dream.
Naomi Lopez Bauman is the director of health policy at the Illinois Policy Institute. She can be followed at @LopezBauman.
–
TheBlaze contributor channel supports an open discourse on a range of views. The opinions expressed in this channel are solely those of each individual author.