People can be forgiven for wondering why former President Bill Clinton's sex life should be an issue in the 2016 presidential election, in the same way that they might wonder if Anthony Weiner will be given a second chance in politics (I'll get back to that second question, trust me).
After all, younger Americans probably aren't familiar with Bill Clinton's sexual history. Hillary Clinton certainly doesn't want to discuss it, neither does Bill, and Bernie Sanders says we have "more important things to worry about." Besides, Bill Clinton isn't even running for office; his wife is.
So why should it matter at all?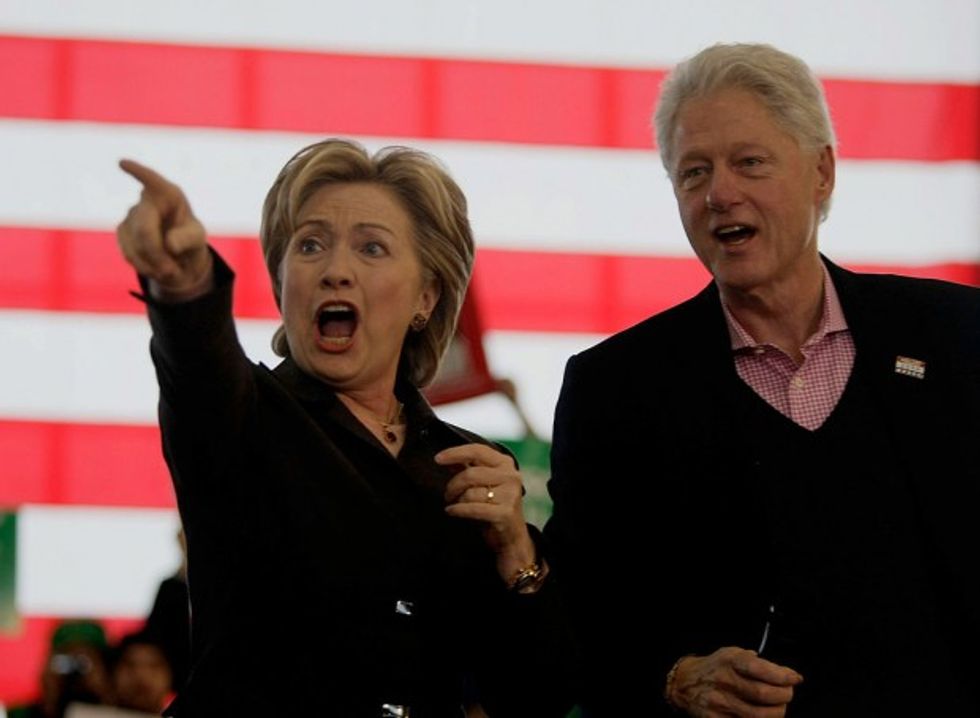 Former president Bill Clinton and his wife Democratic presidential candidate Hillary Clinton during a campaign stop In Nashua, N.H. on January 4, 2008. Image source: Joe Raedle/Getty Images
Well, Bill Clinton's sex life matters (sort of) because of two simple facts. The first is the "buy one, get one free" rule.
This was the banner that Bill Clinton ran for president under in 1992. Vote for Bill and you'd get – not one – but two Clintons: Bill and Hillary (or, "Billary," as they were less-affectionately called). And, true to the pledge, Hillary played a major role in setting policy for the Clinton administration. Her website currently even touts her political experience as first lady.
So far, we haven't been given any indication that the "two-for-one" rule has been ditched by the Clinton 2016 campaign. Really, it's hard to believe that Bill Clinton would be a ceremonial figure with no influence or responsibilities in a Hillary Clinton White House. He's certainly playing a major role in his wife's campaign.
Which brings us to the second simple fact: Bill Clinton's horrible sex life.
Well, not his sex life as such, but his misbehavior in trying to cover up his sex life. When Bill Clinton was being investigated for sexual harassment (an allegation made by Paula Jones, who worked under Clinton when he was governor of Arkansas), Clinton gave "intentionally false" testimony. That is, he lied under oath about the fact that he was having sexual relations with White House intern Monica Lewinsky.
You see, it's not Bill Clinton's "sex life" that's the problem with him (though there are a few claims of sexual assault out there), it's the fact that he lied to a court of law, potentially thwarting the pursuit of justice and deprived Paula Jones of a fair hearing of her allegation of sexual harassment. And Bill Clinton has never admitted that he lied; at most, he's acknowledged that he "misled" the court about aspects of his "private life."
Lying to a court of law – and then refusing to admit that that's what you did – makes you ineligible to hold any position of trust in the White House. If Hillary Clinton's going to give such a position to Bill Clinton, then that's a reason not to vote for her.
Just think, when Anthony Weiner got caught in a similar situation, on every front that someone might care about – sexual fidelity, honesty, and accountability – Weiner behaved better than Bill Clinton. Weiner's infidelities were on-line, not in-person. And, although he lied, it wasn't to a court of law, and it took him less than seven-months-plus-a-semen-stained-dress to admit that he lied.
And, to top it all off, Weiner ultimately resigned office. Anthony Weiner imposed on himself a higher standard of accountability for lesser acts of misbehavior than Bill Clinton did.
If Bill Clinton's impeachment was really just about sex, then so was Anthony Weiner's sexting scandal. And if Bill Clinton is welcome in the Hillary Clinton administration, then there's no reason that Anthony Weiner shouldn't be, too.
However, if Anthony Weiner's conduct really disqualifies him from having any position of influence in the White House, then shouldn't the same be true of Bill Clinton?
Unless Hillary scraps the "two-for-one" motto, Bill's lies are fair game.
–
TheBlaze contributor channel supports an open discourse on a range of views. The opinions expressed in this channel are solely those of each individual author.